Riyanka Basu: Helping The Real Estate Giants And Higher-Education Institutions Expand Their Market Footprint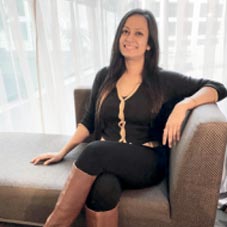 The creative media industry is booming and shall continue to do so for the next few decades! With the current government's focus on Digital India, the scope to drive mileage through the creative, and especially digital space is widened. WE-Viral is a creative media company that was officially born in 2017. Riyanka partnered with a close friend and started hiring professionals with just two real estates and one higher-education client in the kitty. Stepping up the leadership challenge she would go on to nurture the young talents she hired in their journey.
Today, within just 2.5 years, WE-Viral offers marketing strategies and outreach solutions to numerous top-end clients in the education and real estate space across the country. WE-Viral has been behind the successful execution of numerous ad concepts and marketing campaigns, which helped clients grow their targets, exponentially. From analyzing brand assets to drawing market strategies and understanding consumer psychology using tech focused marketing, WE-Viral provides end to end market outreach solutions to its clients.
Below is an excerpt from an exclusive conversation held between CEOInsights Magazine and Ms. Riyanka Basu, Co-Founder, WE-Viral, where this stunning woman leader gives us an in-depth insight into her entrepreneurial journey.
What inspired you to establish WE-Viral? What were the major challenges you encountered during your company's establishment?
It was my dear friend and brother- Himanshu Aggarwal's infinite love for branding, advertisement, and creativity that encouraged me to start WE-Viral. In the initial days, we would sit and watch famous ads and TVCs on a loop, read
biographies of renowned artists, talk of brand approaches, study font and designs, draw, scribble ideas, discuss and debate. Those musings would later take form into ideas we could execute. Brainstorming with a friend, colleague, partner is a great way to generate ideas that form the crux of the creative industry.

The initial phase was extremely tough as a struggling woman start-up founder. There are huge glass ceilings to be shattered. Women at the highest levels of businesses are still rare, and we are all fighting our individual battles to make a mark in the industries we operate within and from. For instance, in the initial months, when I would meet and pitch to senior Chancellors and Directors of institutions I would not be taken seriously.

As we know, the barriers to progress for women are many in our society. As a woman leader, how crucial have your respective experiences been in shaping your leadership journeys?
When a woman starts a business, it is mostly assumed that we are a small-sized domestic venture, working as a hobby or to score some points. In fact, sometimes, gender biases are so visible in certain parts of the country that male decision-makers don't even look you in the eye to ask questions when women entrepreneurs are speaking or pitching ideas. They dismiss our very presence inside the board room and pose questions to male colleagues on the table. It doesn't matter how many peaks you have climbed, the amount of gravitas you add to your voices or value or meaning you bring to the table; India is still way behind in accepting women in leadership roles. Things have changed drastically in Tier 1 cities, but a lot more has to be done!

As a woman leader, how are you influencing and inspiring others in and around your professional and personal stratum?
I try to mentor every team member myself, on a daily basis. WE-Viral has a 90% retention rate so far, and most of the WE-Viral team members are with the organization since its inception. As their senior, I try my best not just to give final decisions or approvals, but tell them the reason behind every decision on a creative idea or a specific business strategy. I encourage them to be liberal thinkers and independent decision makers themselves!
As for my personal life, well, sincerely, and at the risk of sounding naive, I have been living and breathing work day in and day out for the last five years.

Do you participate in any mentorship programs or give keynote speeches in conferences & seminars to share your industry insights with your peers?
I take classes and modules with various B-schools, Universities, Rotary and Rotaract Clubs across India. Through these platforms, I get to meet interesting set of students, artists, and highly motivated individuals who are waiting to unleash their creative potentials. I mostly take these classes or workshops around Branding and Business Communication, where I try to channel their enthusiasm for creativity and communication to more constructive career avenues.

How do you update yourself with the latest technologies and industry trends to keep your company on par with today's cut-throat competitive world?
As a growing business you need to keep up with the research; that's where innovative strategies stem from. We study and research a lot at WE-Viral. In fact, a day is not complete if we do not do or try something new at work.

Another practice I follow personally; I try to read. And read a lot! For beginners who want to get a head start into the world of Branding or Creative Communication, I suggest, Jonah Berger's Contagious: Why Things Catch On? Confessions of an Advertising Man, Pandemonium and Chip, and Dan Heath's- Made to Stick. These would flip your way of thinking upside down and that's the way you got to begin! In our world, you got to be really crazy to dabble with crazier ideas and thereafter, deliver impacting results.

Riyanka Basu, Co-Founder, WE-Viral
Born and raised in Kolkata in a Bengali family, Riyanka Basu completed her UG and PG in English Literature from Lady Shri Ram College, Delhi University. Riyanka started interning and working with various media houses and organizations from an early age in her career, driven by an insatiable desire to learn new things. This drive to learn, explore, take risks, and work hard helped her establish a successful business in the form of WE-Viral.