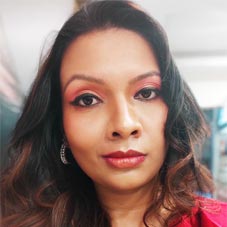 Marilyn Monroe once said, "Imperfection is beauty, madness is genius and it's better to be absolutely ridiculous than absolutely boring." This success mantra for artists fits perfectly for the bold innovators in the corporate arena as well. More often than not, it is one's burning desire to create an impact and confidently making continuous efforts towards the same, despite being pulled down by others, is what truly makes a difference. This holds true for the story of Sharmin Ali (Founder & CEO, Instoried, and a bestselling author), who has always followed her heart with immense self-confidence despite the hardships, soaring off higher and higher every time she left a print.
The Rollercoaster Ride
After earning her engineering stripes in ECE from Visvesvaraya University, Sharminkick started her career in an analytics company, where she worked with Fortune companies in the U.S, helping them build their analytical capabilities, resulting in over $50M in revenue. One day, it struck her that in her six-year-long corporate journey, she was merely helping the rich get richer and wasn't really adding any value to her own life. Consequently, she decided to quit her job and follow her passion for storytelling. With a vision to build India's very own Netflix, Sharmin established a media startup, for which she wrote 70 original scripts and created a lot of video content on YouTube and Vimeo. She even raised a small round for the startup.
Unfortunately, she was a little ahead of her time. When she realized that the Indian audiences were still unaware of the OTT content platform globally, Sharmin sold the copyrights of all the scripts to a Mumbai-based production house, took the money and set out to start a new phase. The experience, however, helped her to write two books, one of which was announced a bestseller too by the New Indian Express & the Oxford bookstores. It was in 2018 Sharmin realised that good content is 'king'; what transpired soon after was Instoried, her second startup. An entire dimension of opportunities awaited there, but the path was fraught with back-breaking challenges; one of the most glaring was the shortage of funds.
"After exhausting all the savings, I broke my PPF to pay salaries. My parents didn't talk to me for a month, as withdrawing PPF was the biggest committed crime according to them, as it essentially is longterm investment for life," recalls Sharmin. When the money turned out to be not enough, she mortgaged the gold jewellery she had bought during her good old corporate days (without informing her parents this time). Financial crisis further engulfed her, as she had to go pitch to investors in various cities. Rolling with the punches, she borrowed money from friends and family, and helped sponsor their travel and stay.
As she was networking at a vehement pace with an even stronger resolve, Sharmin heard about StartUp Chile, a seed accelerator which funds global startups with grant money, and ran to Santiago, Chile. While she was attending the acceleration program in extreme weather conditions in Santiago, Sutanshu Raj (Co-Founder & CTO) took the brunt of staying back and running the company in India. Their relentless efforts finally paid off when Sharmin secured half a million dollars in funding from
some of the most notable investors in India and the UK.
"We were patient in the beginning, blindly determined to create something that could achieve that elusive product-market fit. The product team worked tirelessly, with feedback from the business team using beta tests and a couple of iterations of an MVP," Sharmin reminisces. Once they did find it, in the last year, Instoried has switched gears and levelled up its marketing to scale the business to meet the growth goals. Being a B2B platform for marketers that is not limited to either the boundaries of the sector, today, the two-years-young company boasts of a solid number of clients across industries and geographies.
Sharmin hails from a multicultural family, where world integration (and not just national integration) is represented by her near and distant family members
Instoried –Appeal to Consumers' Heartstrings
As a content writer herself, the major pain point Sharmin faced was predicting how engaging her content is, due to which she had to spend hours editing her piece. This brought her analytical background to the fore again and sparked her passion to build a novel technology solution to solve it. Thus, she embarked on a venture to build an AI-enabled tool which would be smart enough to gauge the emotional engagement quotient of one's content and also provide word and phrase level recommendations in real-time, thereby, helping content writers build a great rapport with their readers very easily.
Most other companies in the industry do not go further than analysis, or they dive headlong into artificially generating content. Instoried has carved its niche in between, where it recommends changes to original content in order to maximize performance. "Although AI has come a long way, it cannot take over the creative endeavour of content production. However, it can assist writers, and raise the level of quality of your writing," explains Sharmin. Instoried platform seeks to help businesses reimagine how they analyse content at the pre-publishing level.
Understanding consumer emotional engagement with content is key to creating the best marketing campaigns that influence consumer behaviour and optimizing marketing spend. Gathering quality emotion data is critical as it predicts key success metrics such as brand recall, sales lift, purchase intent and likelihood to share. Instoried's AI tool helps large companies build personal connections with their audiences by using technology to measure the effectiveness of content and rewrite their communication. The company's approach is data-driven, scalable and measurable with long-lasting, visible results.
"Writing being a creative endeavour, it has always been exempt from the rigors of data-backed technical scrutiny. This is what Instoried wishes to change. By quantifying the emotional element of the written word, and recommending changes using its AI model, the platform ensures that content production for any business adheres to the quality standards that other areas have already achieved," proclaims Sharmin. Instoried serves marketing leaders who have a large enough marketing team dedicated to delivering quality content. Her company constantly engages in conversation with its clients and has implemented many changes to the platform – from minor design tweaks to full blown feature additions – using their feedback.
Sky's the Limit
It's never easy for women, neither has it been for Sharmin. However, on the flip side, being one of the very few women CEOs running a tech startup, Sharmin gets easily noticed." As a woman, I'm unabashed, unapologetic and unashamed with my opinion and approach! People are entitled to an opinion, so am I!" responds Sharmin, when asked about the barriers to the progress of women in our society and how she handles the same.

Sharmin hails from a multi-cultural family, where world integration (and not just national integration) is represented by her near and distant family members. This has given her great perspective with her social skills. Everyone in her family is career-oriented and hence understands her tight schedule. Especially, her parents and younger sister are extremely supportive of her gutsy endeavours. A voracious reader, Sharmin mainly reads a lot of non-fiction (favourite book: Dragons of Eden by Carl Sagan and currently reading: Harari's 21 Lessons for the 21st Century), besides following a number of technology-based publications to keep herself abreast of the latest trends.

Nevertheless, she believes that travel, by far, has taught her more about herself than anybody else could. "We should all travel and meet new people and learn new cultures, this really helps build a great perspective and broadens one's horizons in life," she remarks. Ardently sharing her hard-earned wisdom, Sharmin has participated in numerous TEDx and business events globally and desires to do more. "Writing two books and being able to share my voice with the world has been extremely liberating for me. As a business owner, being able to influence decisions of stakeholders is a great feeling, be it my investors or customers, they know that they are working with the right person," concludes Sharmin.

Words Of Wisdom For Budding Entrepreneurs
• Team is primary, get the right team with the right mindset and your day-to-day activities will be seamless.
• Raise funds fast, grow even faster.
• Carpe diem! It's okay to make mistakes, it's okay to fail. This is not the end, so seize this day first, and worry later.

Sharmin Ali, Founder & CEO, Instoried
After earning her engineering stripes in ECE from Visvesvaraya University, Sharmin garnered corporate experience from an analytics company, where she worked with Fortune companies in the U.S. Her desire to influence decisions and create an impact thrusted her to emerge into an entrepreneur and author, who built two startups from scratch and penned two books including a best-seller.

Favourites
● HOBBIES: Reading– be it non-fiction books on Kindle, the Economist or any online startup-based magazine
● CUISINES: Oriental flavours from Thai and Malay cuisines, Food inspired by the Renaissance period in Prague, Mom-cooked dal-chawal with bhindikisabzi
● TRAVEL DESTINATIONS: Travelled to 49 countries so far and wishes to explore as much as possible

Sharmin Ali In Spotlight
• Established a media startup, for which she wrote 70 original scripts and created a lot of video content on YouTube and Vimeo
• Penned two books, one of which was announced a bestseller by the New Indian Express & the Oxford bookstores
• Secured over a million dollars in funding from some of the most notable investors in India and the UK
• Built an AI-enabled tool smart enough to gauge the emotional engagement quotient of one's content and also provide word and phrase level recommendations in real-time