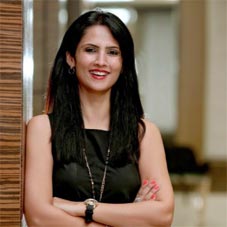 Challenging the age-old adage which goes by 'Leaders are born, not created', Yukti Kapoor Mehandiratta has forged her dreams and aspirations into a leadership and etiquette training academy - 'Silhouette by Yukti'. Having witnessed the gap of leadership skills that are pertinent for any 21st-century executive, Yukti came forward with her unique ability to inspire, guide and frame solutions embedded in a training program which uncovers the true potential of nextgen leaders.
An Erickson Certified Coach (ICF accredited) and Former Gladrags Mrs. India (Runner-up), Yukti is a seasoned leadership coach, a motivational speaker on various corporate, social and entrepreneurial platforms, and a mompreneur. In an exclusive interaction with CEO insights, Yukti Kapoor Mehandiratta allows a glimpse into her inspiring personal and professional journey.
Tell us about your leadership journey. What inspired you to establish as SBY Academy?
As a society, it's imperative that you expect to hold hands with each other and help each other to grow because no one can grow in isolation. Realizing this gap existing in leadership culture, Silhouette was a beautiful accident that happened as I stumbled over it. Some of my friends collectively insisted that I create a structure around the casual sessions which I sometimes had for them on people management & life issues, motivating me to benefit others as well. I think that's when the first workshop was formulated, and my equity with the corporate world paid off as they invited me for sessions without even asking me if I've ever done one before. 'Silhouette', by definition means the
outline of an object and my endeavour through Silhouette is to help people not only accept the outline they have created for themselves but also have the courage to go beyond it.
What role do leaders of the 21st century play in an organization? How can they introduce innovation at a more pragmatic level?
If you look closelyat any success story that you may want to pick from any industry whatsoever, you will realize that there is always a pyramid of success and the pyramid doesn't allow everyonecapable enough to be on the top. It also doesn't allow everyone who's just presentable enough to be on the top but requires a combination and a balance of both leadership and etiquette. People often misunderstand etiquette, as it is not just an image consultancy or about understanding the prints and patterns but your mannerisms. Proper mannerism is necessary to carry yourself as a leader if that is what you want to portray yourself to be. The only concept that I strongly believe in, when it comes to our content, is to offer a fine balance between the way you lead and carry yourself. The way you conduct yourself (your behaviour), the way you express yourself (your communication) together creates a perfect blend of executive presence. That is a change much-needed on the executive floors of our organizations.
Leadership is a skill that can be learnt, for as long as you have a conscious learning path towards it
Enlighten us more about SBY Academy and its various offerings which intend to sharpen the leadership axe for Corporates and Professionals.
Currently, we are offering four courses on leadership, of which one is 'Upskilling Leadership Program' (ULP). This is a 45-days intensive on leadership that prepares you to create stronger relationships and enhance self-awareness, which in turn expedites your career growth and leads you to success. We also have a one-year course on Spiritual Leadership, which helps you discover who you are as a person,
and then strengthens your core so you could be who you want to be, as a Leader. We've also put together a set of 7 guided meditations to combat the many challenges leaders face in their day-to-day life.

Our other offerings include Executive Coaching for CXOs, Team Coaching for middle management, Experiential (and customised) training workshops on leadership for organizations, and Mentoring programs for women making comeback. We've also conceptualized a Finishing course for (Post) Graduates to help them kick-start their corporate/entrepreneurial journey.

What advice or suggestion you have in your mind for the other women who seek to fulfil their dreams as entrepreneurs?
I think one message that I want to say out loud to all women are to drop the burden of guilt that they carry in life for not living up to the expectations from every role in life. They should not be restricted to just one role that they need to do justice to, such as being a mother, sister, wife, daughter-in-law or daughter. Let us resist the urge to do everything on our own and build the courage to ask for support. For one to achieve anything in life, it begins with overcoming self-denial, unrealistic expectations and accepting all your imperfections. Imperfection makes us beautiful and it's important that we embrace them with grace.

Yukti Kapoor Mehandiratta, Founder & CEO, Silhouette by Yukti (SBY) Academy
Yukti Kapoor Mehandiratta is a multi talented woman who dons several hats perfectly. Being a certified leadership & etiquette coach herself, she runs SBY (Silhouette by Yukti) academy, which cultivates and teaches leadership skills to people. Some of her prominent clients are Axis Bank, Edelweiss group, Kotak Mahindra Bank, Crompton Greaves, Welingkar Institute of Management & Research, SP Jain College of Management, IIM Lucknow, IIT Powai and several others. She is a proud receipt of National Woman Excellence Award 2018 extended by IECSME and a Keynote Speaker on Spiritual Leadership.

Travel Destination: London, North eastern India
Hobby: watching movies, reading books, spending time with family