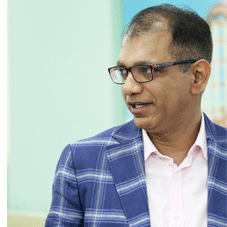 From a modest consulting company in the highways sector in the year 2000, Rodic Consultants have come a long way – to establish itself as an indigenous leader in the Project Management Consulting (PMC) domain of our country and even beyond, encrusting across a wide horizon of public and private infrastructure projects. Boasting 20 years of engineering wisdom, Rodic's portfolio spans across segments including Highways & Bridges, Railways & Metro, Multimodal & Intelligent Transport Systems, Tunnels & Geotechnics, Hydropower & Dams, Power Distribution, Water & Environment Urban & Industrial Development, Ports & Inland Water ways, and Renewable Energy.
Rodic today is home to more than 2000 employees who are working tirelessly at various project sites across the country, trying to build a better India. The team, boasting of its proven track record under the aegis of Raj Kumar, CMD, Rodic Consultants, has been engaged in some of the largest projects funded by the World Bank, JICA, AIIB and the Asian Development Bank. Of late, the company has also marked its entry into the Metro, Museum & specialized structures and Port & Inland Waterways sectors, signifying its zeal to constantly diversify into challenging territories; not to mention its foray into the international market with a seminal project in Myanmar. Over the past five years, Rodic has recorded a CAGR of 31 percent. CEO Insights explores this growth journey through an exclusive interview with Raj.
Rodic today is one of India's most respected design, engineering, and project management consultancy companies. How do you give this success back to your clients and people?
We provide our clients with a holistic experience and in turn satisfaction, and that has been our primary objective ever since inception. We ensure quality services and on-time delivery as our experts closely collaborate with our clients to ascertain operational efficiency and cost-effectiveness. In fact, dynamically embracing cutting-edge technologies plays an instrumental role in this proposition by constantly elevating the quality of our services to meet the highest global standards.
We are integrating drone solutions in remote project monitoring and also plan to leverage Artificial Intelligence
We are proud of our 2000+ people strong family and believe that their passion for designing sustainable solutions for tomorrow is the crux of our offerings. While upholding gender equality as one of the key drivers of our endeavors, we are committed to constantly develop their multidimensional skills. We have a robust HR infrastructure to fulfil this need. It goes beyond training and skill development programs to incorporate leadership programs conducted by some of the finest professionals, among others. On the other hand, we also believe in giving back to society and hence undertake sustainable CSR projects.
As a host to the entire technological boom that happened in the industry, how do you meet the expectations of your clients by constantly improving the business processes?
It's a ceaseless process. For instance, we are integrating drone solutions in remote project monitoring. We also plan to leverage Artificial Intelligence to support three important business needs - automating business processes, gaining insight through data analysis, and very close monitoring & management of projects in order to give our clients more confidence. 2020 is set to become the year for us in terms of real-time remote construction site monitoring which is expected to transform the way construction project management works. While the deployment of a company-wide ERP system and a
highly responsive feedback channel constitute some of the recent additions, the virtual site visits during the current pandemic through video conferencing stand as a testament to our practice of constantly adapting to technologies. We indeed undertake various research activities to assess the latest industry trends and in turn stay ahead of the competition.

You have been at the helm of developing some of the iconic national highways and bridges. What's the strength that enables you to constantly combat such herculean challenges?
It stems from our passion, commitment, and capabilities. We perceive every challenge as our opportunity. For instance, one of our on-going projects is Sultanganj to Aguwani Ghat Cable Stayed Bridge, which features a unique dolphin observatory, with the bridge passing through its middle. The bridge reduces the distance between North Bihar and Assam by 250 KM. The challenges involved range from the structural design of the 40 feet tall four-story observatory which is constructed in the middle of River Ganga, where the bridge's width will be nearly 100 feet. The structure takes four special pillars. The observatory building will be transparent from all sides to ensure that the people get an uninterrupted view of the dolphins.

What is the future roadmap set for your company?
We have now bagged projects in every sector and in all parts of the country. With our maiden entry in the international market with a seminal project in Myanmar, we now also focus on penetrating developing economies, wherein the focus and investment in the infrastructure sector is considerable.

Raj Kumar, CMD
An ardent believer in the philosophy that failures are the stepping stones of success, Raj ventured into infrastructure consulting decades ago, after having his share of struggle as an entrepreneur. A Commerce graduate , he takes pride in leading Rodic, which today is an award-winning company and one of the best & fastest growing engineering & infrastructure consultants in India.

Office: New Delhi