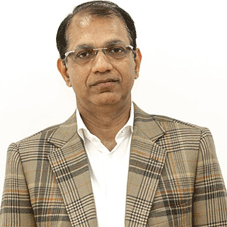 Raj Kumar, Chairman & MD of Rodic Consultants, a specialist consulting and engineering firm from New Delhi, had understood fairly early in life that a strong infrastructure is the corner stone of a healthy and thriving economy. Indeed! India, a developing superpower, has been undergoing a massive infrastructure overhaul with mammoth projects underway in every sector, giving rise to the need for pertinent infrastructure consultants to hold the fort down. Having identified the hidden potential of the sunrise sector and propelled by the same philosophy, Raj steered Rodic towards endeavoring to transform Indian infrastructure by making notable contributions to infrastructure projects of national importance.
Founded in 2000, Rodic specializes in rendering superlative advisory services, prefeasibility & feasibility studies, detailed engineering, proof checking, value engineering, detailed design, detailed project report preparation, construction supervision and project management. This pertinent service portfolio combined with expertise in facilitating projects in the highways, bridges, tunnels, railways, hydro power, in land waterways, water resources, urban development, power distribution and renewable energy sectors has made Rodic a force to be reckoned with in the Indian infrastructure consulting industry. In a detailed discussion with CEO Insights, Raj opens up about the ethos, pathos and logos of Rodic Consultants.
What has been the underlying philosophy that guides Rodic Consultants as a firm?
With numerous issues emerging with respect to industrialization, unreliable network of electricity & water, overcrowded railway system, power generation, increased freight and road network in India, we are striving hard towards enhancing the social and economic growth of the country towards excellence and success.
We leverage our expertise in integrated consultancy services and state-of-the-art construction technology in order to ensure on time delivery of quality projects, mapped on operational and cost
efficiencies of the highest level. Growing aggressively in the market, we are focused on developing our capabilities to keep up with the future needs of the industry.
Throw some light on how Rodic Consultants grew from strength to strength and secured various projects of national significance.
Owing to our broad service portfolio, we first successfully secured various projects in Chhattisgarh, Bihar, Assam, Jammu & Kashmir, and Tripura. As a result of our strategic efforts, we then secured three Hydroelectric Power projects in the Jammu & Kashmir, and this successful effort added a new colour to our service spectrum.
We leverage our expertise in integrated consultancy services and state-of-the-art construction technology in order to ensure on time delivery of quality projects
Implementing these projets is a team of 2000 skilled, focused, passionate and motivated professionals equipped with the necessary competence and capabilities who work in tandem with Rodic's business and social goals. Additionally, our strategically spread delivery network that includes our corporate headquarter in New Delhi, offices in Patna, and regional offices in Bangalore, Guwahati, Jammu and Ranchi has played a key role in helping us deliver these projects with ease.
Tell us about Rodic Consultants' engineering and consulting proficiency.
Through our advisory services, we create social and economic value for our clients by helping them make more informed decisions about strategically managing capital and transactions. Our expert team conducts demand analysis that covers future and retrospective analysis along with bench marking studies. Post running feasibility studies and system identification through activity analysis, we prepare thorough project reports, traffic and revenue studies that play a crucial role in making investment decisions.
Our team is also armed with 360 degree project management capabilities and we assist clients inconcluding construction contracts, supervise their implementation and provide them with construction managers. The team dons the role of Independent Engineer, Owner's Engineer and Authority's Engineer on various projects. Rodic also lends its expertise in value engineering, preliminary
engineering, prefeasibility & feasibility studies, proof checking and detailed design for facilitating large scale projects across the nation.

Could you tell us about Rodic Consultants' CSR approach and how does the company incorporate sustainability in its growth journey?
We believe that with great power comes great responsibility and we must use our privilege to facilitate social and economic growth across all strata of society. We have aligned our business goals with the global vision of creating a healthy ecosystem for building a sustainable future. Our primary priority has always been inclusive development of people across regions and communities; thus we have developed a strong CSR agenda through which we collaborate with local community groups to work in the field of education, healthcare, sanitation, community welfare, skill development, employment generation, infrastructure development and promotion of national heritage & culture.

The field of education has always interested us. Rodic management has donated three fully functional science labs (Chemistry, Biology and Physics) to the Government Girls Inter College, Rajpur Road, Dehradun and has established a fully functional smart class in three government schools of Dist. Chandauli, UP. We worked in association with an NIMITTA, an NGO, and provided a mobile library that reachesout to more than 500 children in the four 14 age group, residing in nine villages of Kanke block, Ranchi. Not stopping at that, we have sponsored an All India Cycling Expedition of two NCC Cadets Harsha Mishra and Sawitri Murmu since 2017. Our employees have also been conducting several blood donation camps in association with All India Medical Sciences (Trauma Center) that have proven to be a life saver for several needy people.

Raj Kumar, Chairman & MD
Hailing from a family of engineers, Raj has always had an analytical outlook towards the engineering aspects involved in bridges, highways and roads. Building on his interest and having spent considerable time in the infrastructure industry has helped him guide Rodic Consultants into becoming an industry leader.

Offerings: Advisory Services, Pre Feasibility & Feasibility Studies, Detailed Engineering, Proof Checking, Value Engineering, Detailed Design, Detailed Project Report Preparation, Construction Supervision, and Project Management

Offices: New Delhi, Patna, Bangalore, Guwahati, Jammu & Ranchi