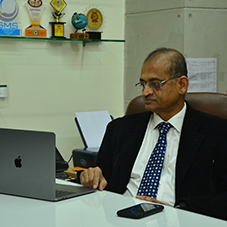 With the inferno in Amazonia, we humans have started burning a portion of our own existence. It's high time we talk about the need for a revamp in our approach towards the environment. A sense of care towards the environment is never confined to stopping deforestation, but pertains to anything from as simple as disposing household garbage in the right way to managing the highly hazardous biomedical waste in the most scientific & advanced way. Leading the way to instill such an environmental friendly culture in our country is SMS Envocare Limited (SMSEL), one of India's leading providers of comprehensive waste management & environmental protection services.
SMSEL is a part of Nagpur based SMS Infrastructure Ltd., which is engaged in providing Environmental Infrastructure Projects and Consultancy Services across the country and has an outstanding track record of rendering quality & technical expertise with engineering capabilities since 1964. The award winning company has a legacy of being one of the best in the development of various infrastructure projects, including Highways, Railway Sidings, Mining, Irrigation, Tunnels, Power, and Environment. Acknowledging the need of the hour and complimenting the legacy of its parent company, SMSEL has also adjoined its portfolio with several environmental protection services with a vision to make the globe Clean, Green & Ecofriendly with the help of entrepreneurs across the country and even beyond the borders.
Comprising a team of passionate professionals, SMSEL offers a wide range of best in class services, which is spread across categories such as effluent treatment, hazardous waste treatment, municipal waste management, and biomedical & integrated waste management. Its comprehensive offerings also include renewable energy, consulting, and integrated environment services. CEO Insights
is quite contented to engage in a conversation with Hemant Kumar Lodha, Managing Director, SMSEL, and perceive the market and industry through the eyes of the company.
Our STPs reduce lifetime costs and occupy only one-fifth of the space of any conventional system
What's the action plan that provided the company with an intact reputation with such an elevated level of quality?
It's no rocket science. Constantly upgrading to the latest technologies and trends in achieving environmental sustainability is the theme of our action plan. Our team's passion takes a huge amount of credit in terms of executing this strategy. They constantly update themselves and strive for excellence. Moreover, we are an ISO 9001, ISO 14001, & OHSAS 18001 certified organization with a NABL accredited laboratories (ISO 17025 certified). Strictly adhering to world class practices along with a bunch of state-of-the-art laboratories & disposal facilities, we have set the right platform for us to excel in environmental and waste management.
How has been the journey so far, and what's the response from the market?
It has been an overwhelming journey. Ever since we kickstarted our operations based out of Nagpur, we have been riding along a steady growth track. We have made consistent progress to become one of India's leading players in the infrastructure development and environment management sectors. Currently, we are spread across the subcontinent with presence in 23 cities across nine states and union territories. There has been a rising demand in the international market as well. We have initiated our international presence in Biomedical Waste Management by starting a Common Biomedical Waste Treatment and Disposal Facility (CBWTF) in Uganda.
Effective Sewage Treatment has been an area of serious concern in a populous country like India and SMSEL's solutions over the years have been quite effective. What's the vision that your products are built around?
We envision our products to reduce costs and space occupancy while improving the performance. Our Sewage Treatment Plants (STP)
reduce lifetime costs and occupy only one fifth of the space of any conventional system. In addition, we also provide our clients with systems that can be installed in basements or on the terrace, and with an option to recycle, completely automate and connect to the municipal lines. These factors come together to make us one of the leading manufacturers of STP. We offer both customized and ready made sewage treatment plants for municipal corporations, housing societies, commercial complexes, SEZs, hotels and hospitals.

In terms of driving towards cleaner energy and environment, what's the company's future plan?
Clean energy is an area of paramount importance. Through SMS Vidhyut Pvt. Ltd., we have been awarded a project on the left bank canal & the right bank canal on the canal based power generation at Pench Dam, Kamptee Khairi, Nagpur. The total power generation at the right bank canal will be 2x700 KW and left bank canal will be 2x2200 KW. We will be stressing more on the green vision, while also giving back to the society through our CSR initiatives.

Key Management:
Hemant Kumar Lodha, Managing Director
Hemant is a Chartered Accountant who possesses experience of working on industrial environment since 1980. He has traveled extensively around the globe and worked in India, Indonesia, and Sri Lanka.

Head Office: Nagpur
Offerings:
•Hazardous Waste Management
•Sewage Treatment Plants
•Common Effluent Treatment Plants
•Environmental Consultancy Services
•BMW Management
•Liasoning and Permits
•Environmental Safety Audits & Reports Submission
•Energy Audit Assessments

Plants:
•Maharashtra Enviro Power Limited (Ranjangaon)
•Maharashtra Enviro Power Limited (Nagpur)
•Butibori CETP Pvt Ltd
•Waluj CETP Pvt Ltd
•CETP Amravati & ETP Nada (ONGC)
•STP Nagpur (130 MLD)
•SMS Envoclean (Mumbai)
•SMS Watergrace BMW (Delhi)
•SMS Watergrace Mediwaste Mgt. (Lucknow)
•Watergrace Product BMW (Nasik)
•Watergrace Product BMW (Aurangabad)
•Biowaste Mgt (Uganda)
•SMSWatergrace Enviro Protect (Raipur)