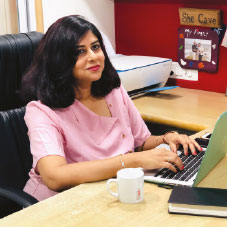 Every marketer is invariably working towards deciphering what differentiates a good brand from a great brand and seldom are they able to crack the code. Somadatta Acharyya,a seasoned marketing professional and founder of ThinkTag, a premier brand consulting and marketing communications company, believes that the key to building a strong brand is the eye for detail and the capability to understand the ecosystem in which the brand operates. Well, there must be some heft to her belief, since ThinkTag has successfully designed branding and marketing campaigns for brands and products of industry bigwigs such as GSK, The Wadhwa Group, Staragri Group, Tata Chemicals, Star Sports, Kotak Mahindra Bank, Tech Mahindra Business Services, Tata AIG, and many more.
In today's times when digital, social and other channels of communication have exploded and have brought along the promise of turbulence in the marketing industry, Somdatta's mantra is to work tirelessly towards researching consumers and understanding what engages them with brands. Her brand consulting firm that began its journey in 2009 today specializes in brand launching services that include nomenclature, positioning, architecture, brand promise and brand communication. At a corporate level, the firm works on positioning/re-positioning exercise, coining vision, mission and values. In an in-depth conversation with CEO Insights, we pick her brain to unearth the secret to building an effective brand consulting firm and a memorable brand.
Tell us about your industry experience prior founding ThinkTag, and how did it strengthen your marketing bone?
I started my career post my MBA as a Brand Manager in Nicholas Piramal back in 2004 where I got my real training in brand management. The company was then headed by management consultants from leading MNCs, and I was lucky to be there at the right time to gain significant knowledge, which went
on to strengthen my love for marketing and growing brands. I got to manage and launch a few brands that went on to become huge success. A few years down the line, I worked with SAB Miller where again I got to learn about niche and luxury brand market, and how divergent the approach was from mass brands.
What initially started out as a brand consulting firm has today evolved into a multifaceted communications outfit, providing specialized services
ThinkTag has come a long way since 2009; take us through the firm's growth odyssey.
We startedout as a one man army and today we are 17! Since there was no scope for cutting corners, our initial momentum was slow to ensure par excellence deliveries. For the first four years, we were a small team of six that took on just a few projects and delivered them on time, with tremendous attention to details. These years were critical for our learning process, it laid the foundation for internal processes, understanding and pre empting roadblocks and having plan B in place always. From 2013 onwards, the company grew significantly, often clocking 100 percent growth year-on-year.
What initially started out as a brand consulting firm has today evolved into a multifaceted communications outfit, providing specialized services to startups /SMEs, new brands wanting to test the markets and existing brands wanting to re-position themselves. With a strong value proposition and customized approach to achieving client goals, ThinkTag has grown leaps and bounds through a self generated revenue model.
Employees are the life and blood of any organization and the work culture is an indicator to how the business machinery actually functions. Tell us about the team and work culture followed at ThinkTag.
We have a high performing team which includes consultants with varied experience, and in case of a domain specific project, we rope in expert freelancers. The team also includes copywriters with astute writing skills and a good sense of adapting their skills to all formats including the digital sphere along with our design squad that produces unique, eye catching creatives on a regular basis.
Culture wise, we are a cross between an agency and a corporate house. Since the Directors come from a corporate background, we start office at 'office' timings and not have late hours. Ours is a culture where everyone is encouraged to think; we welcome suggestions and innovations from everyone in the team. The young vigor and the obvious bias towards hiring female employees is another highlight of the 17-strong workforce.

Throw some light on the approach adopted by ThinkTag in terms of building lasting brands, and how is ThinkTag readying itself to align with future trends?
Our work starts right from strengthening the brand pillars and ensuring a strong brand ladder. Once the basics are in place, it is easier to work on the outputs, which would be logo, tagline and finally the brand communication platform and some times the name itself.

At ThinkTag, we don't restrict ourselves to just giving solutions, but we push the creative envelope and stay ahead of the marketing curve by delivering the final output as well. Our solution doesn't end with 'what you should do' slide; we actually do it and deliver the branding and communication design.

We also work on building a strong foundation for which we go through the process of applying the science behind marketing and ensuring that we build the models bottom-up so that we have covered every aspect of branding. From there, it is all about getting market feedback, which is one of the most important parts of the process. We ensure that we don't cut corners in the process at all and hence our diligence is our authenticity.

With the evolution of use of technology and moving to a paper-less world at large, we now deliver digital versions of communication. For example, a brochure is now a 2D video or a leaflet is an emailer in a GIF format.

Key Management:
Somdatta Banerjee Acharyya, Founder & Director
The entrepreneurial bug bit Somdatta in the year 2009, when she quit a job as a Brand Manager of an MNC consumer beverage brand and founded ThinkTag. Ever since, she has lead ThinkTag from the front, by personally leading all branding and repositioning exercises. She adds to the overall vision, producing unique creative perspectives and insights.

Offices: Mumbai
Offerings: Brand Consulting, Marketing Plan, Communication Platform Development, Advertising & Marketing Collateral across various media