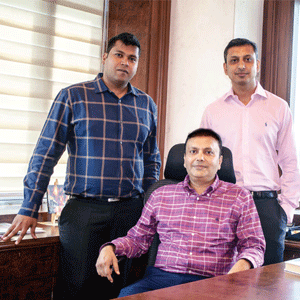 It's an aesthetic sight that the infrastructure development across the country is finally gaining momentum. After being confronted with a near paralysis over the past few decades,the developmental activities especially in the rural areas are presently savoring a purple patch. Elucidating one such story of long-lasted paralysis and eventual redemption is the lately commissioned 'Gurupriya Bridge Project' in the Naxal-hit Malkangiri district of Odisha. Surprisingly, the maiden tender for the bridge, which links the state's mainland to 151 villages & nine Gram Panchayats, had floated way back in 1982!
Over the years, the state Govt. made many attempts to construct 'Gurupriya.' None of them could take off due to a whole world of challenges ranging from unpredictable water levels to inaccessibility, and most severely, the constant security threats. It took 36 long years and the certitude of Royal Infraconstru Ltd.- one of the fastest growing engineering contracting & project management companies in India - to complete this project of significant national importance. On 26th July 2018, Royal Infraconstru presented the 910m long 'Gurupriya Setu' to the state - combating 360-degree risk-factors. Use of specially designed barges, innovative launching methods and marvel design engineering was the key to withstand the challenges of this project thereby leveraging technology to the fullest in connecting the field-force.
Besides 'Gurupriya', Royal(Est.1981) has been a consequential part of several historic public & PPP infrastructure projects in the country including the prestigious Ganga Bridge, Patna, which is one of the longest and the first-of-its-kind, Rail-cum-Road bridge in India. A golden feather in India's cap, the bridge was documented and shown on National Geographic Television as benchmark for its kind of engineering & construction. With the same enthusiasm to take part in nation building, Royal over the decades has marked its signature across an entire horizon of Railway, Roadway, Structure, and Irrigation projects.
The Leadership-Factor
"The moment of pride is when we see smiles on the faces of local people, as these bridges are poised to change the whole economy of the geography. Our leadership team has always been quite successful in transferring such proud sensations to the field-force. It makes all of us remain motivated and persistent on our core values of Integrity, Mutual Respect, Continuous Improvement and Accountability," asserts Jitendra Kumar Jain, Managing Director, Royal Infraconstru LTD. An impeccable leader who relentlessly works on transferring his enthusiasm and imparting these values, behaviors, and attitudes into his workforce ever since he started this journey. Well, while taking outputs into account, he has been exemplarily successful!
This is exactly why Royal's growth story is simultaneously the growth story of Jitendra. While the engineering and construction industry is flooded with an array of similar offerings and often uniform capabilities, the difference that Royal Infraconstru brings is his proactive & tech-savvy approach,
certitude in getting the better of challenges with innovation & planning, and remarkable amount of time invested in activities to ascertain the company's unassailable business & market position in present & future. The matchless commercial capabilities that drive its process further ensure exceptional execution. For instance, when the Lohardaga-Tori Railway Bridge Project in the hilly terrains of Jharkhand was proving to be a herculean task, with its tall structure (height of over 40 meters), for the Indian Railway, Royal's planning, adoption of the Slip-Form method and an innovative launching truss proved to be the answer.

" Believing in constant organizational changes against time, Royal is at the forefront of embracing emerging technologies, offering an increasingly diverse set of deliverables"

Jitendra's three decades of experience, market insights, and foresight have been crucial in choosing the right methodology and most importantly, the well-informed improvisation. In truth, there is hardly a surprising element in this regard as he spends a considerable amount of time in gathering & testing information about markets, economic trends, customers' purchasing patterns, competitors' capabilities, and much more. Putting it in a nutshell, with remarkable multitasking capabilities, Jitendra devotes himself in understanding the company's point of departure, selecting its point of arrival, and, perhaps most predominantly, mapping the route between them.

Change being the Mantra
Believing in constant organizational changes against time, Royal is at the forefront of embracing emerging technologies, offering an increasingly diverse set of deliverables. "In practice, we are an agile organization, which is constantly innovating, spotting & reacting to new opportunities, and in turn evolving abreast of the trends and alongside customer-ecosystem," adjoins Jitendra. Lately, in addition to establishing new contracting models with balanced risk sharing, Royal has undergone considerable changes in terms of the raw materials selection, wherein the company today is accelerating the usage of standardized, modularized, and prefabricated components.

On the technology side, the company indulges in cross industry collaborations projected towards more data sharing, bench marking, cost optimization, and best-practice sharing, which enable its value-chain to engender products that satisfy organizational needs and exceed customers' requirements. A perfect example being its collaboration with equipment manufacturers, who provide real-time fleet-tracking and analytics, which result in reduced fuel consumption. To further optimize the cost (of owning equipment), Royal also collaborates with equipment-owners to utilize their idle equipment.

Jitendra adds, "While travelling abreast of the latest technologies & trends, we ensure not to lose our sight in the race out there. We keep in mind our promise to ourselves - delivering solutions to our customers' sophisticated requirements, not only before time but with highest quality & construction standards". Royal manifests ideal examples of protocol pursuit, compliance adherence, and safety standards with an ISO 9001:2015 certified Quality Management System, ISO 14001:2015 Environmental Management System, and BS OHSAS 18001:2007 certified Occupational Health & Safety Management System.

Although, the need of the hour is a step ahead of these regulations: sustainable development. The hopeful eyes of human race expect organizations to amalgamate sand & cement with innovations that save nature. Answering this call, Royal is accordingly changing its priorities to
space optimization, usage of solar as energy source, substitution of natural resources with prefab-materials & modular made of scraps. It also uses scrap generated by other industries, such as fly ash,in different processes of construction.

A Motivated Pack Sketching the Future
The coordinates where Royal becomes an exceptionally successful organization is spotted when these exceptional practices combine with a high functioning, motivated in-house. Its strategic workforce planning, smart hiring, and enhanced retention strategies over the years have been a crucial aspect of this success. "Ever since the inception, each member of the 'Royal Infraconstru-family' has contributed to building the trust and track record by channeling their dreams & passions into each project," elucidates Jitendra. Having a dedicated team to monitor the dynamic technology landscape and provided access to relevant learning through an up-to-date library, a Royal Infraconstru ensures its workforce is always ahead of the curve.

With ever growing population, the infrastructure needs in the country are emerging faster than ever before. While the industry rides on its transformation curve, Royal is quite clear and determined about the role to be played - making the living easier by connecting India. To keep ahead of this pace and improve its productivity, the company is looking forward to leverage innovative techniques and technologies such as drones, 3D scanning & printing, and advanced construction materials. On a broader view, Royal envisions making it to the top five by working multi - dimensionally & collectively and thus setting new benchmarks for other companies to look up against.

"Royal indulges in cross industry collaborations, which enable its value-chain to engender products that satisfy organizational needs and exceed customers' requirements"

Giving the Success Back to Society
While stakeholders remain the beneficiaries of this value & success, Royal Infraconstru has been exceedingly generous in terms of giving back to the society as well. Royal's CSR activities that go in line with the firm's core values are predominantly directed into three major initiatives. "Our CSR programs are specifically designed to make the rural population self-sustainable by providing them with educational facilities, provide education to underprivileged students by joining hands with NGOs, and offer healthcare services to children who are the future of our country," Jitendra concludes.

Key Management:
Jitendra Kumar Jain, Managing Director
Jitendra is a Graduate with a flair to achieve, sustain, raise the bar & set examples. One of the key persons taking the company to newer heights, he manages the team with élan. He has done many leadership courses in IIM / ISB to keep up his learning as per the demands of the economy.

Shreyans Jain, Director
A management graduate, Shreyans believes that every human has a potential waiting for a trigger to hit the Bull's eye. He has been instrumental in setting benchmarks in the fields of Relationship Management, Day-to-Day operations, Estimation,and Administration.

Vaibhav Jain, COO
A post graduate in finance, Vaibhav believes in keeping it simple. Speedy delivery with disciplined focus on organization goals ensures delivery of our projects with 'customer delight'.

Corporate Office: Kolkata
Offering:
• All Engineering Solutions