Rupa Manoj Kumar: Bridging The Gap Between Research And Extension Through Sustainable Farming Inputs And Precise Farming Practice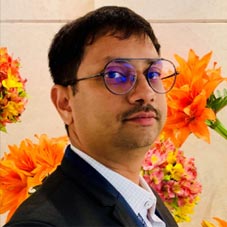 The GFIA Best Innovation award-winning brand, Natura Crop Care is conceptualized by Rupa Manoj Kumar who started his career as a research fellow at the Indian Institute of Horticulture Research after graduation in Biotechnology. He has diverse experience in the formulation development of bio pesticides. He was part of the core team in transferring bio-pesticide manufacturing technology to about 450 bio pesticide industries. Worked closely with industries, entrepreneurs, and policymakers, understanding the leaps & bounds of the industry.
Understanding the quality mantra & wrong steps for pitfalls of earlier entrepreneurs in this field helped him to develop products with consistency and be in the forefront as farmer's choice. As a major milestone, he became the official key role partner in Mission Organic Bhutan, involving IFC, World Bank under the Royal Bhutan Government in converting the whole of Bhutan into an organic country. He is associating with startup accelerators like Pusa Krishi, IKP, BESSTHORT, Elevate Karnataka to leverage their facilities, mentors, and connections to expand business sustainably made them the among top 5 Agritech startups in India. CEO Insights engages an exclusive interview with him to explore more on his journey.
Brief us on your professional background and experience that directs the company's progress and helps in molding strategic business modules for NaturaCrop Care.
I pursued research on sustainable agri inputs for plant protection, coupled with extensional activities. Interacting with farmers in various parts of the country, I understood the practical problems of farmers in shifting to organic or residue-free cultivation from excessive chemical usage. Availability of quality biological inputs was one of the issues.
Being farmer biased I quit doctoral research work and started Natura Crop Care in incubation center @ IIHR and today we are recognized nationally.
Building a team with domain
expertise, dedication and passion was a big achievement in our initial days. We understood, technology needs to be continuously updated and upscaled with increasing demand for quality products.
Tell us more about your role & responsibilities within the company. What are your long and short-term goals you have devised for the organization?
I am the Founder & CEO of Natura Crop Care. I work on innovations for new product development, building strategic partnerships with experts in Industry.
We want to look ourselves among the world's leading Agritech companies working on sustainable farming in the long term. Our goal is to connect 1.2 million farmers by 2025 expanding crop-wise geographically with an overall approach for residue free farming.
How does Natura Crop Care stand unique in the market when compared to peers? Elucidate your USP and the various services you provide to uplift agricultural growth.
Natura Crop Care has several patented unique products. Our USP is "Improving the ability of crops to fit and adapt to ever-changing climate conditions with our sustainable solutions- products & services".
With its unique understanding of microbial plant interactions in nature, Natura is validating the current scenario of increasing sustainable Agri-Horti produce
We partnered and collaborated with digital precision farming startups, devised "NaturSmart", pooling our expertise in the domain. NaturSmart is an AI-based platform for farmers to be climate resilient focusing on increasing returns farming in terms of yield, value addition, and reducing the cost of investment on Agri inputs by restricting to a need based sustainable approach.
Tell us about your R&D and infrastructural facilities and the various technological implements you utilize for these undertakings. Also highlight the various quality control measures you resort to, to ensure quality-based outcomes.
We ploughed back a major share of income into research & product development with 7 patents. We have established a state of art R&D, production facility to meet increasing demand with a 6.5 lakh lit capacity. We own the latest technology developed in-house,
patented plant and machinery to bring out next-generation products, complying with global standards. Increased productivity with quality control being the primary motto we invest more on manpower and resources into it at various levels till product packing.

What strategies are you devising to make the strong place in a much stronger position in Biotechnology?
The challenge of producing clean food for 10 Bn people globally is the biggest opportunity we see. We devised a road map for strengthening our domain expertise targeting increased revenue to farmers to retain our position and move ahead.

In your professional journey so far, which are the milestones that bestowed your utmost satisfaction?
When a farmer, who leased out half acre land for farming claimed that his income increased with Natura Crop Care products & demonstrated the performance of the products showing how he recovered from losses to profit-making in his farm with our association has given me satisfaction as an individual &fuelled my quest to achieve more as CEO.

How do you ensure to update yourself with the latest industry trends and technologies so that you could always steer your organization towards the zenith?
As I travel regularly for business, research, validation, training purposes, I use my travel time to update myself with all the latest trends and technologies and I allot time every day for updating and discussions with my team on the emerging trend of various tasks. This ensures every product we roll out is unique in its domain and superior to its competitors in the market, hence creating its own space in the market.

Rupa Manoj Kumar, Managing Partner, Naturacropcare
Awards & Recognitions:
• Recognized as top 5 Agritech startups in India by Government of India, Embassy of Brazil under MAITRI program for cross border incubation & soft-landing support for our innovative products from government of Brazil.
• Global best innovation award in sustainable crop protection from Ministry of Food & Agriculture, Abu Dhabi & Global Forum for Innovations in Agriculture 2019.
• Elevate Karnataka Award winner during 2019 by Government of Karnataka with research grant
• Received BIG BIRAC grant.
• Recognized as successful Agritech startup by NABARD
• Recognized as best entrepreneur in Horticulture from ICAR
• Recognized for successful technology commercialization by ICAR