Sanjay Gupta: A Visionary Logistics Professional Armed With 30+ Years Of Solid And Varied Experience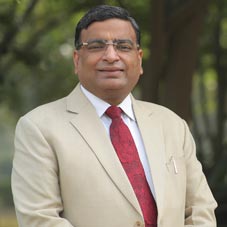 Owing to the advancements in digital technologies along with changing consumer preferences due to e-commerce, government reforms, and shift in service sourcing strategies, the Indian logistics ecosystem is thriving at an exponential rate. Envisaging this opportunity to ensure cutting edge customized logistics solution resulting in the reduction of inventory and operational costs, AVG Logistics was established by Sanjay Gupta with a mission of achieving business objectives by delivering desired quality of service at a competitive cost. An ISO 9001 - 2008 accredited, AVG Logistics is a leading logistics company, which has embedded itself as the leader in the logistics market of India, under the leadership of Sanjay Gupta to deliver excellent services to the customers.
Indulging in a distinctive interaction with CEO Insights, Sanjay Gupta explains his journey as one of the eminent leaders of the country in the logistics domain who is ensuring prolific results by the virtue of his efficiency and experience within the sector.
Tell us about your journey so far with AVG Logistics. What are the challenges that you have encountered so far and how did you overcome them?
I started my career in 1985 with Indo Arya as the CEO of the company and ensured 20 percent growth during my tenure even during the recession period. I moved out in 2010 to establish my own venture AVG Logistics to provide specifically for the FMCG sector. With reportedly 325 crores turnover, our fleet consists of more than 450 vehicles at present. At present we have 500+ manpower with 80 offices across PAN India. Ascertaining discipline transportation, warehousing and value-added services, we provide primary and secondary transportation across various industries. We have adopted a distinctive model connected to various cities such as Bangalore, Hyderabad, Kanpur, Rohtak, Haryana, Delhi and other cities for providing seamless logistics and warehousing services.
During the COVID, despite unavailability of drivers, we tried our best to provide the best transportation facilities with the help and support of railways through which goods were moved from station to station. Recovering from the COVID crisis we resumed our past growing pace significantly, and presently we are working on how to reduce the cost of vehicles, tires, fuels, and many more. Irrespective of the hike in all the costs, we are trying to sustain this economic situation and this has been our main strategy partnership with all of our customers.
Enlighten us about the various services that you offer under the transportation & logistics portfolio.
Being a foremost provider of logistics solutions across India, we have an enormous portfolio of logistics solutions that cater to multiple industries. Ever ready and willing to face the challenges to surpass our competitors within the industry, we can customize supply chain solutions to help our customers throughout all the challenging stages.
We are well-positioned to support the diverse shipping and supply chain needs of our customers. The company is equipped with a team of professionals who work to improve the flow and management of customers' products. They understand the challenges faced in the industry and participate in developing effective solutions to overcome the challenges and promote the business growth of our customers.
The safety of our truck drivers and the goods of our consumers are of the critical priority for our company
How your knowledge and experience help the company to stay abreast with the changing trends in the market today.
GST is a great help for the logistic industry, as its implementation ensures organized business enabling the enterprise sector to emerge as an organized sector. So, it is a beneficial factor for us that we are getting more business and improving the turnover of our company.
Reducing the turnaround time of the vehicle because of the GST, our vehicles used to run only 300 km earlier, now they can run for 400 km per day. With more than 30% increase intraveling per day, it is a direct push to us acting to our advantage.
How are you adhering to the safety norms to ensure the wellbeing of your drivers and customers?
Following the safety norms is mandatory for us because if we don't follow the safety norms, then we are going to be playing with the high-risk condition. The safety of our truck drivers and the goods of our consumers are the critical priority for our company. To drive a larger safety agenda in our company, we are focusing on high standard training, measurement and continuous improvement by providing complete training and counselling for the drivers at our workshops. We constantly strive to implement cutting-edge technology in our company to improve efficiency, fleet management and delivery time.

In your professional journey so far, which are the milestones that bestowed you with utmost satisfaction?
In 2010 AVG Logistics was incorporated to transform into a market leader. Gradually, the company has achieved tremendous success and added 50+ fleet in a short span. We evolved as a company with strong, dedicated and experienced manpower. In 2014, we launched Kerala's First Parcel Cargo Express Train. It was the longest distance service from Kerala covering 3,000 km connecting North India.

In 2015, AVG Logistics Limited was honored with the award of the best company of the year by Assocham. It was one of the greatest achievements of AVG Logistics Limited. To meet changing business & customer demands, we added 250+ more vehicles in the year 2015.The zeal to serve clients the best solutions by removing needless costs gave AVG Logistics a great achievement of getting registered in the SME Platform of NSE – emerge in the year 2018.

Sanjay Gupta, Founder, AVG Logistics
A visionary logistics professional armed with 30+ years of solid and varied experience, Sanjay has been instrumental in introducing train movements on several most difficult routes and deployment of 32ft. containers on high volume road routes for cost reduction. Under the leadership of Sanjay, the company has achieved tremendous success and added 50+ fleet in a short span of time. It was his mission to transform AVG Logistics into a market leader for providing customized logistics solutions for every need. Since the establishment of AVG Logistics, Sanjay and his team are continuously striving to make it adedicated and robust supply chain solution provider in India.