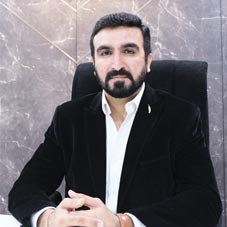 Overseeing a company's shipping & logistics operations, motivating the team to produce the best results and continuously creating new strategies for the optimization of the supply chain strategy, these are some of the vital elements a leader in logistics should have. A leader must ensure that all processes are running smoothly and have to develop various ways to gain competition in the marketplace.
A mentor, motivator, and sincere professional shipping & logistics services provider is Rohit Bajaj, the Founder and CEO of Segal Group of companies. In an exclusive interview with CEO Insights, Rohit Bajaj shared his insights of being a CEO and bestowed some light on his professional journey.
Tell us about the journey so far and what are the challenges that you encountered and how did overcome.
The career path until now was certainly not that easy, and I believe that obstacles are always the best way to learn different lessons and it gives us an experience, and it also prepares us to face hurdles in the future. I have always been reminded of the difficulties that I faced in my professional life, to show my skills, and to have confidence in the process of accomplishing desired goals.
I always wanted to stand out different from the crowd, hence to choose such sector and have a unique career was a major challenge to me, and the field which I selected was Shipping and Logistics because none of my family members was familiar with this sector. And since I belong to a family that is involved in the business from years, I could do what my other family businesses
are doing and live an ordinary life, but, following my aspirations, I went forward in the shipping sector and established Segal Group. After setting up my startup I witnessed that my first vessel contract was about to fail facing major difficulties and still, I could balance it and completed my project without any penalties, eventually, came out as the best performer of that period. Today we stand as Largest Operators of 'Mini Bulk Carriers' in west coast of India.
To be passionate, you must be Zealous about what you do
Give a brief account of how methods or strategies that you laid have transformed Segal Group of Companies entire work culture and client relationships.
The methods and strategies that I use keep evolving depending on the projects, and the niche market services developed by myself are proof of transformation, for instance, Segal was established as a startup offering charter services, and now it is offering Multi modal logistics services to some of the prominent global corporates in the industry. Common services are always available but those kinds of activities where rarely any logistics service provider stands, and we are known for that quality amongst the customers.
How does your vast experience help you to chalk-out efficient business modules at Segal Shipping?
I believe in being passionate, and the only thing that kept us motivated till here and will continue in all the upcoming milestones is, being zealous about what we do. Someone quoted and it became my favourite quote since then, "When your passion becomes profession, work becomes fun". All my teammates are the key to the success of the Segal group and we appreciate everyone's efforts to make SEGAL Group as a brand.
In your professional journey so far, which are the milestones that bestowed your utmost satisfaction - both as an individual and as a CEO?
As an individual turning out to be a CEO, I had to go through many
milestones, hurdles and smart working techniques along with dedication. One of the major milestones which I keep remembering is the selection of right candidates at the right place, it is not so easy to manage with Marketing, Finance, HR and Admin Activities on a single table, henceforth with time I streamlined the young, enthusiastic and dedicated teammates. Those arms of the SEGAL Group that focus only to achieve more and stand as the best followers for a visionary leader, one may appoint employees but it is not an easy task to gather them all as a team.

Second can be managing the Funds, although we are performing efficiently, we must have sufficient funds in hand to invest into the business and I have worked hard to gather the funds and pulling it into our business ventures. Many times during SWOT Analysis of the companies, we find the only unavoidable weakness is Funds. The next level achievements that I would want Segal Group of Companies to achieve is to enter NSE/BSE Listing down the line 3-5 years. By listing into the stock exchanges, Segal Group aims to bring the best performing Shipping and Logistics Company in INDIA that can prove its capabilities.

I would also like to mention about the award that I have offered namely Young Logistics Professional of the Year 2018 by Gujarat Junction Awards and Participated as a panellist in CII-GOA Conference on Logistics 2020.

Rohit Bajaj, CEO, Segal Group of Companies
Rohit Bajaj has completed his MBA in Marketing and Finance from TIMS. Prior to his current role as CEO at Segal Group, Rohit has offered his services at Jaisu Shipping Pvt Ltdand Scorpio Shipping Agencies Pvt Ltd. Segal Group of Companies headed by Rohit Bajaj, comprises of Segal Logistics, Segal Shipping Services Private Limited, Segal Seatrans and Segal Overseas Pte Ltd., Singapore. Rohit owns a company named as 99 Outlets, that is emerging into the sector of Franchise outlets chain in India where they believe to operate min 99 outlets across India & grow upto to infinity.
Location: Gandhidham, Kutch