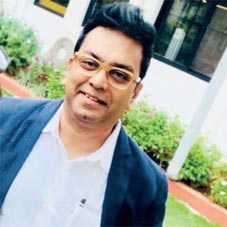 The key to success in the real estate sector has always been putting client's interest first and standing in their shoes to fulfill their dreams. Among the swarm of firms in this sector, not everyone has mastered the art of delivering solutions that are client-centric in order to resolve the clients' challenges. It is here SKYDEALZ INDIA PROPERTY SERVICES LLP outclasses as the go-to brand for a complete range of commercial real estate solutions that are developed with a deeper involvement and commitment to clients' needs.
Since its establishment, SKYDEALZ has been putting clients' as well as its relationship, reputation and success at the crux of every endeavor with emphasis on long-lasting business associations. Further, in-depth market knowledge, good reputation and passionate team effort have helped the firm in building strong rapport with all its clients. In a nutshell, believing in the 3Rs – Relationship, Rapport and Reputation is SKYDEALZ's mantra towards enhancing brand awareness and success. This way, the firm not only outshines as the best in the commercial real estate industry with 95 percent of business from repeat and referral clients (both domestic & international) but also revolutionizes the industry.
The beloved Managing Director of SKYDEALZ – Satish B N has explained volumes about his firm and its idiosyncrasies with CEO Insights.
Brief us on your inspiration to establish SKYDEALZ.
The real inspiration to become an entrepreneur was ignited and fuelled in me through my 26- year long journey in the real estate sector. I have worked at a senior level with world-class behemoths such as K Raheja Group of Companies (Now RMZ Corp), CBRE, DTZ (Now C&W) and Knight Frank, where I learnt a
great deal to not just enhance my skill sets but also their brands recognition. Prior to these stints, I pursued PGDBA Course and Bachelor in Science, which helped me comprehend and master business management and administration to a reasonable level.
Today, I stand at the forefront of SKYDEALZ to present transparent, efficient and dependable services to our clients by leveraging my long-standing experiences as well as strong relationships with landlords/developers and government bodies.
SKYDEALZ not only outshines as the best in the commercial real estate industry with 95 percent of business from repeat and referral clients but also revolutionizes the industry
What sets your firm apart from your competitors in the industry?
Our prime differentiator in the industry is how we provide our services rather than what we provide. At SKYDEALZ, our teams are encouraged to think out-of-the-box and devise ideas that can result in effective solutions for various occupiers and promoters. Some of these ideas entail tax implications, change in government policies, stamp duty & registration charges fluctuations, technical review and advice, strong relationships with developers & government bodies, and others. Besides, we hold strong negotiation with landlords/developers on best commercials and also review and advice on technical specifications to ensure cost-effective and efficient results. This way, we deliver beyond the biggest expectations of clients in the industry!
Tell us about the various services that you offer.
We offer the best in class services – acquisition/disposal, renewal, relocation, expansion and consolidation, down-sizing strategy, financial and qualitative analysis including cash flows, demographic analysis and occupancy cost analysis. Our real estate transaction team further provides services to secure the right fitment in
terms of micro market analysis, employee demography study, technical review, government liaisoning on document verification, and others.

All along these services, we pledge to stay one step ahead of what our clients already know. For instance, when a client needs enhanced electricity, we do a detailed study about the electrical sub-stations in the location which entails checking if they have required power, builder's application status, number of grid lines needed, NOC from respective authorities, and others.

What is the technical expertise behind these services?
In contrast to mere collecting information from developers and passing it on to clients, we deliver them innovative and intelligent real estate solutions based on their and industry's requirements by deploying the best appropriate team. This involves conducting a practical site survey including kinds of chillers being used, placement of STPI plant, type of façade, direction of heat/sun, and many other aspects. Moreover, we are a RERA registered firm that follows all requisite government laws, pays GST, and files returns on time.

Walk us through your future plans.
Without compromising on our Integrity, Professionalism and Commitment (IPC), we aim to stand as a true partner in our clients' growth by understanding their business operations to structure real estate strategy and providing insights on the complexities of transactional details to ensure relevant solutions. We also envisage leaving a strong footprint across the globe, especially in US, Singapore and UK.

Satish B N, Managing Director, Skydealz India Property Services
Besides laying the foundation for SKYDEALZ, Satish holds great reputation for growing and expanding diverse businesses and stands-out as one of the most revered businessmen in the real estate industry.

Offices: Bangalore, India & Newcastle, UK

Offerings: Commercial Lease & Sale, Tenant Representation, Land Acquisitions & Dispositions, Joint Venture, Investment Sale, Lease Renewals/ Renegotiations and Project Marketing/Landlord Representation