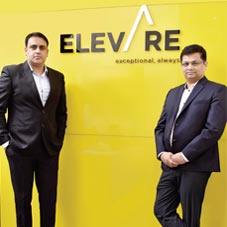 Since 2012, the commercial real estate sector in India has been gaining huge momentum and a lot of players in that domain have come into existence. Punebased Elevare Group is one such entity which stands tall with its exceptional transaction management services that exceed its clients' expectations. The company is well-known in the real estate space of Pune for its transparent approach, honesty and integrity in transactions with their clients. Selection of high-yielding assets for their clients, strong relationship building with all stakeholders, extensive market knowledge, and excellent service delivery are some of the key attributes of Elevare. Moreover, being true to its name – Elevare ('to elevate' in Latin), this professional services and investment management firm, aspires to elevate the entire service delivery experience of its clients in the real estate domain.
To know more about Elevare Group and its awe-inspiring story, delve into the following snippets of an exclusive conversation between Sreekanth P. & Gaurav Singh (Co-Founders & Chief Elevating Officers) and CEO Insights.
What triggered you both to lay the foundation for Elevare Group?
Sreekanth: I started my career with working for reputed International Property Consulting firms before establishing Elevare Group with Gaurav. Gaurav has work experiences from the education, hospitality and real estate sectors.
With rich experiences of over 17 and 13 years respectively in the real estate sector, Gaurav and I quit our jobs in March 2017 and incorporated Elevare Group in April 2017. The strong urge to be our own bosses, good rapport & friendship between us, go-getter attitude, methodical and analytical approach to resolve any problem, and our extensive experiences and expertise, triggered us to plunge into the world of entrepreneurship.

Despite facing multiple challenges in the initial phase, we managed to overcome them, build our business from scratch, and create an adept team on our own. So far, we have been instrumental in transacting over Rs.800 crore worth of commercial real estate investment transactions. Today, I ensure to handle transactions, client interactions and build key relationships while Gaurav oversees all the financial aspects and deal structuring.

What differentiates Elevare Group from similar other competitors in the market?
Gaurav: We attribute our forte in under-construction real estate sales to our unique 360-degree business approach that entails not just sales services but also client's entire investment portfolio management. This includes right from structuring the entire transaction with the seller, handling the financial model for the investment, raising funds for our investors, marketing the property to potential corporate clients for leasing even before it is constructed, and many other aspects. Thus, our clients enjoy a very healthy yield on their investments right from day one, which is why, almost all our clients invest through us repeatedly since our company's inception. Besides, we plan and formulate a very lucrative exit strategy for all our clients, which has helped us achieve whopping 400-500 percent return on equity for them. That's the kind of trust we have built with our clients ever since we started operations!

How do you align your services with your company's tagline ~ 'Exceptional, Always'?
Sreekanth: Our services are
categorized under three verticals namely pure investment domain where our clients buy ready or under-construction properties through us, commercial leasing for office spaces, and industrial services where manufacturing clients setup their own industrial units. Altogether under these services, we have transacted over a million sq. ft. of property in the last two and half years and also closed transactions worth over Rs.250 crore in past one year alone. Moreover, we outclass as the leading advisor to most commercial real estate investors right from private home offices to individual HNIs in India.

Our most cherished achievement which resonates with our tagline was when we were instrumental in growing one of our clients' portfolio from a meagre Rs.5 crore investment into Rs.180 crore worth of assets within two years!

Walk us through Elevare's future roadmap.
Gaurav: In the years to come, we believe technology will play a prominent role in transforming the real estate sector across India and the globe. Hence, we ensure to stay abreast of the industry trends and innovations in terms of real estate buying, selling and leasing. Especially during the current Covid-19 pandemic, there lies a huge need and potential to automate the real estate value-chain by taking it online, thus ensuring optimization and minimalistic physical contact. With a vision to revolutionize the Prop-Tech domain, we are in the process of coming-up with a unique technological solution by identifying the right resources and on-boarding a robust technical team.

Sreekanth P. & Gaurav Singh, Co-Founders & Chief Elevating Officers, Elevare Group
With a strong entrepreneurial vision, the duo sowed the seeds of Elevare Group and currently stands at the vanguard of real estate industry in India.

• Office: Pune
• Services: Advisory Solutions, Transaction Management, Portfolio Management & Capital Markets