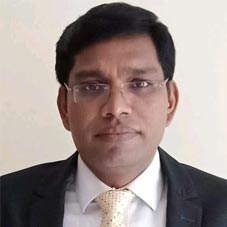 Shujath Bin Ali is a General Counsel, Company Secretary & Chief Compliance Officer with 20 years of corporate legal experience in leading MNCs in different sectors such as Pharmaceuticals, Manufacturing, Software, Information Technology driven services, Professional services industries. Shujath is a qualified, professional and result-oriented General Counsel & Chief Compliance Officer. Shujath Bin Ali worked in various industries like Pharma, Consultancy, Information Technology, Robotics, Manufacturing, and Clinical Research and now in Environmental solutions and Waste Management sector. Shujath has also worked in Finance, Taxation, Secretarial, Ethics, Compliance, Legal functions in his 20 years of diverse experience. Shujath currently serves as Global General Counsel & Chief Compliance Officer for a KKR portfolio Company -Ramky Enviro Engineers Limited.
Shujath is privileged to be the youngest Chairman of the Institute of Company Secretaries of India-Hyderabad Chapter and also was member of Secretarial Standards Board. He was a Founder member and Member of the Executive Committee of the Indian Corporate Counsel Association. Shujath is also named as one of the "Top 100 General Counsels" in India by Legal 500.com in years 2016 and recently in 2018. He is recognized as one of India's Finest InHouse Counsels by the Indian Corporate Counsel Association, supported by the Ministry of Commerce, Ministry of Law & Justice. CEO Insights engages with Shujath Bin Ali, Chief Compliance Officer, Ramky Enviro Engineers, who shares his entire professional and educational journey.
Give us a brief description of your educational and career history before joining Ramky Enviro Engineers? Tell us your professional life and milestones, too?
I am a graduate in Commerce and
Law and a fellow India's Institute of Company Secretaries. I have attended executive education programs on Strategy, General Management, and Leadership from Harvard University, Indian School of Business, Hyderabad, National Law School, Bengaluru and obtained my Masters in Law in Alternate Dispute Resolution & International Commercial Arbitration.
I served as Senior Director- Legal, Risk Management & Company Secretary and India Compliance Officer PAREXEL International –India. I was responsible for providing strategic corporate legal advice and operational legal support for India Operations and a PAREXEL India Leadership Team. Before PAREXEL, I served as Senior Legal Counsel & Corporate Secretary for International Paper-India and provided leadership oversight on Legal, Compliance & Corporate Governance matters. Before International Paper-India, I served for nine years as Associate Vice PresidentLegal & Corporate Secretary for Deloitte US-India offices. At Deloitte I was recognized as one of All Star, Top 3 performers in India and also received CEOs recognition as Deloitte's Face of Excellence for overall contribution to organization, team, community.
Ramky Enviro Engineers Is One of The Largest Environmental Services, Waste Management And Recycling Company
Brief us about Ramky Enviro Engineers and tell us about your significant roles and duties as the company's Chief Compliance Officer?
Ramky Enviro Engineers is one of the largest Environmental Services, Waste management and recycling company in India and is fast growing in Middle East, South East Asia and other emerging economies.
We have close to 50 plus factories in India and we also have in Middle East, Singapore and few other nations. I am the global general counsel and the global chief compliance officer and leads Corporate Governance, Legal, Compliance, Ethics, Contracts and claims management, and I am also a part of the company's CXO team.
A leader has a set of organizational positions and responsibilities. What, according to you, are the key responsibilities and attributes of a Global Compliance Officer?
Understanding the market and the business that you are part of is the first and foremost feature. It is important to understand existing individuals who are managers, their reasoning process, and the culture in that business before taking on the role. It is essential to get a good grasp of the legal aspects, such as legal compliance and the variety of compliance framework, risks applicable to that specific organization.

Integrity, Industry knowledge, Risk Assessment, Communication, and Detail oriented, Problem solving, Data interpretation, conflict management are key skills required.

Are you engaged in any mentorship programs outside your organization as well as externally?
One of my interests in my profession is teaching, training and mentoring. I teach law students, company secretary students as a guest faculty regularly. Apart from this, I even mentor some of the company secretaries and lawyers.

In seminars and webinars all over the world, I also present different papers. In addition to doing legal, ethical and compliance training, I have also become a mentor encouraging talent development practices and mentoring young managers.

Overseeing and managing compliance issues within an organization brings lot of stress and implies rich skills & time. How do you manage to balance between your personal & professional life?
Yes, this is very important issue and continues to remain a work in progress. I try to balance personal and professional life as much as possible but it remains an area of huge improvement for me. However, I also started believing that it is quality over quantity of time to be analysed while we try to achieve the balance.

The Corporate lifestyle brings a certain level of work stress, challenges due to performance pressure. Emotional intelligence, stress management, work-life harmony are important issues which need consideration by the leaders and we need to be sensitive towards these issues with our people.

Shujath Bin Ali, Chief Compliance Officer, Ramky Enviro Engineers
Shujath believes deeply in being engaged in academic and technical circles and has always been interested in numerous thought leadership and eminence events that have allowed him to be updated, learn new things, and share his experiences.