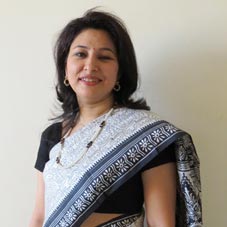 As businesses grow and expand their operations into various domains, it will be even harder for business owners to keep track of the various facets of their business operations. With regulatory bodies doubling down on the various rules that businesses should adhere to, business owners should take extra precautions and make sure that they don't get on the wrong side of the law. This is where a CCO or Chief Compliance Officer comes into play. The CCO of a business oversees and manages compliance issues within their company or organization. In an exchanges space, the roles doulbes up as being an SRO, the exchanges are also responsible for ensuring member compliances.
Seema Nayak is CCO in a Commodity exchange and defines what a capable CCO can do and how can they make a difference in the operations of their business. In an exclusive interview with CEO Insights, she talks about her professional journey and how she has been able to create a name for herself in the industry.
Give us a brief detail about your educational and professional background prior to joining NCDEX India?
I am born and brought up in the steel town of Bhilai, Chhattisgarh. Having been schooled in the best of schools and by the best of teachers, I feel Bhilians have an edge. I went on to complete my Bachelors in Business Management and Masters in Business Administration from Mangalore University. I made my debut into my professional life at OTCEI but soon moved on to NSE (where most of my professional life has been shaped) before joining NCDEX about four years back. Though my entry in the exchange space was not by design, I was
fascinated by the different facets of exchange operations - the very pace of work, the never-ending learning, the exciting challenge of every single day, which very soon had me hooked. I was fortunate in having got the opportunity to work in multiple departments/ functions, something that is rather unusual in any other industry from marketing to operations, from surveillance to business development, from enforcement to compliance and membership, the journey has been varied and interesting. I got to work both in the equity and commodity space. It is the collection of all these experiences that make me the person I am.
The landscape of compliance is growing rapidly - not only are the regulators going deeper, but also cutting horizontally across the various aspects of business
In your journey so far, which are the milestones that bestowed you utmost satisfaction - both as an individual and a CCO?
As a CCO my greatest pride is in the regulatory recognition – over the years, there has been a perceptible increase in the respect and recognition given to NCDEX and its opinions by regulators and Government bodies – as a relatively smaller exchange in terms of traded volumes, it is indeed heartening to note that our values and opinions are respected.
Personally, my success in contributing to effective regulations, innovative regulatory delivery mechanism and mentoring teams –has been very satisfying!
As the CCO of NCDEX, what are the key drivers that you deploy to ensure that the company's regulatory Compliance are used appropriately to meet its short/longterm needs?
Compliance is the sine qua non or defining facet of NCDEX as a self-regulatory organization. The company's regulatory compliance is seen and accepted by the entire organization as the only way to be. That is the most important driver for
achieving compliance goals-adherence to compliance shouldn't have to be imposed, but rather, should come from within. In fact, our short-term and longterm goals/ objectives and needs are identified by the undercurrent of regulatory compliance.

Needless to add, NCDEX does have a comprehensive and customizable compliance framework used to monitor organisational compliance. The key pillars of this framework are real-time updation of new requirements, an appreciation of the spirit behind the compliance requirement rather than a blind enforcement of the letter of the requirement and finally, absolute clarity on who is responsible for what.

To conclude, a holistic approach in monitoring the compliance is very crucial- it's important to see the whole picture rather than parts of it.

Are you engaged in any sort of mentorship programs outside your organization? And, how do you update yourself with the latest industry trends and technologies?
Right from when I started working, I was fortunate to have had bosses who led by example and were great mentors. They believed in my capabilities, converted my mistakes into lessons, pressure into productivity and skills into strengths, and pushed me to greater heights. Thanks to them, I never ever had to look outside for mentorship! In fact, I am still in touch with them and reach out to them when I need advice. I have a wonderful network of friends and colleagues in the industry and we fill each other on the latest happenings in the industry and then of course, you read up and participate in international regulatory forums to keep abreast of the latest trends around the world.

Seema Nayak, CCO, NCDEX
She is of the opinion that success is always a team effort and one is only as good as the team. It is this ability of hers to not just work in a team but also motivate the people around her to work for a common goal that separates her from the rest. Compliance role is ever evolving, consistently difficult, extremely stressful, frequently risky, and often thankless, but nevertheless greatly satisfying withal!!
Favourites Destination: Maldives