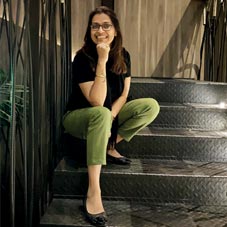 Shweta Baid, the founder of Shail Digital, is a meticulous marketer and extremely passionate about technology and engineering. She is a brand consultant, digital marketing trainer and career mentor and a motivational speaker who has influenced professional and personal lives of people around her through her thoughts and guidance. After gaining diverse industry experience in various roles including tech support engineer, tech content writer and marketing communications professional, Shweta decided to go independent and launched Shail Digital, a B2B digital marketing agency based in Bangalore. Shail Digital, helps companies, especially start-ups and SMEs, establish a robust digital presence. Shweta is also known for founding Shikshaantara, a project for educating school children on technology-related topics and creating awareness about disruptive technologies. She has been speaking about Cyber Security, Safe internet Practices, E-waste management to middle and high school children.
"When you believe in yourself you don't have to convince others, your actions are enough", says Shweta on taking the adventurous path of entrepreneurship. Her ideas, positive approach and curiosity, has led her experiment a variety of things in life. And her dedication and adaptability has led her attain success eventually.
CEO Insights takes part in an exclusive interview with Shweta Baid, who engages in expressing her journey of being an entrepreneur and a successful marketing professional.
What was the primary inspiration that led you to start a digital marketing business of your own?
It's a very tough decision to leave the job and start your own business, when you are employed with a good corporate organisation. You are always puzzled whether the timing is right, whether the decision is right. Sometimes financial constraints also play a role. But you then decide and take the step!
I faced a moment in my career when I felt the need to take a bigger dare
and satisfy my inner thirst to grow. I knew I had the potential and only if I gave wings to it, I could fly higher. Digital marketing was a natural choice for me as I have been serving the domain for about a decade. My engineering background helped me gain better understanding of data, tools and technology.

Any Entrepreneur's path involves a series of ups and downs. Which were the significant obstacles you encountered in your entrepreneurial journey, and what lessons have been learned from these obstacles?
For any start-up, getting enough business for sustainability is the biggest challenge. Market research states 90% of the start-ups fail eventually and less than 40% make it to their fifth year. In my 2 years of entrepreneur journey, I have learnt one thing – think of scalable and agile business solutions. If you were offering "A" and there is demand for "A + x" or "A – y" be ready to serve it. Adopt tools, techniques and relevant resources to serve what the market demands. Then only there is a chance of sustainability.

Another important lesson learnt – leveraging your network. Being in industry for more than a decade, I have a network of professionals whom I can count on. They may appoint us or recommend us for services. So there is no point in hesitating to ask for help or recommendation. As rightly said, your network is your net-worth.

With the current economic situation and the pandemic, how has been the business for you? What are your strategies for sustainability in such situation?
Ans: The two pillars of digital marketing are "strategy" and "creativity". It's easy for companies to reach out to the market, study the competition, assess the analytics and derive a strategy for marketing their businesses. But converting the data points into smart content is a challenge for many organisations. They face creative fatigue and there is imaginative exhaustion that organisations can't get out of the box thinking. This is where we come in.

It's our job to create, recreate and rejuvenate the content on a regular basis. We work with pool of freelancers on regular basis to break this creative fatigue and come up with new ideas every time. Since digital marketing is a very dynamic space, we cannot have all expertise inhouse. So we do a lot of collaboration with other agencies and partners and share the work.

What is the USP of the organization? How do you differentiate your firm from others in the market?
Although Shail Digital is a start-up, we behave and work with extreme
professionalism and empathise with client's pain-point. Our clients recommend us for our subject matter expertise, time to delivery and budget management. We maintain transparency in our operations and strongly believe in documenting each step. We take up those projects where we are sure about completing it with full quality and satisfaction. As digital is a vast sector, new initiatives and approaches can be introduced regularly in this industry. There are new algorithms and new technologies in the market every day. We are always in the "learning and development mode".

We were able to gain expertise in digital domain through multiple projectsof varied scale in first year.

This helped us become a Certified HubSpot Solutions Provider Partner as well as Mailchimp Partner.

How do you stay abreast of the latest trends and technologies in the marketing field?
As mentioned above, we are always in "learning and development mode". As a company as well as an individual, we ensure participation in various conferences, webinars and events. Personally, I am member of Society of Women Engineers, Corporate Diva Tribe by The HOW Forum, actively follow Linkedin Groups and Social media community for getting updates and industry news. I am part of Digital Vidya Trainers community where a lot of meaningful exchanges happen related to new tools, softwares etc.

Do you have any advice/suggestions on your mind for the budding entrepreneurs in the marketing segment?
My advice to all budding entrepreneurs is be "SMART"
S – Socially Active (if you are not active, you are not known)
M- Master a Tool (if you are not good with technology, you fail to get the logic)
A – Adapt new trends and thinking (if you don't adapt, you will not be satisfied)
R – Real (if you are fake, you will be caught in digital world)
T-Tenacious (Be stubborn to achieve, don't give up)

Shweta Baid, Founder, Shail Digital
Shweta Baid has completed her M.S. Electronics in the US, B.E. Electronics, in Pune. She has a Certificate in Digital Marketing from Singapore and also has an Advanced Certificate in Digital Marketing from AIMA. She is Hubspot certified Email Marketer, Hubspot certified Social media Marketer and has in-depth knowledge on Google ads and Google Analytics. She is also volunteer for NASSCOM Digital Marketing working group for future skills.