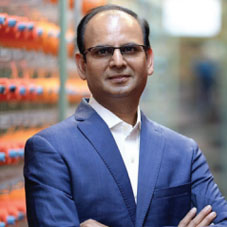 Do you ever wonder what it takes to build a business from the ground up into a financially sustainable, consistently profitable, and scalable brand that can weather economic storms? It takes a visionary leader who's unafraid to take risks and knows how to inspire and lead their team to greatness. Shyam Bhatter, the CEO of Royal Thai Americas, is just such a leader.
Shyam left his settled life in India and moved to the US in 1999. With over 35 years of experience in leadership roles, he has successfully driven financial success and global business growth. He takes an entrepreneurial and forward looking approach to identifying opportunities to enhance value. And knows how to build strong teams by leading with empathy and enthusiasm and celebrating team wins to promote ownership of business results.
Despite being a well versed Chartered Accountant, he took a risk and moved to the United States, starting a carpet selling company with a partner. Over the years, he continued to study and earned his CPA and LIFA licenses while growing his business. And he has also pursued an Executive MBA from Guizuetta Business School at Emory and eventually joined Tai Ping Carpets as the CFO, which TCM Corporation further acquired. As the CEO of Royal Thai Americas a subsidiary of TCM, Shyam continues to inspire and lead significant change. CEO Insights interviews Shyam to deduce more about his leadership.
What has been your success mantra in your professional journey?
The secret to my success is hard work, staying relevant, and remaining focused. I strongly believe in avoiding the question, 'what's in it for me?'and instead,
dedicate myself to my work. At times, when the results are not as expected, I continue to do the right thing. Everything will pay off in the end. Over time, your hard work and dedication add up, significantly impacting and defining your professional journey.
How would you define Royal Thai Americas as an organization?
Royal Thai Americas is part of TCM Corporation, a Bangkok stock exchange listed company. As CEO of TCM's surface division (TCM Corp has two more divisions: TCM Living & TCM Automotive), I oversee our flooring business in North America, EMEA & APAC. Our TCM surface division holds two brands: Royal Thai and Carpets Inter.
Shyam cultivates a business culture with a deep commitment to enabling employees and the organization to thrive
Our Royal Thai brand is a leading global luxury brand. Royal Thai floorcovering products are placed in the world's most celebrated commercial spaces and institutions. We proudly carry the strong tradition of highly trained local craftsmen who perfected carpet making techniques that refine the craft of floor covering into an art. We are a vertically integrated manufacturer. Under the Royal Thai brand, we sell Axminster, Hand Tufted, and Machine Tufted carpets.
Under our Carpets Inter Brand, we sell luxury & eco friendly carpet tiles and automotive carpets primarily in Southeast Asia, India, Australia, and New Zealand.
We are renowned for interpreting the design intentions of our customers and providing custom floorcovering solutions that meet our customer's needs and expectations.
Could you tell us about the sustainable practices of your organization?
We believe in taking concrete steps towards becoming a genuinely ecofriendly company. As a vertically integrated manufacturer, we are responsible for creating beautiful carpets for our clients while keeping environmental sustainability in
mind. Our waste reduction squad minimizes resource wastage. Through our water conservation project, we have achieved zero water discharge goals since 2015. We also work closely with ocean societies to remove water bottles from the environment and recycle them to restore the ecosystem. So far, we have recycled over 902 Million PET bottles in our manufacturing process. We are big supporters of green energy, and 70 percent of our electricity consumption is sourced by solar panel installed in our factory.

For our sales offices, we promote the work from home culture to minimize carbon footprints. Our corporate goal is to be carbon neutral and have zero emissions by 2050. As a CEO, I am committed to promoting sustainable practices and making our operations more eco friendly.

In light of your strong experience within the industry, what advice would you give to budding industry leaders?
The world is constantly evolving with new technologies like AI, and businesses must stay up-todate. While finding your niche is essential, it is equally important to identify ways to grow and stay relevant in the market. As a CEO, I always seek ways to expand our customer base, increase our geographical reach, and add new products that align with our customer's needs and design abilities.

My advice to leaders entering this space is to be prepared for a time consuming and non-cookie cutter business model and constantly strive to expand and provide relevant solutions to customers. Understanding the market and 'customers' needs is crucial. It is essential to focus on providing unique solutions aligned with customer requirements and constantly remain relevant.

Shyam Bhatter, CEO, Royal Thai Americas
Shyam is known for his unwavering passion for his work and his ability to focus his energy and patience to make things happen. He values team building and believes that having the right people around you is critical for success. He treats his team like family and wants them to feel happy and fulfilled in their work. Shyam is also an avid tennis player and values the socialization aspect of the game.