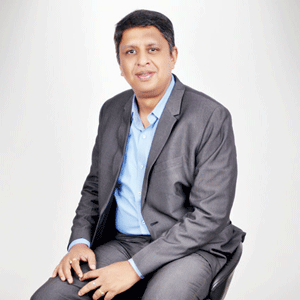 Aptly defining how good nature nurtures business success, Siddhartha strives to learn more about business and undertakes work beyond his call of duty, a quality that makes him stay abreast with future trends and gain industry-oriented knowledge. A firm believer of Alan Simpson's wisdom - "If you have integrity, nothing else matters. If you don't have integrity, nothing else matters", Siddhartha learnt his first lesson of how integrity is the key to life and business during his tenure with GE Capital at the early age of 23-year. He soon learnt the significance of honesty and transparency while working with Wipro Tech and industry best leaders, and in no time laid the foundation of Quale Infotech for offering end-to-end consulting and services with focus on RPA and AI.
The following excerpts of Siddhartha's conversation with CEO Insights highlights upon the young entrepreneur's journey that demonstrates perfect amalgamation of acumen, experience and life lessons with business operations for goal accomplishments.
How your vast industry experience and expertise played an instrumental role in Quale's inception?
Post my MBA (Finance), I started my career with GE Capital and worked with several global outsourcing
firms in various leadership roles,followed by my professional endeavor with Wipro Technologies as the Head of Core Banking business. While employing with Wipro, I learnt how business operations run parallel to business ethics and the importance of integrity in the long run. Gathering this knowledge and owning 20 years of experience in IT & ITeS management industry helped me in executing responsibilities as NIIT Technologies' Executive Vice President.

"My primary intent to take up entrepreneurship was to create an organization which is new age and revolutionary"

Propelled by my entrepreneurial instincts, I started Quale in 2017 with a vision to become customer-oriented digital services firm. Today, we are the partner of choice among all our customers. I have evolved my working style as I moved from senior position in global firm to being an entrepreneur.

What propelled you to take up entrepreneurship & how has been the journey so far?
My primary intent to take up entrepreneurship was to create an organization which is new age and revolutionary. Discerning a significant gap in the way organizations adopt digita (such as utilizing tech more as quick fix patches rather than a tool), I decided to venture this opportunity to address old problems through new technologies.

While enthusiasm and expertise are critical, experience is the tool that brings rationality and structure. My experience from diverse verticals and across multiple geographies has brought in knowledge about what influences global businesses. This has helped us in establishing Quale as an entity that understands customers business. We bring on table not only knowledge about new technologies but also industry experience to provide value adding solutions to our customers.

How has been your family's support throughout? What is your mantra to create balance between personal & professional life?
Although I was a little skeptical of how my family would react to the concept of Quale, my wife and parents were very receptive of the idea and have been the pillars of strength throughout. Additionally, my friends and business associates have always been at the forefront to offer help and shown interest in joining Quale. In fact, much of the initial business came to the table through referrals and inbound calls.
This keeps me motivated and excited about the work we are doing.

Maintaining balance in professional and personal life is integral to long term survival. Over time, I have learnt to switch off from work and spend time with family and relax. This is engrained in our organizational culture as well, which helps us in enjoying moments and building bond within the team. Additionally, I have always been an active sportsperson. It takes something really urgent for me to miss my round of Squash over weekends.

How do you update yourself with the latest technologies & industry trends? Would you like to give any advice to budding entrepreneurs?
As a leader, I have always believed in sharing knowledge and insights with others. I am quite active in addressing seminars and conferences. Interacting with others helps me in not just sharing knowledge but also validating my thoughts and initiatives. Quoting my friend here - "It is not necessary to make every mistake yourself; you can learn from others as well".

I would recommend young entrepreneurs to read through Robert Schuller's book - 'Success Is Never Ending, Failure Is Never Final'. It describes how failure is never a final result if you have the perseverance to get up and continue chasing your dreams. On the other hand, success is something that never ends and you can achieve one success with another. This has been my inspiration throughout and will help budding young minds as well.

Key Management:
Siddhartha Singh, CEO
A self-made entrepreneur, Siddhartha personifies honesty, modesty and perseverance and believes in running business on the wheels of integrity and transparency. Leveraging his two decades of rich experience, he stays ahead of the curve & maintains a foresight on the market trends.

Headquarters:
Gurugram
Offerings: Managed Services for Robotic Process Automation, Artificial Intelligence, Digital Consulting Services & Extended Work Bench for Automation & Digital Transformation

Favorites:
•Hobby: Squash
•Food: Street Food & Home-Cooked Meals
•Holiday Destinations: Goa, London & Sydney
•Book Recommendation: 'Success Is Never Ending, Failure Is Never Final' by Robert Schuller