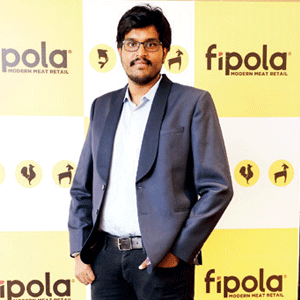 Right from his childhood days, Sushil had an inclination towards entrepreneurship. Unlike other kids frolicking around, Sushil always watched his father and his uncles' work diligently and some times handled the fish business along with his father, post schooling hours. With every passing day, the rooted seed of entrepreneurship grew and inspired him to commence his own business.
Today, Sushil is the proud MD & CEO of Fipola Retail (India)– a modern meat retail company delivering premium range of meat products with best in class customer service. Taking forward the legacy of upmarket meat business with Fipola, Sushil reflects upon his entrepreneurial journey and unfolds the secrets of how he brings professional and personal duties at equilibrium, in an exclusive conversation with CEO Insights.
What kindled you to take up the entrepreneurial journey & what were the initial challenges that you had to overcome to become the flag-bearer of Fipola?
As I grew up, I took commerce as my main subject and graduated with flying colours from Loyola College. Amidst this period, I took on the responsibility of secretary and
ventured towards the goal handling a team of 80 members. It was the start of my leadership journey. After completing Masters in Operations and Supply Chain Management from Manchester Business School, I decided to sail for my entrepreneurial goals. Although working closely with my father and uncles helped me gain base level experience, it was no less than a challenge for me to setup my own business.

"Amidst this period, I took on the responsibility of secretary and ventured towards the goal handling a team of 80 members. It was the start of my leadership journey"

Conceiving the business model, putting it down on paper and finding the right team to execute the model was, undoubtedly, an arduous quest. Equally important was the task of bringing on-board right consultants for design and architecture, and convincing franchises to invest in the model. That's when I exercised by experience and acumen to bring in place all the key factors for business setup, and here I stand with Fipola riding the success wave with glowing numbers.

Business operations, from planning to execution, requires copious of knowledge and skill. How do you churn-out efficient business strategies by leveraging your vast experience and rich acumen?
Fipola has been in my mind for quite some time. It is a natural extension of my father's B2B business – SR Marine. As the company's MD and CEO, I take it as my duty and responsibility to strategize fruitful plans and make my team execute those plans seamlessly. All said and done, entrepreneurship is about learning everyday; everyday is new and every season comes with its own challenges. My own experience and my team's strength makes Fipola go forward. With regard to participation in mentorship programs, I am a member of Retail Association of India, Chennai Chapter and I actively participate in the events organized by them. Along with interacting with PE funds and VCs, I take deep interest in sharing industry insights with my fellow exporters.

How do you manage to strike the right chords of work-life balance?
Instead of working continuously for day and night without keeping track of time, I prefer to complete all my
work during work hours. Utilizing the travel time between factories for work management becomes an added advantage. Keeping conversations short and on point furthers helps in channelizing work commitments during daytime. Besides, I always reach office early and ensure that all work on my table is completely done. This enables me to depart from office sharp at 6:30 PM and spend rest of the evening with my family.

The mantra behind right work-life balance is definitely my time tracking skill, which enables me to equally manage work and life. While on weekends, I love to do barbecuing for my family and friends; I make sure to wear my reading caps to stay abreast with latest news and articles concerning my domain. And that's how I keep all strings attached!

Family plays significant role in every entrepreneur's life. How has your family supported you in your entrepreneurial journey so far?
Entrepreneurship was a natural option for me. Although my elder brother switched path from entrepreneurship, my family and I always knew that this road had to be taken by me. My wife, Aishwarya, always stood right beside me as the pillar of strength while my kids, a son and a daughter, kept the jovial side of me alive. I consider my two toddlers as God's gift to me; the moment I reach home and see my kids, I get completely de-stressed with their sparkling smiles and happiness. It is just unspeakable!

Key Management:
Sushil Kanugolu, Founder & CEO
A maestro from Manchester Business School, Sushil has built his business empire with passion, poise and patience. He is determined to continue the familial legacy in seafood business and stand tall as a pioneer in meat industry in future endeavours.

Headquarters:
Chennai
Offerings: Premium & Exotic Meat Products including Fish, Poultry & Lamb
Favorites:
•Hobby: Barbequing & Reading
•Destination: Queenstown Scotland
•Food: Biryani