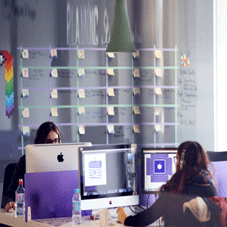 On contrary to popular belief, recent studies have unveiled that it's not just the millennials but workers across all age groups who seek more flexible work schedules. Besides the obvious benefits such as improved job satisfaction and better mental & physical health, flexible workarrangements also enable organizations to enhance productivity and decrease cost. Centering a happy & friendly work culture as its mantra to success, Sitel Group, one of the largest customer relationship management companies globally, has successfully implemented some extremely flexible work schedule policies that deliver such fruitful results.
The HR department of this Miami-based company that has over 3500 employees in India & 75000+ globally is spearheaded by Kalpak Huddar(Head - HR). He is one of the region's most senior HR leaders with quarter century of experience in various MNCs & Indian Organizations, encompassing entire gamut of core functional HR. Kalpak in an exclusive interview with CEO Insights delineates Sitel's well thought out HR policies that have facilitated the company to achieve an ever growing number of happy employees in core customer service area as well as niche areas under its COEs. Here are the excerpts:
Kindly tell us about a few HR policies like work schedule, leaves and other facilities that propel your employees to stay associated with Sitel Group.
We enable our employees to manage a perfect worklife balance by implementing several work schedule policies such as Half Day Leave Policy, Flexi shift (eight hours/five days, 11 hours/four days & so forth), Work from Home, Part time employment, preferential shift (for those who require medical attention & currently educating themselves), shift & work off swaps in case of emergency and more. Apart from granting leaves for birthday & anniversaries, and paternity leaves for male employees, we also provide sabbatical leaves for medical & educational purposes.
Besides paying for overtime as per law, we occasionally provide free meals, cash rewards & extra
incentive along with compensatory leave. However, our relaxed dress code policy encourages our employees to come to work and feel comfortable. We also provide Nodal/trunk pickup & drop transport facilities as well as door step transportation during the night shifts.
Concentrating on bringing aboard larger ratio of freshers in each batch, we ensure a smooth, nontedious & easy rounds of interview assessment & onboarding process, leveraging technology
A strong proponent of open door policy, we encourage employees to speak to the leadership through various channels including Chat Groups with Leaders and Coffee Connection with Leadership (a monthly open forum), apart from grievance management tools. Going the extra mile, we regularly conduct health & wellness sessions to educate them about a healthy lifestyle and organize health camps (eye checkups, dental camp, blood donations camps & more) and health check-ups albeit they are adequately covered under medical health cover.
Briefly tell us about your company's hiring and retention strategies.
We channelize all our sources (social networking sites, portals, job fairs, campus interviews and partnership with NGOs & government institutions) and ensure a balanced contribution amidst them towards recruitment. Similarly, our Vendor Channel Partners spread across the city & India ensure proper balance in demographics.
Concentrating on bringing aboard larger ratio of freshers in each batch, we ensure a smooth, non-tedious & easy rounds of interview assessment & onboarding process, leveraging technology (video conferencing interviews on Skype & WhatsApp). The detailed induction & orientation by various departments help the new hires settle in well and understand our culture better, whereas a detailed Communication & Process training renders them the knowledge required to excel in their roles. Each Sitel office has a dedicated engagement officer focusing on multiple engagement action, especially during the first 90 days of a new hire.
Throw some light on the growth opportunities your employees can avail within your organization.
We take pride in being an equal opportunity employer, who not only has a good gender ratio & differently abled employees, but also keep our internal job postings open for all eligible candidates. We have examples of frontline agents who have climbed up the ladder to become Sitel Directors. We believe in educating & preparing our associates for future challenges and career path of their choice by imparting skill based trainings. We have various programmes like Key Talent, Track Trainees, Elevator, Career Compass (mid-level elevation), Growth Academy (gives a strong talent pool of ready candidates to fill open positions at first & second line supervision) and more, which have helped us fill 70 percent of lateral positions internally.

Our latest initiative MAX (My Associate Experience) facilitates our frontline associates to be part of global idea generation through various work streams like crowdsourcing. While our internal learning platforms (Learning Tribes, Empower Center, My Academy, MOOC & more) helps them learn & keep pace with the latest trends & technologies, our Workplace@Facebook initiative, quarterly town halls & biannual storytelling events bestow employees worldwide with insights about various aspects of Sitel.

How do you spark enthusiasm among employees by organizing outings, promotions and others?
Apart from celebrating Indian festivals, we also encourage our employees to participate in prominent US & UK festivals celebrated by our clients. Budgets are set aside for engaging employees through group dinners, annual parties and celebrations. Our robust R&R (monthly & quarterly) process allows our top performers to get rewarded periodically with goodies/vouchers, certificates and trophies. Additionally, we have tied-up with multiple commodity and service providers for group discount to Sitel associates. Not only we invite our employees' family members to visit the office on family day, but also provide them the opportunity to refer their friends & family members to join the organization and earn if they get selected.

Key Management
Kalpak Huddar, Head - HR
Office: Mumbai

Offerings: Contact Center, Digital, Training, Technology, Tech Support as a Service, Analytics & Consulting