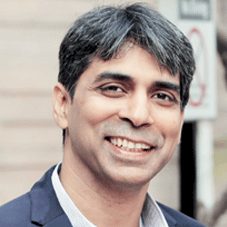 EdTech startups are mushrooming at a significant pace in India. In the country, a nationwide lockdown caused a sudden surge in demand for edtech. However, one company has been in the field of education for a while now, bringing disruptive learning techniques and robust platforms that incorporate teachers, students, and parents. Square Panda, established in 2014, was a result of Andy Butler – CEO's struggle to find appropriate learning material for his young daughter. Thus, the company started with a mission to empower all children to reach their full potential by launching their educational journey through the power of literacy and languages. Ashish Jhalani, an entrepreneur with core expertise in the e-Commerce field, considers his leap in the education field to be a big decision. He joined Square Panda in 2018, leading the India operations while shuttling between New York, Beijing, and Mumbai. In a conversation with CEO Insights, Ashish Jhalani talks about Square Panda's position in the edtech domain and its offerings.
Please walk us through Square Panda Education's journey so far as an EdTech startup.
Square Panda was established in 2014 by our CEO, Andy Butler, who was frustrated by the lack of learning resources for his dyslexic daughter. He ideated engaging games to help her identify, spell, and read English alphabets. Its success prompted him to develop phonics-based learning playsets based on the latest neuroscience research and AI technology. It helped in English language learning and cognitive skills development for preschool children. On Jan 4, 2016, two years after Square Panda was established, American tennis legend and eight-time Grand Slam champion Andre Agassi came on board as an investor in Square Panda. The company's operations in India were launched in Mumbai in February 2019 by Andre Agassi himself.
Our educational applications and games are wholly based on findings from neuroscience research. Moreover, the special home-schooling kit that we launched in India – SquareBox enables innovative multisensory learning for kindergartners. Square Panda has established its presence in three countries – the US, China, and India, and is trusted by more than 3000 schools. We are looking to expand our global presence through countries like South Korea, Japan, Australia, and more.
With each product and each upgrade, we continuously build more algorithms to understand each child's patterns of learning, demographics, and make them integrated against the new products and the new games
Tell us about Square Panda Education's approach to EdTech
Square Panda strives to bring impactful, innovative learning backed by games, which are carefully designed by our very own in-house curriculum team comprising early education experts, neuroscientists, and technologists. We provide well-rounded, multisensory, and adaptive learning, which holds value for all stakeholders in the system, including children, parents and teachers. Additionally, technology gives us the power to scale operations with regards to our market. All our games are adaptive. Our cloud-based system uses the data gathered while the children are playing to personalize their learning as per their level, with recommendations about which game can best enhance their skills.
How do you perceive the opportunities in India's current EdTech market for your company?
Currently, there are 240 million children under the age of eight residing in India who can benefit from our literacy program. At present, we can divide them into Metropolitans, Tier-1, Tier-2, and so on. Square Panda takes a three-pronged approach, talking to public sector schools, private schools, and parents. We approach the
governmental and public schools to teach them the basics of English learning, private schools to help them adopt our program into their daily learning, and parents & caretakers on a more personal, one-on-one level.

Square Panda has come a long way since inception. Could you share with us your future goals? How do you intend to innovate Square Panda Education's market outreach in the portfolio?
Square Panda has come-up with a new way to keep the learning going, even when students are at home. More like a teacher's instructions, the Square Panda 'School-To-Home' program serves as a classroom aid, helping children continue to get the best learning opportunities even when they are physically distant from the school. It improves their literacy skills with appropriate instructional resources. Teachers stay connected to their students' learning, real-time view over data, monitor progress, and more. They can use it to intervene and guide students and parents in the learning journey.

At Square Panda, we consistently use Artificial Intelligence and Machine Learning to provide unique and special safe learning experiences to our users. While creating a global profile for each child, our AI algorithms are always running in the background, collecting information to make a personalized, in-depth learning path for each user. Based on this, our program provides learning recommendations alongside real-time data to help adults supervise with ease. With each product and each upgrade, we continuously build more algorithms to understand each child's patterns of learning, demographics, and make them integrated against the new products and the new games.

Ashish Jhalani, Managing Director - India
A business & technology senior executive and entrepreneur, Ashish has over 24 years of experience in building high-growth global businesses. He has occupied various positions across sales, marketing, business development, global digital strategy, product management, and engineering.

Product Offerings:
● Square Panda Playset
● SquareLand
● SquareTales
● SquareBox