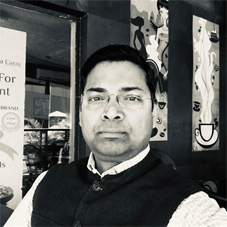 Children are our nation's most prized asset. With more than 250 million students enrolled in schools across the country, it is imperative for our education system to empower them all with skills to get ahead in life. While traditional education is an effective medium of learning for students, the curriculum leaves a lot to be desired for, especially in terms of science, technology and computer science which is a glaring need in today's era. Amalore Jude, an ace marketer and Susan Jude, a teaching professional were struck by this glaring gap in our contemporary curriculums. The duo set about to establish a new age educational institution that would render STEM-oriented technology and digital skill courses for K-12 students thus founding Modo Edulabs.
Headquartered in Bangalore, Modo Edulabs enables students to enroll for innovative yet practical courses online, beyond their formal school engagement and learn the basics of electronics, robotics, programming, Artificial Intelligence among others. Founded in 2015 and officially launched in 2018, the young firm is part of Amity Innovation Incubator program and is now working towards collaborating with industry leaders and investors to take Modo Edulabs a step upwards in its market journey.
The CEO Insights team caught up with Amalore Jude to speak about the influences that motivated him to found Modo Edulabs and the various factors that make the firm truly one of a kind.
What propelled you to create technology courses for K-12 students? How has picking the online mode for dissemination of knowledge helped you further your mission?
The world is fast moving towards adopting cutting edge technologies in every aspect of life and our objective from the get go was to get students up to speed with the latest developments in modern science. We want to raise awareness about emerging technologies such as AI,
robotics, machine learning, drone technologies and 3D printing among various others. Modo Edulabs intends to become the single point where students can immerse themselves in the world of emerging technologies through digital learning as well as hands on exploration.

We realized that today's children are adept at using commonly available digital tools to further their learning endeavor. Therefore we use these technologies and tools to share our content with students. We have created a platform with a learning management system where our video lessons are posted online. Children can thus take these lessons at their own pace.

How has your prior professional experience helped you with building Modo Edulabs?
I am a corporate marketer with over two decades of experience across various companies. My experience in the marketing domain has taught me two precious lessons, perspective is everything and customers are the key to your business. Therefore I have always put my customers (students) ahead of anything else. The entire Modo Edulabs team ensures that whatever we create or do, is designed keeping the young students in mind.

Susan, my life partner and the co-founder of Modo Edulabs hails from a computer science background and has experience of teaching at schools. She currently leads the curriculum building team at the firm. In addition, we were joined by two of our closest friends who co-invested with us. We are the core members of the team and our unique combination of experience with customer centricity and education helps us create a unique blend of courses.

Tell us about the various courses that Modo Edulabs offers to students. How were these courses designed to provide maximum impact?
The foundation stone for Modo Edulabs was laid in 2015 when we began developing our five level framework that still remains the backbone of our offerings. The first level is Jumpstart which introduces children with the basics of electronics, coding and robotics. In the second level Step-Up, children are familiarized with the basics of sensors and IoT. These two levels have been rolled out since 2018 and have attracted various students. The next three levels tackle AI, data science & machine learning and deep learning respectively. We plan to launch the third level by end of this year and the other two levels subsequently in 2021.
Additionally, we offer short-term skill-based courses through our Skill Academy that can be completed within a few hours. Our roster includes easy to follow coding lessons, project based activities and a chat tool that enables students to communicate with our team in case they get stuck somewhere.

We consult experienced content developers, educationists and curriculum experts while designing each of our courses and tools. This is done to ensure that the final output is best suited and age appropriate for our target audience.

In your opinion what factors have contributed to the success of Modo Edulabs? What is the future road map set for the firm?
In the past few years, mass proliferation of affordable internet service and smart devices has levelled the field for content creators and content consumers alike. This factor has brought about a massive push to the edu tech industry. On the other hand, with modes of learning becoming democratized, children today have the opportunity to learn beyond their school curriculums. So now any child who desires to learn the concepts of robotics, IoT, AI, etc can do so irrespective of their location. Additionally, the unique nature of our courses and the robotics kit that students can procure from us have helped us amplify our user base.

Our focus is to improve and increase our course offerings over the next six months. We currently cater to middle & high school children and intend to craft courses for primary school students as well. On the product/tech perspective we want to focus on robotics, IoT while bringing in more focus on AI, coding and visual programming. We want children to have multitudes of options depending on time, price and expertise level.

We are actively looking to collaborate with senior industry executives, CEOs & investors who can align with our vision to take Modo Edulabs to greater heights.

Amalore Jude, Founder & CEO
Armed with over 20 years of corporate marketing experience across organizations such as Dell, EMC, IBM and Frost and Sullivan, Amalore has been the driving force behind Modo Edulabs. A seasoned leader with great market perspective, he is committed to creating some of the most innovative digital courses for students of all ages.
Offerings: Jumpstart, StepUp
Offices: Bangalore