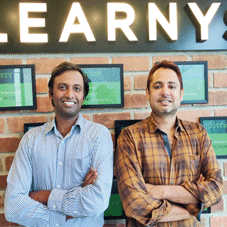 It's a narrow line that discriminates between a service provider and a 'solution' provider. The co-founders of Learnyst– a Bangalore-based EdTech company, Shankar Mahesh (CEO) &Shivaranjan Kumar (CFO), were well acquainted with this elementary fact. Back in 2014, the duo with a cumulative experience of almost 30 years, kick-started their entrepreneurial journey through a small market survey – enquiring teachers who owned coaching institutes about what kind of solution would help them go digital. Banking on the actionable information generated, the young turks provided teachers, who were previously selling courses through SD-Cards, CDs &Pendrives, with a SAAS platform, wherein they can share their course content like videos, PDFs, & PPTs with their students online.This small requirement-centric solution triggered ripples and the company took off in an awe-inspiring fashion.
Having started its journey from a 200 square feet room, Learnyst today is one of the fastest growing LMS companies, catering to 1000+ institutes with more than three million students online. The company has been highly successful in providing technology platform for online education - a proposition wherein any educator developing good content can grow their online academy without worrying about the technology. CEO Insights is delighted to interview Shankar and Shivaranjan to further explore their pursuit.
Online education is still in its growing stage. How is your company influencing the market, Shankar?
The success of online learning apps like BYJUS, government's digital friendly policies, and the reduced cost of internet access have inspired many teachers to consider
the idea of online teaching. Though the digital literacy among teachers and students has drastically improved, still there is a significant teacher-population who are new to technology and find it challenging to adapt. We provide them with a unique, highly secured solution. The features like offline download and adaptive streaming allow students, especially in the remote areas, to access course content seamlessly. On the other hand, security features like DRM encryption, screen capture restriction, and dynamic watermarking are a real breakthrough that has boosted the confidence of institutes and teachers to go online & generate revenues through course sales. With Learnyst, institutes and educators could launch their online academy without worrying about technology at fraction of the real cost. Our thoughtfully designed pricing model ensures great value provision for educators. For instance, the integrated payment gateways credit 100 percent sales revenue directly to the teachers' accounts, since we do not charge any transaction fee. On an average, our educators generate 10 times revenue over their investment.
Helping educators launch profitable & secure online academy.
Shivaranjan, how is your complex backend infrastructure ensuring a simplified approach towards online teaching?
Teachers can start their online academy in a couple of easy steps - upload the course content, and start selling the course from their branded website and mobile app with an option to add their classroom students and even send push notifications & emails, among a plethora of other features. The course content can be anything from SCORM/TINCAN to Videos, audio, HTML, PPT and PDFs, while they can also create mock tests & quizzes. We offer a freemium trial period of 14 days without asking for any credit card details.
Teachers can interact with students through discussion boards, SMS & emails, offer course access at fixed intervals (with the content-dripping feature), and even reward course completion certificates. We also make sure that their content is
protected from theft or plagiarism with a high degree of redundancy built into the security infrastructure. In short, we offer a complete online solution that helps teachers grow online. Above all, we understand the challenges of first-time online teachers in terms of creating course content and marketing courses. Hence, we provide them guidance and support, starting right from the content creation stage to marketing the course.

Are you coming up with innovations or up-gradations to enhance your organization's portfolio?
Innovation is a part of our DNA. We recently have introduced a 'live class' feature, which ensures seamless learning even during the pandemic. Another recent release has been 'Refer & Earn', which is a reward program for students.This feature greatly helps educators to market and promote their courses. In the future, we will be working on offering additional marketing features, in addition to significantly involving Data Analytics.

Shankar, what is the future roadmap set for your organization?
Taking our success into account, we foresee the potential to scale up in other educational market segments like schools, colleges, universities, and vocational training institutes. The current pandemic situation is also hosting a paradigm shift in the dynamics of classroom coaching. We are currently focused on bridging the gaps so that we can provide a more suitable solution for schools and colleges to deliver classes and evaluate students online.

Shankar Mahesh, Co-Founder & CEO
Shankar possesses 17 years+ of software development experience that spans across multinational giants such as Motorola and Huawei. He has a Master's degree in Computer Networking from Illinois Institute of Technology and has also applied for a patent in the Audio & Video domain.

Shivaranjan Kumar, Co-Founder & CTO
Holding a Bachelor's degree in Computer Science, Shivaranjan is passionate about interacting with people. A serial entrepreneur with 17 years of experience of working as a software engineer and a project manager at IBM and GE respectively, he has patented an interactive advertisement technology.
Office: Bangalore