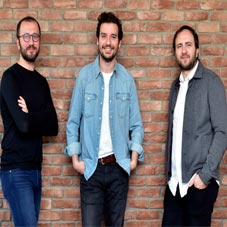 Amid the lockdown, most people have been shifting to edtech platforms to not just learn new things but also to add new skills on their resume. Set up by a group of three friends from high school and college, Kunduz is a Mumbai based edtech firm set up with the same aspiration for the competitive exams. A young, successful edtech startup – Kunduz was established in 2018 with the vision to guide the students from the K12 segment to prepare for their school and competitive exams. The prominent product offered by Kunduz is a personalized doubt solving service that captures the essence of having a private tutor to help the students in solving their doubts promptly. With the main aim of Kunduz to make sure that the students have 100 percent satisfaction, the firm assists the students to progress in their learning method without interruptions. CEO Insights Interviews Basar Basaran, (Co-Founder), Kunduz.
How did it all begin and what are the major challenges faced by the firm and what were the measures taken to overcome them?
The foundation of the Kunduz idea goes back to the years when three friends from a high school and college mutually had an objective for ways to crack competitive exams. Kunduz is the pursuit of scaling that experience from 300 students around the world. In 2018, investors from Silicon Valley and few more friends joined to start Kunduz's operations in India.
The journey of Kunduz has been a successful one with various challenges. The major one was how
different student learning system was in every other country. This edtech startup has stood the difference incredibly early and built an India centric strategy for growth including tweaks to Kunduz's products to have a better market fit. Unlike the reality in many popular industries, global success in education will come only if the local dynamics are understood and incorporated in the products.
The factor that makes students love Kunduz is we make sure that there is 100% satisfaction. Our tutors answer our students' questions until they say "I understand". This level of personal attention is unparallel in the world
What opportunities do you foresee in the current EdTech market of India for your company, and how are you leveraging the best of them?
EdTech is an exciting market across the world and India is one of the fastest-growing markets. This growth was further accelerated with students across the world shifting to a virtual learning environment during the pandemic. Personalization of learning experience in a virtual environment is a key factor why Kunduz is successful and the students love it. Meaning of personalization is very simple for the company, Students get answer to their questions until they understand it clearly. It's never one-size-fits-all. The students always have an access to a tutor as quick as 15 minutes.
Are you coming up with innovations or up-gradations to enhance your organization's portfolio?
Kunduz started with a very simple ambition to make exam preparation 10 times faster and 10 times cheaper. Last few years helped us to realize that there are more to don in learning through tech. It's proven that learning is much more effective
when personalized or 1 on 1 but, there was no economical way to scale it.

At Kunduz, technology and AI allow to re-define those limitations every day and make learning more accessible, effective and scalable than ever. The company will continue to work towards this objective not only in India but also in other countries. Firstfruits of the vision will come out very soon as the firm is looking forward to sharing it with the students.

Tell us about Kunduz's simplified approach to online teaching.
It all starts with a question, the moment when a student is ready to learn is when he/she has a question in mind. Every student should be able to ask any doubt at that very moment to turn that moment into learning. Because every question starts a new journey for deeper learning.

What is the future roadmap set for your organization? How are you updating yourself with the latest technologies/ industry trends to make Kunduz reach its future goals?
The future roadmap of Kunduz has two equally important dimensions such as expanding globally and keep building to give our students the most personalized learning at an accessible cost. The key factors in success and innovation are recruiting the best of the best and setting a thriving culture for everyone. We were lucky to learn it very early from one of our investors, Y Combinator.

The world is on the cusp of a tremendous transformation with AI & ML. At Kunduz, we have been investing heavily in these forefront technologies to provide our students with personalized learning experiences at scale.

BasarBasaran, Co-Founder
Being a strategy, Edtech and K12 education expert, BasarBasaran has completed his MBA and Masters from Education at Stanford. Basar have served in several positions in the last few years in companies such as McKinsey & Company.

Office: Mumbai