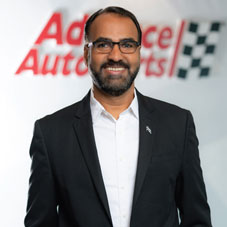 Being one of the fastest growing technology hubs in world, India ranks among the top five in terms of the number of tech businesses operating in the country. This is mainly due to the availability of skilled manpower, easy access to investments & working capital, diverse government initiatives and high success rates for tech businesses in the region. As a result, we are witnessing a large number of tech professionals from India gathering widespread prominence in the global tech business fraternity.
One such Indian technology leader who is wellknown in the industry for his profound tech knowledge, exemplary business acumen, exceptional managerial & leadership skills is Sri Donthi, the Executive VP & CTO of Advance Auto Parts. Sri holds a bachelor's degree in Mathematics from Osmania University and a master's degree in Computer Science from Illinois Institute of Technology, post which he went-on to complete his Executive MBA in Business Administration & Management from the Northwestern University.
CEO Insights recently got a chance to interact with Sri about his leadership journey so far, his company Advance Auto Parts, and various other aspects. Below are the excerpts of the exclusive interview .
Enlighten us about your professional journey so far.
I started my career as an IT Manager for Motorola Inc., post which I moved-on to Motorola IT as its Director – IT. Later on, I joined PepsiCo in 2004 as its VP - Global Infrastructure Management & Deputy Global CTO. I was associated with PepsiCo for 14 years, and before I left the company in 2018, I was the CIO and SVP of FritoLay North America & Global e-Commerce, wherein I was responsible for all technology-related services, including strategic planning, value creation, business/ vendor relationships and developing & implementing programs to support all business functions. The same year, I joined Advance Auto Parts (AAP) as its Executive VP & CTO, and currently serve as a Board Member at Casey's from 2022.
What has been your success mantra so far in your leadership journey?
Firstly, I ensure to have a sense of purpose in my life, wherein I wake-up every morning feeling proud that the work my team and I are doing is contributing to something bigger than ourselves. Also, I always keep track of our progress towards achieving the set goals and lend every help necessary for my team members to achieve the same. Additionally, I am a competitive individual and crave to achieve the impossible.
I ensure to have a sense of purpose in my life, wherein I wake-up every morning feeling proud that the work me & my team are doing is contributing to something bigger than ourselves
I maintain transparency with my team members and thus ensure to keep them updated on all aspects pertaining to the progress of a project. Also, I always maintain a culture of diversity within my team because this enables to me to have different perspectives about a particular issue and thus solve in the best way possible. Most importantly, I strongly believe that constant learning and exposure to diverse knowledge aspects help a leader in the long run and thus encourage the same among my team as well. Lastly, I hire candidates who possess an 'engineering mindset' and are willing to leverage their creativity to solve problems without the fear of failure.
Tell us about Advance Auto Parts and the various responsibilities you shoulder there.
Founded in 1932, Advance Auto Parts is a leading provider of a wide range of automobile parts and accessories that include batteries, brake pads & shoes, wipers, oil change bundles, rotors & drums, oils & fluids, headlights, coolants, water pumps and air filters, to name a few. The company currently operates over 4,770 stores and 316 Worldpac branches in the U.S. alone, with many more locations in Canada, Puerto Rico and U.S. Virgin Islands. Additionally, it serves over 1,311 independently owned Carquest branded stores across these locations in addition to Mexico and various Caribbean islands. Advance's mission is 'Passion for Customers…Passion for Yes!', and thus team members are focused on delivering the best customer experience possible. Technology
plays an important role in making this happen, and team members are encouraged to approach the work with a customer-first mindset.

At Advance, I am responsible for driving enterprise digital transformation, developing & implementing enterprise-wide technology strategy, enterprise product/ platform development and technology portfolio planning. Currently, I am actively engaged in leading innovation, engineering, data, security, customer call center, organization change management, global capability center and operational functions at the company. Many of my technology team members are based in Raleigh, N.C. (US) where Advance is headquartered and in other parts of the North America. In addition, our Advance India Innovation Center in Hyderabad, India, which recently celebrated its third anniversary, employs hundreds of additional IT team members with a variety of specific skillsets.

What is your advice to individuals aspiring to be future entrepreneurs and business leaders?
I always advise young professionals to have a clarity about their purpose in life. Create your vision and goals in line with your beliefs & values, and make sure to communicate the same to your team members as well. Also, be flexible in your business approach and always stay open to learning new things along your personal and professional life. Most importantly, inspire your team members and help them unleash their full potential by creating a culture of collaboration, respect and empathy within the organization.

Sri Donthi, Executive VP & CTO, Advance Auto Parts
Holding a master's degree in Computer Science from Illinois Institute of Technology and an Executive MBA in Business Administration & Management from the Northwestern University Kellogg School of Management,Sri boasts of an illustrious career spanning close to three decades. Prior to Advance Auto Parts, he has handled key roles at PepsiCo and Motorola, and is currently also a board member at Casey's, a Fortune 500 company operating over 2,500 convenience stores.

•Hobbies: Spending time with family
•Favorite Cuisine: Indian and Thai
•Favorite Book: 'Good to Great' by Jim Collins
•Favorite Travel Destination:
Vietnam
•Awards & Recognition:
Named in Forbes CIO Next List - 2023