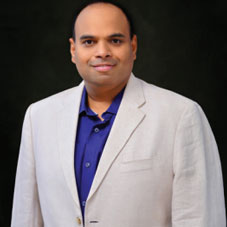 The IT solution industry plays a vital role in enabling businesses to thrive in the digital world. It encompasses a wide range of technologies and services that empower organizations to enhance their operations, improve efficiency, and deliver value to their customers. In this industry, Srikanth Appana, the CTO of Bajaj Auto, is a prominent figure. With his extensive technical expertise and business acumen, Srikanth excels in identifying and implementing enabling technologies that align with business priorities and strategic objectives. His innovative solutions and strategies have successfully streamlined processes, reduced delivery cycles, and established efficient high-performance platforms. Srikanth's educational background, including a graduation and master's degree in computer science, as well as executive general management courses from Judge Business School - University of Cambridge, and executive courses from MIT, ISB, and Harvard, further solidify his capabilities in empowering and growing brands in the digital realm.
Discover more about his insights and experiences in the following interview snippets.
Can you provide a summary of your professional background and experiences? What drives your daily activities?
I have 23 years of experience as a technology executive, specializing in IT Strategy & Operations, Software engineering, Infrastructure services, and IT Security. Throughout my career, I have successfully managed and automated large-scale projects worth billions of dollars, implementing robust service frameworks.
I have worked in various multinational corporations and Indian enterprises, including Microsoft, GE, IBM, Majoris, BFIL(merged with INDUSIND), and co-founded ASAP-Tech consulting. My expertise spans across multiple domains such as NBFC inclusive, FinTech, Neo Banking, BFSI services, Software product & platform, Supply chain, and Global delivery.
What fuels my daily routines is my passion for achieving exceptional outcomes and leading transformative initiatives within technology organizations. I am dedicated to enhancing performance, reducing costs, and streamlining delivery cycles by implementing lean methodologies and responsive architectures. My aim is to have a significant impact and assist my clients' organizations in over coming their business
challenges by developing innovative solutions.
You have accumulated more than twenty three years of experience. How would you describe your journey to success and what mantra do you follow?
My path to success has been marked by continuous learning, adaptability, and a strong focus on achieving results. It is crucial to keep an eye on the bigger picture while also paying attention to the details when necessary. By maintaining personal integrity, upholding professional confidentiality, and adhering to a strong work ethic, I have earned recognition and accomplished significant milestones throughout my professional endeavors.
I ensure to have a sense of purpose in my life, wherein I wake-up every morning feeling proud that the work me & my team are doing is contributing to something bigger than ourselves
My success mantra revolves around fostering innovation, embracing change, and cultivating high performing teams. I strive to deeply understand business needs and utilize technology to develop scalable and efficient solutions. Through process optimization, harnessing the power of AI technologies, and implementing agile methodologies such as DevOps, I have successfully driven digital transformations and delivered tangible business outcomes.
Please share your leadership approach with us. What guidelines or methodologies do you follow as a leader?
I believe in establishing a clear vision and providing guidance to my team, motivating them to work together towards a common objective. Transparent and open communication is of utmost importance to me, as it cultivates trust and encourages collaboration among team members. I empower individuals by granting them autonomy and fostering opportunities for their personal growth. It is crucial for me to lead by example, embodying the values I expect from my team members. I promote a mindset of continuous improvement, where innovation is encouraged and we learn from both successes and failures. Recognizing and appreciating the contributions of my team is essential to me, as it serves as a source of motivation and inspiration. Overall, my leadership approach aims to create a supportive and high-performing environment that enables individuals to thrive and achieve success.
What lies ahead as your future destination?
The future destination I am working towards is to continue making significant contributions as a senior
technology executive and leader. Building upon my expertise across various industry verticals, my aim is to further advance the industry as a whole. I aspire to utilize my experience and skills to spearhead innovative projects, transform business operations, and foster growth in diverse sectors such as fintech, neo banking, BFSI services, and software product development.

Additionally, I am committed to staying abreast of technology trends, pursuing continuous education, acquiring certifications, and embracing emerging technologies such as AI and data management. By driving digital innovation, optimizing processes, and leading high-performing teams, my ultimate goal is to leave a lasting impact on the organizations I collaborate with and contribute to the ongoing evolution of the technology landscape.

Based on your extensive industry experience, what advice would you offer to emerging industry leaders?
As an experienced leader, I offer advice to aspiring leaders to guide them on their journey. First and foremost, I encourage them to have confidence in their hard work and maintain an innovative mindset. Continuous learning is crucial, and staying updated with industry trends and advancements is essential for success. Building relationships, both within and outside the organization, is valuable for growth and opportunities.

Creating an environment that fosters innovation is also important. Encouraging ideas, embracing diverse perspectives, and viewing failure as a stepping stone to success cultivates a culture of creativity. Additionally, maintaining a healthy work-life balance is essential for overall well-being and sustained success.

In summary, I emphasize lifelong learning, effective communication, meaningful relationships, fostering creativity, leading by example, and prioritizing self-care. By following these principles, emerging leaders can set themselves on a path to success and make a positive impact in their industry.

Sri Donthi, Executive VP & CTO, Advance Auto Parts
Holding a master's degree in Computer Science from Illinois Institute of Technology and an Executive MBA in Business Administration & Management from the Northwestern University - Kellogg School of Management, Sri boasts of an illustrious career spanning close to three decades. Prior to Advance Auto Parts, he has handled key roles at PepsiCo and Motorola, and is currently also a board member at Casey's, a Fortune 500 company operating over 2,500 convenience stores.

•Hobbies:Spending time with family
•Favorite Cuisine: Indian and Thai
•Favorite Book:'Good to Great' by Jim Collins
•Favorite Travel Destination:
Vietnam
•Awards & Recognition:Named in Forbes CIO Next List - 2023