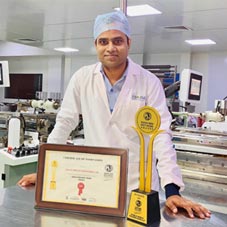 With the great emphasis on self and environmental hygiene, the world has started paying more attention to infection control and prevention. The emerging economies are working towards spreading awareness on infection control. With this, the market participants are focusing on expanding their services to ensure effective remediation of infection, with the enhanced services.
However, it is crucial to choose a trusted partner that maintains high standards and ensures reliability. One such key player in that upholds 100 percent material competency and steadfast products with a blend of innovation is Sterile World Technologies LLP (SWT).
Conceptualized in the year 2016, the Company prides itself on the ability to cater to the wellbeing of the nation with an extensive standard product range and 'bespoke solutions' including design and manufacturing services. Under the aegis of industry veterans Atul Kumar Srivastava & Kishor Kale, SWT has been excellent at reading the consumer mind-set and are molding their strategy accordingly, thus giving the brand an immediate identity. To further explore the in side stories of this flourishing brand, CEO Insights engages in an exclusive conversation with Atul Kumar &Kishor Kale.
Highlight the journey of Sterile World Technologies. What prompted the ideation of the brand in this thriving market?
The Indian infection control market has grown up in all aspects of knowledge, awareness, quality, and usage. We observed that the market is changing at a very high pace and the Indian sterilization barrier manufacturing companies are unable to cope with this change.
And therefore, the majority of Biotech, Pharmaceutical, and Medical device is importing the packaging material from European countries. We planned to target this opportunity and be a substitute for the imports. With this clear vision, we formed the company in Feb 2016.
As there was no company in India for manufacturing the packaging material in Cleanroom areas, we decided to create a cleanroom class 100,000 (ISO 8) for the same. We visited different companies across India, Germany, China, Singapore, and Dubai to understand the required quality parameters, technological difference, and the quality control requirements to be an import substitute and also support India's export.

Kindly throw some light on the various services offered by the company. How do you ensure trust and transparency while providing these services?
SWT is a StartUp India project along with the FDA & ISO 13485 Certified company involved in the manufacturing of single-use sterilization barrier systems, medical device, and disposable medical and surgical products.

We established a set up to manufacture products as per the EN ISO 11607 and EN 868-2 standards. We offer all the Medical Grade Paper infection control products and DuPont Tyvek infection control packaging material in our facility as per the customer's specific requirements.

We came up with an innovative solution to start the FDA approved Medical Device repackaging unit, which is first-of-its-kind in India. We offer end-to-end solutions from designing packaging, repackaging of medical devices and disposables under class 10,000 (ISO 7), sterilization services, quality control services, and ready to dispatch finished OEM products as per the customer's need. We are getting lot of inquiries not only from traders but also from Start-Up companies as this project can reduce their initial investment cost and give them a platform to start their business.

What opportunities do you foresee in the current Infection Control System industry, and what are your strategies to leverage the best of this business opportunity?
With India being a billion-dollar market for infection control and the disposables products, a large number of traders and small companies are being instrumental in supplying all these products in small and remote regions. As the Govt. of India is coming up with the price capping of medical devices and controlling the prices of different surgeries, the MNCs are cutting the middle man the traders out of business and are approaching hospitals or the end-users directly. Therefore, we plan to support the traders or small companies by offering them end-to-end support to launch their infection control brand and help India become self-dependent.
Are you coming up with any innovations or up-gradations to enhance your existing portfolio?
SWT is working on different possibilities to make medical device products or kits, which can help to reduce the cost of the treatment. We are supporting many Start-ups and young entrepreneurs to focus on R & D for the nation. We at SWT share our expertise and ideas for optimization of the assembly process while finding the most competitive solution.
What is the future roadmap set for your company? How are you gearing up to meet those goals?
We plan to expand machines to match demand and truncate the imports. We are also working along with the customers on introduce innovative packaging solutions. We have committed ourselves to keep upgrading with the high-tech and state-of-the-art machinery to offer the best quality product in the domestic and international market.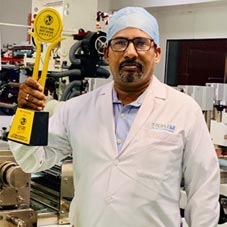 Kishor Kale, B. Pharm, PGDBM, DPIEMS, MS (England), Partner
Atul Kumar Srivastava, Partner
Atul is a commerce graduate with over 25 of experience in the sterilization packaging industry. Under his expertise & guidance, SWT is ready for R & D of the best packaging solutions for customer's specific requirements in the healthcare industry.
Kishor Kale, B. Pharm, PGDBM, DPIEMS, MS (England), Partner
A Pharma Post grad with more than 12 years of versatile experience in Global as well as in IndianPharmaceuticalandMedical devices industry, Kishoris been the backbone of the project and has been instrumental in developing new concepts, products, and incorporating innovations within the company.
• India's first StartUp India project with FDA approved manufacturing facility in Cleanroom area Class 100,000 (ISO 8)& Class 10,000 (ISO 7)
• State-of-the-art high-speed machines with in-house Quality Control Lab
• The company received support from the angel investor Modani Group, Aurangabad
• Winner of the India 5000 Best MSME Awards 2020 for Quality Excellence in the Pharmaceutical, Biotech & Medical Device segment.