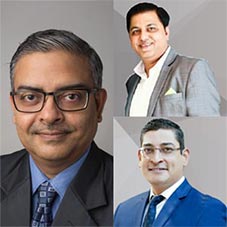 As India and the global world of business grows exponentially in the digital realm, market research and intelligence have become the secret weapon that enables business enterprises to identify new opportunities and get a snapshot of the bigger picture. Market research serves as the backbone for any business strategy that aids companies in their process of learning and understanding the changing business dynamics with a focus on the shifting needs of today's consumers.
StrategINK is a premier market research and intelligence firm operating across 7 Indian cities and the SAARC countries of South East Asia. The company offers a plethora of solutions across the technology domain that include Research-based Business Insights, Content-driven Marketing Solutions, Digital Transformation Consulting & Advisory, and Learning, Enablement & Skill augmentation Services.
Backed by a team of professionals hailing from leading media houses, Research Organizations, and IT vendors like Cybermedia, HP, IBM, IDC, Times Internet for India and Asia/ Pacific region, the leadership team at StrategINK has a cumulative experience of more than 100 plus years. Decades of expertise in marketing and pre-sales have helped the team at StrategINK curate meaningful engagement models to its clients. During the last four years, since its establishment, the firm has onboarded more than 50 growth partners or trusted clients. With agility and resilience embedded in the organization's DNA, StrategINK has witnessed a substantial 100 percent Y-o-Y turnover – a trend that has continued even during the Pandemic days.
"With our past and rich expertise in research, marketing and pre-sales, we always believe in understanding the client's business problem and then brainstorm internally on the possible business solutions," reiterates Vinod Singh, Founder, StrategINK Solutions.
Unique Solutions for Complex Business Requirements
StrategINK develops hybrid models
of digital and physical tools, techniques, and industry-proven frameworks, that help clients develop solutions to address complex business needs and challenges, through a model of sustained innovation. The solutions developed by the StrategINK team not only focus on the engagement model but also on how to help and justify the investment with measurable RoI with the proposed engagements. This practice has been a cutting-edge differentiator for StrategINK, enabling them to be a niche player for organizations looking for RoI driven marketing solutions.
Backed by a team of professionals hailing from leading media houses, Research Organizations, and IT vendors like Cybermedia, HP, IBM, IDC, Times Internet for India and Asia/ Pacific region, the leadership team at StrategINK
In the wake of the Covid-19 Pandemic and the new normal that followed, when each and every marketing dollar spent is being securitized, StrategINK Solutions has come up with various digital offerings and new concepts which has helped its clients during the unprecedented crisis. The marketing firm has developed unique platforms like Digital Dialogues, The Boardroom Unplugged, Content Hub that has been widely accepted by the IT decision-makers. It has immensely helped the OEMs get the relevant mind share and leads.
Striving for Continuation, Improvement & Evolution
The StrategINK core leadership team considers continuous improvement and evolution as an integral element of their agile business processes. The core leadership team comprising of Santanu Ganguly (CEO), Arjun Vishwanathan (CRO), and Vinod Singh (MD) says: "We constantly measure changing buyer-expectations, sentiments, perceptions, priorities and loop-back these into our Marketing solution design process. Existing offerings get sharpened and enhanced, new offerings are launched aligned with renewed preferences & market realities,"
StrategINK holds the distinction of being among the few providers of Design-thinking centric unique content & purpose-specific ROI value-orientation services in the marketplace. In a bid to evolve on its strengths, Vinod Singh, MD, says,
"We plan to continue to play to our strengths, deepen collaboration with existing clients, and expand our footprint in new client-accounts."
In addition to that, the key advantage of having an entire team of industry veterans with deep domain-expertise across diverse technologies, marketing practices, and business-outcome delivery helps rally the organization to keep track of future trends and emerging technologies.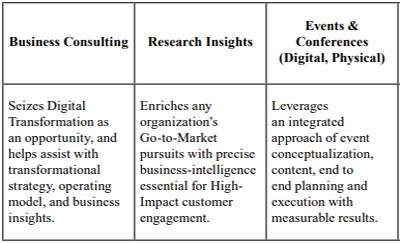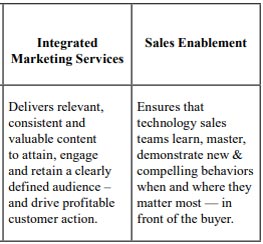 Santanu Ganguly, Chief Executive Officer
With over 25 years of expertise in Solution Sales & Consulting across ASEAN, Asia Pacific & India - Santanu Ganguly has consistently led High-Performance teams towards generating multi-million-dollar solution & services revenue from distinguished clients. Before teaming up with like-minded enthusiasts at StrategINK, Santanu has also worked in senior leadership roles for global tech giants IBM, EMC, Hewlett-Packard, and Digital-Compaq.
Arjun Vishwanathan, Chief Research Officer
Digital Transformation (DX) and Emerging Technology professional with over 2 decades of experience across consulting, research and telecommunications & media, Arjun Vishwanathan is the lead behind StrategINK's research & advisory practice. Throughout his illustrious career Arjun has advised organizations across healthcare, banking, automotive, FMCG and manufacturing organizations around orchestrating sustainable enterprise wide transformation.
He is also the Co-founder of Saarathee, a social impact organization enabling sustainable livelihood for People with Disabilities.
Vinod Singh, Managing Director
As the founder of StrategINK, Vinod takes care of the management and business operations at StrategINK. Under his visionary leadership, StrategINK has grown exponentially on a YoY basis. Before beginning his entrepreneurial journey, Vinod had over a decade experience working for IDC India and Cybermedia.