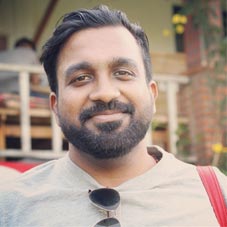 In India, digital marketing is growing at a rate of 25 -30 percent annually, making the country one of the latest and largest digital markets in the world. Internet access has become apparent, and the rate of online shopping through different mediums across the country has mushroomed significantly over the years. DGTG, based out of Bengaluru, is a digital marketing company that has invested its efforts to use technology, programmatic marketing, and affiliate marketing through its varied services. Vikas Goel, the Founder, is a leader in the digital marketing field, funneling his creative abilities in building the company and brings the best out for digital marketing strategies. He is a constant learner of new marketing techniques and a creative brain in making sound branding solutions.
In an exclusive interview with CEO Insights, Vikas talks about DGTG and how well the company is positioned to serve clients' digital marketing needs.
How are you leveraging the best of your educational and professional background in efficiently operating DGTG?
I have done my Masters in Business Administration from ICFAI Business School, Chandigarh. Right after graduation, I entered the marketing space, gaining some experience working with startups. It taught me a lot of things like how to boot start an organization. To give valued services to clients, first, we need to understand their business. I have a keen interest in the creative aspects of marketing. It is something that I have nurtured during my career path. I used to write creative copies,
which helps in marketing a specific product or organization.
Moreover, during my years of working with startups, I learned how to reach the target audience, what kind of creative aspects goes where, how to make specific marketing platforms for them, and what is the right time to send emails, SMSs, and other forms of brand awareness programs. I have worked in fast environments, which helped in knowing the clients' requirements close and better. The digital industry is flourishing fast, and the dynamic change in marketing trends concerning new media has become apparent. I always stay abreast of the new trends in the industry and always experiment on novel marketing strategies.
Using DGmatic, we help brands get the missing exposure online through sought after strategies such as Influencer Marketing, Social Media Marketing, Search Engine Marketing
Tell us about DGTG. What are its offerings, and how does it carve a niche in the digital marketing space?
DGTG started in 2015, with a performance network called allmarketingmix.com. We offer several services through it, such as email marketing, in-app mobile advertising, display advertising, SMS marketing on CPL, CPC, and other models. After we started getting clients on board, we opened our website and expanded our service portfolio to include mobile and video marketing. The ubiquitous presence of smartphones pushed us to concentrate on mobile marketing strategies. We realized that almost 70-80 percent of our audience are those who use mobile. In late 2018, we began working on an idea called DGmatic. Here, we have encompassed a mix of tech, advertisement, content, and design offerings for brands that seek to automate their content delivery,
multichannel advertisement, custom design, and direct messaging. In addition to that, DGmatic offers multilingual call verified leads, sales, and registration for fintech companies, eCommerce companies, Travel companies, agencies, and automobile companies.

Using DGmatic, we help brands get the missing exposure online through sought after strategies such as Influencer Marketing, Social Media Marketing, Search Engine Marketing, and more. As already mentioned, Multilingual Call Verified Leads is our flagship product. It enables firms with exclusive leads, increasing the chances of conversions. To accomplish that, we have native callers to communicate in Hindi, Kannada, Malayalam, Telugu, and Tamil.

What are your strategies that bring the best out of DGTG's business opportunities?
In terms of managerial activities, I always wanted DGTG to hold firm to its values of cost-effectiveness and present in an economical way. We always try to learn new pearls of wisdom from the market. Furthermore, we hire experienced people who are enthusiastic about taking duties head-on. We are trying to build in-house competency around the technology side of our operations in the company. Understanding the analytics, devising strategies, and using the right media to reach the mass audience, have always been the key areas we have shed focus on. We are also looking at embracing data intelligence for many marketers, helping them attain a wider audience of their domain. We are heavily interested in establishing hyper-local and multilevel marketing strategies. I observe bare minimum competition and innovation in such areas.

Vikas Goel, Founder, DGTG
Being a post graduate in Business Administration, Vikas Goel has worked in other companies in the marketing space prior to starting his own company in 2015. He is a visionary in digital marketing arena with much focus in business development and curating sales processes.