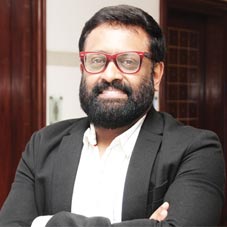 Everyone has been guided from their school days to college lives, helping them pave the foundation for their education. At crucial points in their academic stints, it becomes necessary for people to seek expert advice to move further. Today in the fast-changing world, even knowledgeable persons have to learn and stay relevant. For such learners, there are several masters out there willing to share their wisdom. One such leader is Subhobroto Chakroborty. He is an expert in digital marketing, helping businesses in their digital transformation process. Subhobroto is well-known among industry leaders' network for his workshops and talks in various academic and corporate gatherings. He is the Founder and Chief Digital Consultant of The Digital Fellow, a digital business consulting firm. Subhobroto is a profound harbinger of new thoughts in the marketing space to raise enterprises to a step higher. In a brief conversation with Subhobroto Chakroborty, he shares his delightful journey being a thought leader in the marketing arena.
In the course of advising and guiding business leaders, how have you leveraged your capabilities for the same?
I have been a brand communication specialist for more than 27 years. With this industry experience, I have trained over 150 CXOs and General Managers in the ever-evolving digital marketing domain. I have also worked with a premium American online education institution for its global client training programme across four continents. These help me in leveraging my abilities to fuel best practices for The Digital Fellow. It is predominantly occupied with sharing my experience and expertise through the content I create. I learn and unlearn to getter better and establish a broader perspective.
Most business leaders in the SME sectors are only familiar with ad agencies. They often find it challenging to locate a consultant who can address their business problem through the execution of strategy. What they are not aware is neither the consultant nor the ad agency can solve their technology or business problem. As a consulting firm, The Digital Fellow can solve business problems primarily skewed towards digital. We approach a business challenge concerning its industry, technology, people management, and many other factors. Then we advise and lastly plunge into execution. We treat each project as a unique one. Whatever I learn from each project, I share it with others.
The Digital Fellow Academy is in the making to solve right kind of digital course for the eco system
As a marketing professional, what do you recognize as your differentiating factor?
As I mentioned earlier, there are no credible consulting firms that address the vital issues of the SMEs. I work differently as compared to individual consultants and ad agencies. Anybody can offer advice, but the execution part is the challenge. I do have the resources to deliver and execute. My tagline for The Digital Fellow is 'Consulting Driven Performance' or 'Consulting for Digital Impact'. I recognize that my purpose is to power the digital transformation for companies and contribute to India's GDP. Therefore, I don't see a competition in this field.
Upon catering various services to customers, how do you think the business landscape has changed concerning technology?
I would say that time has been the biggest teacher. Today, there are a lot of companies being forced to go digital. Business leaders are getting much aware and educating themselves on the benefits of the digital sphere. They ask better questions now, and I am prepared. People who were skeptical of the benefits of digital technology are now more curious than ever. Because digital technology has opened up the scope for finding customers much easier, I will continue to do what I have been
doing; spread awareness, help people and connect with them via social networks.

You have provided us with a glance about your professional life and The Digital Fellow. Tell us about your future roadmap.
This answer has 2 parts; one is my "Thedigitalfellow" my digital consulting business which I am upgrading every 3 months to solve business challenges & another is "The Digital Fellow Academy" is in the making to solve right kind of digital course for the eco system. Through which I plan to offer courses that help freshers and established business leaders understand digital marketing and digital sphere. I have devised to include a course on Buyer Persona to start with, which is at the core of digital marketing. I had this idea with me for long, even before starting The Digital Fellow.

Therefore, it is a matter of going back to where I started. Covid-19 has given me the luxury to go back to my mission. I am exploring what is unknown to business leaders and freshers about digital. I am excited about making it available & valuable for them.

Subhobroto Chakroborty, Founder
Having established as a brand communication specialist for more than 27 years, Subhobroto Chakroborty is a seasoned digital marketer with cross-industry experience. A marketing specialist by profession, he has successfully launched and managed numerous national and international brands. Subhobroto is a strategic consultant for various startups and large organizations in India.

Recognitions:
• Keynote Speaker at Word Trade Centre 2020
• Keynote Speaker at IIT Kharagpur, IIM Indore, IIM Kashipur& CII Kolkatta

• Recognised at top 50 Global digital marketing summit, 2018/17
• Guest Columnist at Exchange4Media 2019/2020

• Top 100 Smartest Digital Marketer in 2019 & 2020
• Top 50 Most Influential Leader 2020
• Jury member for MMA (Mobile marketing association) 2015-16

• Chair, the advisory board in DMAi (Digital Marketing Association Asia) APAC 2016/17`