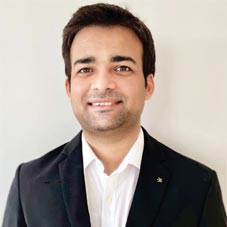 While perceiving how far the marketing industry has come in the past few years, it turns out quite mind-boggling to witness the strategies adapted to stay informed and up to date with the latest information. Much experienced industry thought leaders in the marketing domain had been trailblazers for upcoming trends in connecting the revenue of the organization proportionately with the business outcomes. Traditionally, a company's each division carry out its functions which result in siloed operations where small issues go overlooked. Therefore, nowadays, companies have started seeking for a centralized function to unify such siloed operations, such as a RevOps (Revenue Operations) solution. Having a demonstrated history of working in the RevOps, Customer Acquisition and Marketing Industry, Harshal Patil has helped subsidiaries to double their sales, among which some had million-dollar exits. He co-founded BTB Venture intending to solve complex obstacles to drive revenue acceleration. In an exclusive conversation with CEO Insights, Harshal shares his experience in donning the role of a leader in the marketing arena.
Let us know how you align the marketing strategies exclusively for BTB Venture in a way to stay unique among the competitors. Explain your USP.
At BTB Venture, we do not constrain on noisy marketing parameters or deviate clients on the same to maintain retainer. We hold firm to RevOps strategies and focus on qualified prospects by combining and aligning sales and revenue
goals throughout marketing, sales, and customer success teams. We aim to accelerate the growth and provide more predictable revenue by unifying and optimizing the processes. By carrying out campaigns, demand management, brand analytics and sales consulting together, we execute almost 90 percent of the marketing.
Being a market thought leader in the past, what challenges do you think are worth addressing? How do you introduce strategies to overcome those challenges?
At times the lack of insights about the market and inadequate or terrible decisions made concerning the product or the target market can drive sales in the negative direction. For example, the product or service does not sell if it is misplaced, a wrong target market is chosen, or irrelevant needs are addressed. It does not mean that there are no potential customers. Marketing is, therefore, a critical success factor, both internally and externally. The only way to make this efficient is by taking the help of smart marketers to brainstorm and thereby pick a niche and untapped segment as a target with compelling brand impact.
I always operate from a core set of beliefs that I have gained from a decade-long experience with the continuous study
Could you throw some light into the vital upcoming innovations that enhance your current portfolio? How have you kept updating yourself and preparing strategies for future goals?
Today, global market planning is crucial for companies. I believe that the concept of a completely integrated marketing will receive tremendous adoption rate. The traditional ways of Tele-calling and mass emailing are no longer efficient as today companies are looking for RevOps adaptation. We are innovating RevOps processes like a recipe that satisfies the taste
buds of each client. Along with startups, we have also begun working for India's top government PSU and collaborated with the world's largest management consulting company based out in Europe and the USA. In the last quarter, we have added around 120 partners to our list.

Having gained considerable experience in successfully leading major corporate transformations from conception to execution, I always perform a top-down analysis of my goals during each stage. Later, I do check if the analysis is extensive enough. Having said that, I always operate from a core set of beliefs that I have gained from a decade-long experience with the continuous study. However, I have never stopped reading for publications like HBR.

What advice would you like to give to our young marketing moguls to excel in this domain?
As a marketer, you always need to understand the dominance of the customer. A marketer should anticipate future customers because they keep shifting in location, makeup, and number, at an ever-increasing rate. If knowledge on potential prospects is essential, and the quality of the marketing output is affected, then marketing research is the only way forward. Always analyze the ideal customer profile scientifically by re-aligning it with global cues. To make revenue, create a substantial impact so that you can always focus on one KPI, which is revenue. Rest all KPIs will be out of the trend very soon.

Harshal Patil, Founder & CEO, BTB Venture
Before BTB Venture, Harshal helped and witnessed the tremendous journey of three startups to become most popular mid-size enterprises. Prior getting into the startup era, he worked with Wipro to lead operations and presales of Australia's largest telecom player. He bears MBA from Symbiosis and B.E. Computer from MET with an entrepreneurial passion to scale up businesses globally.

Hobbies: Tennis, Reading, and Riding