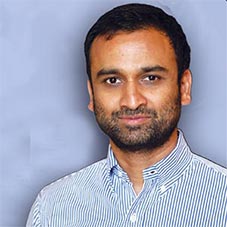 Jim Rohn once quoted ~ "A good objective of leadership is to help those who are doing poorly to do well and to help those who are doing well to do even better". Indeed, empowerment of people while vesting belief in them is what great leaders pursue. Soaring high among this bracket of great leaders is Sucheth Davuluri (CEO, Neuland Laboratories Limited (NSE: NEULANDLAB)) who is a strong believer in people and their potential, including his own. Especially at Neuland Laboratories, Sucheth always ensures to focus on how all people can get better together, how they can unlock each other's potential by improving their strengths, and developing frameworks that eliminate their blind spots.
To achieve these aspects, Sucheth has been proactively implementing the principles of Holacracy throughout Neuland, thus creating utmost transparency across various levels & functions and dismantling silos & hierarchies. He also stands at the forefront at times of crises and takes tough calls if needed. By large he stands-out as a young professional in his early 40s who leads with influence rather than hierarchy. He is further a doyen in the field of manufacturing with many note worthy achievements.
In an exclusive conversation with CEO Insights, Sucheth has explained more about his background, fortes, experiences and a lot other aspects.
Throw some light on your educational & professional background.
An alumnus of Hyderabad Public School, I pursued Mechanical Engineering from CBIT and MBA in Operations & Corporate Finance from University of Notre Dame Mendoza College of Business. I started working way before getting into Business School, which helped in connecting qualifications with business responsibilities. My professional journey began with Cummins Inc. where I efficiently deployed myken in engineering, management and business. Since the company was involved in manufacturing I learnt a great deal about different functions in manufacturing and their impact on business, significance and impact of
supply chain management and excellent R&D, and a lot other concepts. Being a certified Six Sigma Black Belt further helped me in framing processes with unparalleled quality, because good quality in the pharma sector increases efficiency, retains customers, reduces wastage and helps control costs in the long run.
Sucheth always ensures to focus on how all people can get better together, how they can unlock each other's potential by improving their strengths, and developing frameworks that eliminates their blind spots
Despite being a young professional, how did you manage to gain such profound experiences in your career?
Over 18 years of experience in pharma industry and two years in manufacturing industry bestowed me with lot of learnings to take Neuland to newer heights. Some of them are developing technologically, qualitatively & intellectually superior yet specialty products, maintaining topnotch quality, staying close to overseas customers & subsidiaries(US & Japan) and above all, building deeper capabilities and differentiating ourselves. This is because of my strong conviction that 'It's better to be a mile deep than a mile wide'. In a nutshell, we always aspired to create and compete in markets with limited competition akin to the Blue Ocean Strategy principles.
For instance, we ventured into Custom Manufacturing of APIs for Pharmaceutical Innovators a less competitive space than Generic APIs/Formulation, and chose to work with small VC-backed Biotech companies rather than pharma behemoths. We were also the first Indian pure play API company to foray into peptides (hard-to-make molecules) along with other capabilities in API space like CMS and complex molecules. As of January 2020 we filed 202 patents, out of which 62 are granted. Moreover I make sure that Neuland's management is implementing only the right business models for both short & long term growth.
At Neuland Laboratories how do you ensure to bring the best might of technology for your clients?
We constantly invest not only in specialized areas complex technologies and R&D, but also in people (17 percent of full-time
workforce in R&D) and organizational structure. Our focus on technology is also driven by our Quality by Design, portfolio of products and our constant exploration with chemistry, engineering solutions and business innovations. This way, we decide and bring products to market faster.

As a people leader, how do you foster creative thinking among your employees?
As mentioned earlier, we strive to minimize the influence of hierarchy in decision making at Neuland. This indeed encourages people to invest in themselves, life long learning and experience sharing culture to concoct creative ideas. I also ensure that they stay abreast through journals, training sessions, learning & education workshops, talks by industry experts & senior scientific leaders, and frameworks that enable open thinking & freedom of ideas.

Do you participate in mentorship programs/ seminars/conferences?
Absolutely! I'm currently the Chapter Chair for YPO Hyderabad. Besides, I create learning events with the most influential speakers, enroll in active mentorship programs for young leaders and speak at several generic drugs conferences as well as seminars & conferences by CII.

How do you personally stay updated with the industry's advancements?
By attending various tech & non tech conferences, skill development workshops, educational programs & tours, associating with CEO forums, and reading non-fiction books! I also allocate at least four weeks every year for learning & development. Last year, I attended 'Innovators Roadshow', wherein I visited Uber, PayPal, VR companies and drone companies to hone my technical ken. This June, I'd be attending Stanford GSB Program 2020 at Stanford University.

Amidst these busy schedules how do you manage to balance your personal & professional lives?
I strictly follow a set of well-curated daily habits and schedule all activities (meetings, exercise or free time) on my calendar. I'm also extremely grateful to my executive coaches, colleagues and family for helping me in creating the aforementioned daily habits, supporting me and also enlightening me in every possible way. I'm what I'm today predominantly because of them! On the whole, I consider both personal and professional lives as one beautiful journey!

Key Management:
Sucheth Davuluri, CEO
Sucheth is a multitalented pharmaceuticals executive with broad-based management skills in new business development, sales & marketing, and operations management.