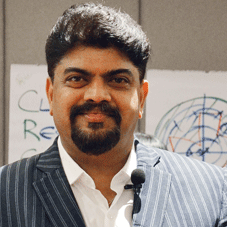 This life that we live is a beautiful gift that we have been lucky to receive. However, over the course of time, owing to personal and professional challenges, many of us get bogged down and fail to live a life of fulfillment and happiness. Suresh Babu S, an internationally certified performance coach and Founder of One Life Academy, is on a mission to 'Enable & Empower people live a life of fulfillment by enhancing their performance multifold, easily, effortlessly and efficiently'. Suresh's journey of making an impact on people's lives started with him getting trained under the world's best leaders since 2005, like Jim Rohn, Robert T Kiyosaki, T Harv Eker, Brian Tracy, Blair Singer, Alex Mandosian and Clinton Swaine, to name a few. He also worked on expanding his horizons of spirituality by getting trained under Indian trainers like Suresh Padmanabhan and Dr. Vijayalakshmi Panthian. One Life Academy is his organization through which he is living his mission, day-in & day-out. He is helping individuals, leaders, and startups unleash their true potential.
In a candid conversation with CEO Insights, he narrates to us his journey that led to the foundation of One Life Academy and the unique methodology that his firm leverages to help clients live a fulfilled life.
What was the underlying motive for you to establish One Life Academy?
We all have but one life to live. There fore, we must strive to make the best out of this one life. I am a stern believer that 'Help Helps' and we all have a much larger role to play in terms of helping fellow human beings. While our schools, colleges and universities are doing a great job around career and profession, I felt a need for an academy which would help people learn the art of living a life of fulfilment.
Also, I observed that very few business owners appreciated training and coaching as being safe bets to bring about trans-formational changes and create a business that would not only survive, but also thrive. I was also disheartened to see several entrepreneurs fail and shutdown their shops, which could have been avoided by aligning their profession
with their personality, leverage their strengths and living a life of passion. Propelled by these thoughts and ideas, I founded One Life Academy in 2013.
Take us through your professional journey before you founded One Life Academy. Also, how did your prior experience help you as an entrepreneur?
Academically, I am a civil engineer and I had worked in the interiors and construction sector till 2000; ironically now, I build people's lives, not houses. I then ventured into the field of IT and for 13 years, I was implementing huge IT Infra projects. I also worked with Microsoft Corporation for eight years, managing people & projects, providing global tech support and global delivery. This experience of managing enterprise customers within India and globally has acquainted me to work with CXOs and their teams in varied industries, and my prior project management expertise comes-in handy while helping clients with challenges around implementation in their business and huge projects.
Our unique methodology that helps one achieve massive results easily, effortlessly and efficiently and creates an amazing balance between the heart and the mind
What are the various coaching programs that you offer at One Life Academy? Also, tell us about the team of experts that render these courses to clients.
We at One Life Academy render individual, team & group coaching, and in all our offerings, we leverage our unique methodology, SMARTER Implementation SYSTEM. Our individual coaching is highly personalized and clients can choose between SOS coaching (a single session), success coaching (a program with six months duration & two assessments), and SURE Success Coaching our long term program with 12 months duration and four assessments.
One Life Academy's team coaching program is designed for the leaders & their team and has an intervention period of minimum 12 months. We help the client decide on the team which consists of 10-50 members. For past three years, we had been successfully conducting a group coaching program, SURE Success Intensive (SSI) which is our signature program. The open workshop is conducted every quarter in a star hotel of repute in central location over a weekend and it consists of about 30-50 people.
These programs are implemented by a strong team of five members who hold expertise in coaching. We also have certified Image Management Consultants and Soft Skill Trainers on board and about 12 associate consultants spread across India. Armed with professional coaching certifications as per International Coaching Federation (ICF) and Gallups University standards, the One Life Academy team promotes holistic development.

Throw some light on the methodologies that you follow while designing coaching programs for clients. Where is the company headed in the years to come?
One Life Academy is focused on two interventions i.e. coaching and training. We have developed SMARTER Implementation SYSTEM, our unique methodology that helps one achieve massive results easily, effortlessly and efficiently, and creates an amazing balance between the heart and the mind.

Another key differentiator in our Coaching as a Service is that we use four international assessments, wherein we help our clients understand their Personality, thus know themselves better. We help our clients discover their innate strengths and ensure that they play to their strengths in their personal and professional life. We assist them in identifying their interests in life around professional, leisure and for retirement, thus aligning their life goals and aspirations accordingly. Lastly, we have an assessment to help them decide if they are cut for Entrepreneurship or not; if yes, how do they thrive in business.

We believe in continuously innovating and have recently launched 'SOS Coaching', a quick 90 minute session which has been accepted very well by the market. We now plan to expand our operations to five cities and launch our StartUp, which will be an aggregator for coaching services

Kay Management
Suresh Babu S, Founder, One Life Academy
An internationally-certified performance coach, Suresh has touched thousands of lives through his coaching & training in domains of professional and personal development leveraging his expertise as Certified MBTI Practitioner, and Gallup's Strength Finder Coach. His passion to impart his knowledge in Life Skills for 21st century and specialized methodology of accelerated learning is something he is known for. His tenure in Microsoft, and his transition from construction Industry to IT industry, have enabled him to empower his clients with challenges around execution and implementation in their business and huge projects while balancing personal/ emotional aspects of life.