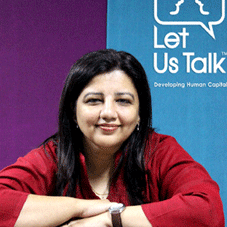 What forms the basis of a successful organization? Is it their technology or the problem that they are addressing? Is it their processes or the brand image that they hold in the market? Dr. Sumita C Ummat, a celebrated life coach and Director at Let Us TalkTM, a corporate coaching organization, believes that it all boils down to the people that work in the company who hold the key to an organization's success. Committed to helping people realize their truest potential, Dr.Sumita deems an individual's mindset as the foundational block to every accomplishment. Through her organization Let Us TalkTM, she strives to empower individuals with the tools to overcome personal and professional challenges. In an extensive conversation with the CEO Insights, she explains how Let Us TalkTM is helping individuals create a life that they love.
You have worked in the corporate sector for almost two decades. What propelled you to change the course of your career and venture into coaching?
I completed my engineering degree from Punjab Engineering College, Chandigarh, post which I began my career in the field of technology working for Fortune 500 companies. My 18-year journey in the corporate field saw me working with technology, BI platforms and handling projects across India, US and Europe. While handling large projects for employers, I often had to manage a large team of engineers. Upon working with them extensively, I realized that their toughest challenge was not working with complex technology; instead, it was their own communication, attitude, and mindset which were getting in the way of their growth and success.
I gradually began mentoring them and conducted sessions to understand the challenges and roadblocks they were experiencing to find ways in which the organization could support them. What surprised me the most was that several people were unable to even identify the factors that were pulling them and their professional capacity down. Employees also lacked the understanding that they had the capability to drive change within them. Propelled by these
experiences, I decided to pursue relevant certification and become a professional coach.

What is the underlying philosophy that drives the services and solutions at Let Us TalkTM?
Organizations often believe that the key to achieving success is to master processes or technology; however, they fail to address the fact that there is always a man behind the machine. Let Us TalkTM is committed to enabling, transforming and empowering this 'man behind the machine' to generate success despite of all odds that they might face in their personal and professional life.

Our mission is to develop human capital across the globe and empower them to work through challenges in life on their own. Unlike others, we focus on empowering our clients with the right tools, mindset and capabilities to forge self driven change in all aspects of their life. Our solutions are highly experiential in nature which engages participants in critical thinking, problem solving and decision making in a context that is professionally or personally relevant to them.

Can you give us a glimpse into the kind of clientele that you work with? Also, how do you ensure that your services are aligned with the specific needs of different clients?
We work with a plethora of corporate clients that hail from industries such as hospitality, manufacturing, retail, academia, IT, telecom, insurance, PSUs and government organizations among others. However, there have been several instances where clients who started working with us in corporate capacity have approached us to continue working with them in a personal capacity as well.

At Let Us TalkTM, we believe that the key to effective coaching is personalization. Our core competency at Let Us TalkTM has been the customization that we bring to the table. Instead of coming on board with a set format, we strive to understand the very DNA of an organization, create a customized journey for them and then see it through implementation in order to provide the best value to our clients.

When it comes to a coaching organization, it all boils-down to the quality of coaches imparting services. Tell us about the capabilities and experience that Let Us TalkTM coaches bring to the table.
Driven by a global perspective to coaching, Let Us TalkTM team is driven by individuals who hail from diverse backgrounds such as project management, sales and HR, to name a few. Our coaches bring to the table over two decades of industry experience, certification from International Coaching
Federation and deep expertise in their area of specialization. We are a bunch of naturally curious people who are committed to bringing the best out of all our clients. Our team of experts work on the principles of Organizational Psychology, striving to provide a holistic value to the organizational culture keeping intact its background and values.

As a team, we believe in constantly upgrading our skills and thus conduct periodic meet-ups to discuss new ideas several times a month. We also invest time & money every year to learn new skills/ international certifications based on the kind of clients and assignments we are working with to support our belief of a globally connected world. Let Us TalkTM also indulges in research and works with global partners to leverage technologies such as interest based profiling and 360 degree assessment, among others.

What role does technology play in enabling Let Us TalkTM to impart effective coaching services?
Technology has enabled our coaches to connect with clients that are spread all across the globe. At Let Us TalkTM, we work on the Consulting, Training and Coaching (CTC) model which has been made possible owing to our global partnerships to support us with latest tools and platforms.

We offer a gamification based mobile application that is supported by our partner from Singapore. It tracks behavior & action of every individual, is user friendly and allows people to send anonymous messages about their deepest fears and anxieties that they might not be comfortable sharing otherwise. It also offers badges, rewards, and recognitions as appropriate to keep the employee engaged.

We also have a platform for interest based profiling, which is supported by a European partner that helps people identify their strengths and promotes self-awareness as individuals and teams together.

Key Management
Dr. Sumita C Ummat, Director, Let Us TalkTM
Armed with an engineering degree, two decades of varied corporate experience and an affable smile, Dr.Sumita has been at the helm of Let Us TalkTM. A passionate trainer, facilitator and coach, she believes that success and failure is a product of our mindset and is thus aiding clients develop critical life skills to build a happy and fulfilling life.

Offerings: Experiential Training, Outbound Programs, One on One Coaching, Consulting, Individual Assessment Tools, Open House

Office: Delhi NCR