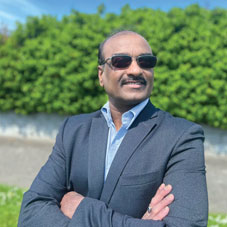 The happiest people are those who have invested their time in others' quotes American author John C. Maxwell and this adage perfectly summarises the life journey of Surya Patra (Founder & CEO, Softest Consulting Services). "My passion for people drives and motivates me today. Almost every day, most of my time talking to people at various levels. Starting from the job seekers to employers, mentors, coaches, my customers, and clients; they all come with their own mindsets, thoughts and perspectives. I like to work closely with people,help and guide them to better their professional careers.
Interacting and working with them has made my entrepreneurial journey pleasant so far", avers Surya, who gladly accepts himself to be a people person and a gregarious phenomenon. Starting his career in the core manufacturing sector in India, Surya holds prolific expertise in the fields of engineering, consultancy, financial services, banking, telecoms, pharmaceutical, software technology, entrepreneurship, human resources HR and management. At present, Surya is spear heading a specialist recruitment consultancy in Ireland and the UK under the name of Softest Consulting Services. He has been helping his clients in hiring of key technical talent at mid to senior levels.
Surya engages in an exclusive interaction with CEO Insights.
What drives you today as an industry leader?
Having worked with several multinational and global companies in India as well as abroad, my career path has moved through a number of industries,domains, technologies ,and business sectors. This has allowed me to possess varied levels of expertise and specialism in numerous fields. The varied exposure and proficiency seem to be interconnected in some way and together, they have contributed heavily to what I'm doing today. The vast knowledge and experience I have gathered immensely helps me while dealing with people coming from different sectors at different stages of their careers. Helping them reach their career aspirations keeps me motivated.
Define Softest Consulting Services as an organization and its position in the market.What is the unique proposition that your organization offers to clients?
Softest Consulting Services is small, but has great potential because of the competitive edge we are enjoying in the marketplace. We are operating in a niche sector of hiring tech people having very specialized and rare skills, which are usually hard to find in the market place. Operating in such a niche area, we have a few yet very special highprofile customers. Identifying the deserving talents is my forte and my richly diverse experience, resonates well with what I do today. My team is well trained in sourcing candidates with expertise in specialized technology areas, which differentiates us within the talent acquisition business which is highly competitive and vast in Ireland and the UK's knowledge-based markets.
We need to run to be able to stay where we are and that is the stark truth of business life
What are the major challenges you have experienced in your journey so far? How did you overcome them, and what did you learn from them?
We are living in a competitive world. As the industries and economies are becoming more mature, the competition is also growing more intense. And, the recruitment and talent acquisition business is no exception to this. It has grown and matured across the economies like Ireland and the UK, as both countries thrive on a knowledge-based and service-based economy.There are numerous active recruitment and talent acquisition companies operating in both these countries, with a good few hundreds especially in the technology sector. Therefore, differentiating my company from others is a real challenge.
We started our operations about four years back, and before we could get a solid foot hold, Covid-19 struck, exposing us to an enormous number of challenges. We suffered heavily as we couldn't secure any new business for more than a year while our existing business dwindled. Running a start-up business has its own challenges too, such as establishing customers, managing cash flows, streamlining our process with the market trends, retaining good talent, and much more. And, we as a company have managed to survive well through these difficult times and challenges.
For us, getting the right tech talent to meet our customers' requirements is the biggest challenge in the current volatile job
market post-covid. As we are in a people's business, our raw materials, inventory and finished products, are people. Our business revolves around sourcing the right people to run the businesses of our customers. Therefore, getting the right talent retaining right people to run our as well as our customers' business, and scaling up our own business to meet our customers' rowing demands are some of the challenges we have been facing regularly. Amidst these challenges, we not only have survived the initial crucial years of our business quite well, but have also thrived to reach an enviable position in the market today.

Going forward, what are the changes in market behaviour that you anticipate and what are the opportunities that you foresee?
I feel that the technology sector is going to get even stronger as the world recovers from the grips of the pandemic. Technology is the underlying for nearly all businesses and post-pandemic, the appetite has been unprecedented for automation, remote operations, communication, digitalization and soon. As a result, technology is going to be at the forefront for many more years to come and a strong trend in technological development will continue progressively. Since my current business is focused on technology, hiring and talent acquisition, I am expecting to see further growth in my business in the coming months.

Alright, so based on all your experiences so far, what is your advice to budding industry leaders who would like to set bench marks in this industry?
To the budding industry leaders I would always advise taking some extra risks and doing things outside of their comfort zone to grab bigger opportunities. They need to strive to keep up with the market as well as technology trends. By keeping an open mind and being flexible in their approach, they must dare to try something different and innovate. It's a competitive world, and to beat the competition, we need to actually be doing things differently each and every day. We need to run to be able to stay where we are and that is the stark truth of business life.

Surya Patra, Founder & CEO, Softest Consulting Services
Coming from a middle-class family of Odisha, India, Surya has always been a bright student throughout his academic career. A mechanical engineer and qualified CFA, Surya holds 30+ years of invaluable experience in software and technology across varied domains with a number of multinationals, Banks, Financial Services and Corporates in Ireland, India and the UK.