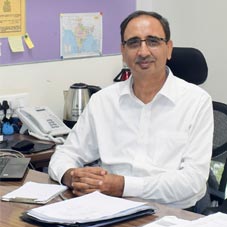 In recent years, the role of CFO has undergone significant transformation with the financial function being technically driven and providing critical inputs to the Organization's growth strategies.
Relaxo Footwears Limited is India's largest footwear manufacturer with a pan India presence and a structured and evolved finance vertical with Sushil Batra at its helm.
Being an industry visionary, Sushil has exhibited phenomenal acumen and leadership during this journey, while being ahead of the curve with his ever evolving and changing role. A man with commitment and passion, he was named the Best CFO in 2018 for 'Sustained Wealth Creation & Healthy Balance Sheet Management by Yes Bank.
During his decade and a half with Relaxo, he has enriched the company by taking major financial decisions impacting both present as well as long term organizational growth.
Hailing from a humble school teacher's family in a small village in Haryana, Sushil was always active in taking extra responsibilities, which has helped a lot in his long professional journey. CEO Insights takes part in a selective meeting with Sushil.
It's been a long professional journey. How did it begin and how has been it so far?
I started my professional journey in 1990. During this long journey of three decades in the field of accounts & tax management, I have also arranged long and short term funds for business at very competitive rates. There are a lot of milestones that give me utmost satisfaction. One of them was being the lead in setting up the green field hydel power project in H.P. with Ginni Global Limited.
I have also initiated setting up wind power projects in Rajasthan with Relaxo. As a CFO, I have implemented SAP/SAP HANA, listing with NSE, setting up corporate governance, trade mark - settlement, and process of active interaction with investors.
As an Individual, I have developed reading habits, leadership skills, and undergone personalized coaching, which have helped in my professional as well as overall development.
Give us a brief detail about your educational and professional background?
I completed my schooling from a government school and moved to the city for B. Com. from D.N. College, Hissar. I decided to start my career as a CA with a small firm in Hissar and then moved to Delhi and was qualified in the year 1990.
There are a lot of milestones that give me utmost satisfaction. One of them was being the lead in setting up the green field hydel power project in H.P. with Ginni Global Limited
CFO of a company undertakes various roles such as a leader, visionary, decision-maker, manager, board developer, and others. What different roles have you been undertaking at Relaxo Footwears?
With Relaxo, I started my journey in 2005 as the Head of Finance. In addition to statutory compliances, I started working on internal MIS. In those days there were only traditional data management techniques with little use of MIS, and I acted as a change agent in inculcating the culture of information technology in the organization.
In addition to my role as a leader, decision-maker, board developer, I am working on long term strategy, corporate branding, and wealth creation for all stakeholders.
What were the initial challenges that taught you the fundamental lessons of managing diversified functions of large organizations? Also, how did you manage to
achieve the success that you had in the later phase?
When I joined Relaxo, the function was expected to manage essential statutory compliances, in addition to routine functional workings. I set my function in order and raised the bar of deliveries, which helped in enhancing the function and helped it evolve from a mere operational role to a controlling and decision making role.

In 2013-14, we launched our long-term business transformation journey with the support of external agencies, which boosted profitable growth momentum and brought a lot of changes in working. I initiated formal interactions with investors and analysts by releasing quarterly updates, and conducted annual investors' meets. It has created transparency & built confidence among investors about the company's working.

How do you ensure to update yourself with the latest industry trends and technologies so that you could always steer your organization towards the zenith?
To keep myself updated, I am actively engaged in meeting with industry experts and subject matter experts, participating as speaker in debates, interviews & webinars, and reading about life, psychology, biographies & leadership.

In our Company, the focus is always on using technology and automation. So, being ahead of the curve is inevitable.

Managing a company involves a lot of stress, skill, and time. How do you manage to balance between your personal & professional life?
I am a very disciplined and systematic person, with the practice of lean management in my corporate as well as personal life. Since the start of my career, I have always been punctual, while regular exercise and meditation keep me positive and healthy. It has helped in keeping a balance between personal & professional life.

Sushil Batra, CFO, Relaxo Footwears Limited
A CA, Sushil Batra is an exceptional and professionally well-equipped, systematic leader, handling the company's entire financial function along with Ramesh Kumar Dua, Managing Director and Mukand Lal Dua, Whole Time Director, Relaxo Footwears Limited.