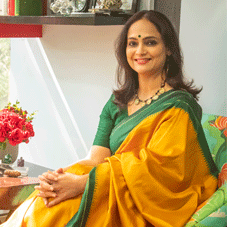 Several success stories of both domestic and multinational companies tapping into the Indian food services sector are examples of the current trends. One such successful tale is of Lite Bite Foods (LBF). With 22 owned and 9 managed brands under its umbrella, Lite Bite Foods is one of India's largest and most dynamic food and beverage retail companies. The firm is proud of its critically acclaimed award-winning brands to include Punjab Grill, Zambar, Asia 7, and The Artful Baker.
With over 200 operational F&B touch-points having a strong presence in prominent Malls, Airports, High Streets, Multiplexes, Office complexes, Hotels and other high footfall locations including Highways in India and Overseas, today. Lite Bite Foods has successfully saved a spot for itself in the heart of food lovers across Delhi NCR, Chennai, Mumbai, Pune, Bengaluru, Bhubaneswar, Singapore, Washington DC, Abu Dhabi, Jeddah, Sri Lanka, and Bangkok. This successful journey's credit largely goes to Lite Bite Foods' skilled employees who are continuously striving to meet the inception objectives of the firm.
Currently positioned as Chief People Officer at Lite Bite Foods Pvt Limited, Ms. Susmita Khare is the catalyst ensuring both - employee and customer success. Responsible for all things related to human resources and employee culture at Lite Bite Foods, Susmita Khare has spent over 24 years in an industrial setup in functional leadership roles with renowned business organizations, like The Oberoi Group of hotels, PVR and SRM University.
Engaging in an exclusive interaction with the team of CEO Insights, Susmita Khare takes us through her successful journey from being an HR to proficiently handling her responsibilities as a Chief People Officer at Lite Bite Foods.
Tell us about your professional journey before Lite Bite Food. How have you been leveraging your knowledge to yield better results?
I have completed my Masters in Industrial Psychology and Industrial Relations from the University of Delhi and Post Graduate Diploma in Personnel Management from NIPM. My professional journey started in 1997 in HR when I finished my post-graduation.
I started my journey with Oberoi Hotels at a supervisor's position with my first posting in Trident Hotel in Agra. While I had begun my journey from a basic role of HR, working with a brand like Oberoi Hotels allowed me to gain immense experience and achievements throughout my journey. I always had a keen-to-learn approach; I worked my way up through hard work, dedication, and proper mentoring.
The leadership team at The Oberoi Hotels was quick enough to recognize my potential, hone my skills and very soon I was given the responsibility of handling HR and Training departments in various units of the chain Kochi, Udaipur, Jaipur as well as at The Oberoi Bangalore. The responsible positions that were bestowed to me helped me a lot in fine-tuning my HR and People Management skills. My forte has always been employee engagement and workforce management. Handling a company is very similar to your own family as each member of the family is very different; likewise, each employee of a company is very different. So, how we deal with them in their customized ways is what it takes to be an effective HR Leader.
What is your role at Lite Bite Foods? Give a brief account of how your expertise has helped the firm in meeting its mission and vision.
I joined Lite Bite foods in January
2015 to take care of the Human Resources, Training, and General Administration. From the first day, I knew it was the right decision to join the organization, considering both the proprietors, co-founders Amit Burman, Our Chairman well as Rohit Agarwal, Our Director had a clear vision and mission for the company. They bestowed in me the faith to drive and be the custodian of the Organizational Culture and Discipline.
They supported me to implement innovative HR practices and create strong values and belief systems that took the company to the next level in terms of Growth, Performance Excellence and also built a strong team to stay together and contribute towards this growth.
In terms of achievement, as a Chief People Officer, I have been able to drive from the Top Management to the employees at the shop floor, entire organizational culture and development, structured HR processes and policies for smooth flow of work, develop Recognition and Reward systems and training programs for execution pan India and abroad.
Lite Bite Foods has won numerous awards and accolades for their work, contribution to the hospitality industry, and most importantly, for the work culture practices and the quality of the company that we are.
With over 200 operational F&B touch-points having a strong presence in prominent malls, airports, high streets, multiplexes, office complexes, hotels and other high footfall locations including highways in India and overseas, today. Lite bite foods has successfully saved a spot for itself in the heart of food lovers across Delhi NCR, Chennai, Mumbai, Pune, Bengaluru, Bhubaneswar, Singapore, Washington Dc, Abu Dhabi, Jeddah, Sri Lanka, and Bangkok
We received the certification as 'Best Companies to Work for and I worked hard for it.
We were ranked in the Top 100 by 'The Great Place to Work Institute' where we were positioned 78th in 2019 and 55th rank for the year 2020.
Recently, we were recognized amongst the Top 10 Best Workplaces in India in Retail - 2021 by the Great Place to Work Institute.
As a Professional, I have been humbled with a few accolades and awards. 'Women in Leadership 'and 'Organization with Most Innovative HR Practices' Awards from the Branding Institute in 2018-19 hosted by World HRD Congress, 'Excellence in Culture Enrichment' in a people and culture summit in 2018 organized by the reputed firm 'Creating Values' are a few of them.
Most importantly, my achievement lies in our employees believing in the Work Culture and Ethics and supporting the whole company to get uniformity in the workplaces across all locations.
My biggest strength has been my people and how motivated they are to drive the company for the best results and performances. The Covid 19 pandemic has taught us so much. This has been a tough time for both the employers as well as the employees. And considering how the F&B industry is still affected by the pandemic, our team has been working together through this. We have stood together as an army, ready to do whatever it takes to keep up the journey.
Restaurant businesses are very people-centric and especially those who are at the frontline. They are like the soldiers, and in the battle days, they fight the battle.
So, if my people are motivated, engaged, and want to do well every single day for the company, then only we will survive and succeed.
What were the initial challenges that taught you some crucial lessons of CPO functions?
When I joined, I think our biggest challenge at hand was to get the right kind of people to create a good leadership team, and since we were expanding, we needed more and
more people to be coming in.

Second, we have a successful presence in different parts of India and abroad, and we are expanding into more Indian cities. Our next priority, particularly in light of the Covid pandemic, is to figure out how the leadership team would easily reach out to our workers across all regions, maintain their mental and physical well-being, track their professional development, and so on. We are working on various kinds of both, Technology and human interactions, to achieve this challenge.

As a CPO leader, how do you consolidate strategies with overall business objectives and how do you drive a positive work environment?

My role is majorly related to strategy and then also ensuring the execution. At Lite Bite Foods, our strategy is to work together as a team, and my role in this strategy is to bring together manpower talent acquisition and manpower planning. I strategize in terms of what has to be accomplished right away to maintain results. Plans for each person's future, as well as their learning and growth, are carefully considered. So that's how I strategize, and it's a never-ending method.

I focus my efforts mostly on three areas: human re-source preparation and budgeting, talent development and competency mapping, and talent management. Once a person joins us, we have to take care of their life at Lite Bite Foods. Our whole strategy revolves around the workers. I keep a close eye on the employees' progress and growth. At this point, we are strategizing and preparing the company's strategic plan for the next five years, as well as the specifics of how we will get there.

Technology is becoming an imperative part of our daily lives. We want to bring technology to HR through initiatives such as technology in recruiting and technology in the Human Resources Information System. As I previously said, it is an ongoing operation. Each approach is linked to the overall business goals.

In your professional journey so far, which are the milestones that have bestowed you with utmost satisfaction as an individual and as well as the CPO of the company.
My happiness stems from Lite Bite Foods' development and expansion from 2015 to the present, pre-COVID, as a result of my commitment to the business. When I started, there were 800 to 900 people, and we had grown to 4000 in just four years, which was the rate of growth we had. Being a part of the whole expansion, the way we do it as a team, and, of course, the reputation as a wonderful place to work with a great work community, I consider it an achievement.

People have been pleased with their experiences with Lite Bite Foods, and as Chief People Officer, this is precisely where my happiness lies. Also, my right to dream creatively is what makes me happy and content. As a member of the leadership team, I am responsible for making sound decisions and planning and strategizing for the company's overall success. Today, in contrast to my technical skills in HR and Administration, I have developed greater business acumen and values, and I am wondering how I can contribute to the success storey of running a business.

"Lite bite foods has won numerous awards and accolades for their work, contribution to the hospitality industry, and most importantly, for the work culture practices and the quality of the company that we are. We received the certification as 'best companies to work for and I worked hard for it"

I am a member of the decision-making committee. People look up to me for solutions, they look up to me for giving them a decision, and being able to make the right decisions for the company is where my satisfaction lies.

How has the growth of the firm been since its inception? Also, what are the future plans of Lite Bite Foods?
Since its inception, Lite Bite Food has experienced positive success. We are not only optimistic about change in the coming years, but we are still considering growth plans for the next five years. We plan to counter this by growing the number of restaurants and F&B Retails. We've branched out into a new market: cloud kitchens. In addition, we are increasingly establishing solid technical support and data analytics teams. We will continue to improve our culinary element in order to become stronger, and this is how we want to overcome the pandemic's repercussions.