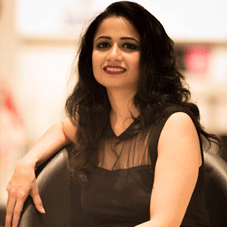 Image consulting, which was earlier only for the elite class, is now for everyone who yearns to get groomed. It is indeed amongst the top trending concepts in today's contemporary world. This is mainly because majority of the people are aware of the significance of a positive image, and further managing it can fetch them phenomenal success, both personally and professionally. A flourishing business abroad, image consulting is forecasted to grow in leaps and bounds even in India. Entrenched perfectly across this market is The Image Launchpad(TIL), a well-renowned Image Consulting firm that provides a spectrum of image management solutions to people, both on their personal & organizational fronts. The firm proactively helps people in discovering their confidence on these fronts and enhancing their Appearance, Behaviour and Communication(ABC). Eventually, it brings a positive change in their lives and also a good first impression for them.
TIL is the brainchild of Shubha Joshi (Founder & Chief Consultant),who presently holds two significant positions at the Board of Directors as General Secretary and Treasurer of AICI (Association of Image Consultants International), India Chapter. Recently, she was also nominated for the 9th Annual Small Business Award 2020 under the 'Mentor' and 'Professional Services' categories. In an exclusive colloquy with CEO Insights, Shubha articulates about her entrepreneurial journey along with her company's excellence in the image consulting industry.
Brief us on your background and what inspired you to establish TIL.
I'm an Image Consulting graduate from London Image Institute, US and also a certified Professional Soft Skill Trainer from Image Consulting Business Institute. My educational background also includes acquiring a Graduation in Commerce, Post Graduation in Business Administration in HR & Operations from Symbiosis and
Master's Degree in English.
My professional journey began very early, long before I graduated, at ICICI and I later moved-on to HDFC Bank and Bennett Coleman and Limited's most successful brand The Times of India(TOI). It was at TOI I realized that for almost 12 years of my career, I was into direct customer interaction and enjoyed it with all my heart. This predilection not only inspired me but also helped in the establishment of TIL. Despite some of my ex-colleagues discouraging me on my entrepreneurial stint, I sailed ahead with grit and confidence in my ideas and not a single regret. Today, people have greatly recognized my works and support me in each of my endeavours.
TIL proactively helps people in discovering their confidence on personal& organizational fronts and enhancing their Appearance, Behaviour and Communication (ABC)
What are the various services that you offer under image consulting?
We offer services in two ways conducting image management workshops for schools and corporates and providing customized individual consultancy and Image makeovers to clients on one-to-one basis. Some of the modules in these workshops include executive presence, professional image management, and body language. On the other hand, customized consultancy entails personality assessment, colour analysis, body shape analysis, personal shopping, body language, International etiquette training, communication and many other aspects. Despite each service offering unique benefits, we ensure to answer every 'why' & 'how' question of the client with proper explanation, thereby letting them know what's right for them. Also, we are the affiliate partner of International Image Institute, Canada and market their Courses in Image Consulting in India.
Walk us through the innovative tools that you deploy while offering these services.
We deploy a range of tools such as coloured and metallic drapes for colour analysis to determine the palette that looks best on the client, lipstick assessor to suggest them the right lipstick, and many more.
Quality is some thing which we never compromise on at TIL. Being an affiliate partner of International Image Institute, Canada, which holds around 30 years of experience in the industry, speaks volumes about the quality engraved in our services. I also take utmost pride in being closely trained by Lynne Marks and Sarah Hathorn, who are two among the 19 AICI-CIMs in the Image Industry of the world.

Cast some light on your team of experts at TIL.
Our team of experts includes makeup artists, social media strategists, and many associates from across the globe. Firstly, I'm extremely thankful to Fred Vornbrock, an adept Trainer & Coach, for guiding and nurturing me towards my goals. Recently, we got tied-up with Vandana Tulsiyan, a well-experienced Sales & Marketing maven, who is our Associate in Australia. We also have Dr. Amit Pandey, Director Technology Development at Micro Testing Solutions, and Dr. Rajshri, a Post Doc at John Hopkins University, as our associates. We are associated with one of the programmes of Dr. Amit's charitable trust that offers services to children suffering from autism, peer pressure, public speaking and many other issues. Today we stand grateful to Dr. Amit for being such a great mentor and guide for all of us.

Are there any innovations that will soon be launched at TIL?
Absolutely! We are currently designing a special module for school children in India that can provide a holistic image solution to strengthen their image right from the young age. We hope to launch it by April of this year. Besides, we also aim to obtain certifications provided by AICI at the earliest possible for TIL.

Key Management:
Shubha Joshi, Founder & Chief Consultant
With profound experiences of over 16 years in the corporate world, Shubha is currently revolutionizing the Image Consulting world through TIL and its offerings. She is also the co-founder and one of the distinguished speakers of Toastmasters International Club (Lucknow Chapter) & WSET (Wine and Spirit Education Trust), London Level-1 qualified.

•Offices: Lucknow, Gurugram, Ohio & Victoria

Offerings:
•Personal Image Make overs
•Behavioral/Image Workshops
•Certification in Image Consulting