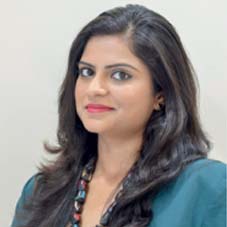 An impressive, credible and a likeable image is the key to success in today's world. Whether it is your personal, professional or social life, when you are involved with other people in any way, you need to know that part reality of the truth is embedded in what others see and perceive. Our nature and conditioning influence our thoughts, expectations, values, beliefs, and our behaviour, portraying a unique image. Hence, a great personality plays an important role in our life and gives us an edge over others. Realizing this, people nowadays try to enhance their personality and image by consulting various solution providers like personality development & grooming experts, stylists & communication experts, and others. But the fact is, a person's image is a combination of several characteristics, which an Image Consultant can understand, distinguish and help enhance comprehensively. One such Trainer and Consultant is Mukta Bahrani, based in Mumbai, who offers best-in-class solutions to people to develop a healthy winning image in all areas of life.
The Better Zone was incepted in 2017 by Mukta Bahrani, a renowned Image Management Expert, Soft Skills & Corporate Trainer, a Speaker and a Stylist. She has etched her name as a reliable partner by delivering excellent training and consulting services to many corporates, organizations, institutes and individuals. She has trained and mentored thousands of people from different age groups and diverse backgrounds like working professionals, students, housemakers, freelancers, business owners, and more. She has also worked for some valuable CSR projects, has been invited as a keynote speaker at various events & meetings, and has received 'Youth Leadership' Award, 'Proud Woman' Award and other accolades for her remarkable work.
Mukta focuses on a person's real personality and understands their present life circumstances, and their personal & professional roles and goals. She then combines her expertise and knowledge to work with them on their attitude, skills and abilities, along with
their outer appearance, image, style and performance, and guides them to achieve those goals, create a powerful impact and enhance their life. Today, Mukta stands tall as someone who provides great value to her clients with utmost quality and professionalism. Here on, she delves deeper into her roles and work, with CEO Insights.

Tell us more about Image Management, its meaning according to you, and the distinguishable aspects about The Better Zone.
Many think Image Management deals with fashion, looks and outer appearances; however, my way of offering these solutions involves total transformation of an individual. Working on the inner image, confidence, life skills, capabilities and behaviour which reflects on the outer image of a person, and working on refining personality, appearance, conduct, relationships at work and otherwise, both need to sync well.

I believe in perspectives and ambitions; hence, I encourage people to be their authentic self, but also to explore different dimensions of themselves as well as the world around and become better each day. My natural flair to understand people, affable communication and creativity lets me connect well with people and bring about the desired positive, meaningful and beneficial shift in their lives. Dynamic inclusive learning environment, versatile training style, and high professionalism with warm approachability are some significant factors of our sessions.

What are the various programs that you offer?
In Image Management, I cover the Art of the First Impression, Dressing & Grooming, Styling & Accessorizing, and Professional Image Management, which includes their Style & Personality Analysis, Wardrobe Management, Etiquette, Overall Lifestyle Development and Personal Branding. Soft Skills include many essential topics such as Communication, Body Language & Behaviour, Emotional Intelligence, Team Management, Leadership, Time management, Stress management, Goal Setting, Presentation & Public Speaking, Customer Service, Motivation & Confidence Building, Interview Skills, Campus to Corporate programs and more.

I blend modules from these areas to create unique customized programs best suited for my clients, leading to overall personal development of individual employees and the organization at large.

How do you ensure the quality of your programs?
Tell us about the techniques &
methodologies that you use while offering these programs. Former corporate work
exposure in IT MNCs has been beneficial to me in understanding organizational conduct, multicultural environment, work excellence and high-quality service. One of the fundamental ways to ensure the quality is to really listen, right from people's expectations to feedback, to their relevant participation and interaction. This lets me craft better solutions incorporating different training methods, case studies, questionnaires, activities, role plays, tools and techniques to engage them in visual, audio, and self-involvement experiences. It helps accommodate different types of learners to achieve better understanding, faster learning and improved efficiency, consequently resulting in productive implementation and amazing feedbacks.
Mukta focuses on a person's real personality and understands their present life circumstances, and their personal & professional roles and goals
What kind of opportunity do you foresee in the current image management industry of India, and what are your future plans?
The Soft Skills segment was always there, and recently, there has been increasing awareness, globally of the importance of Image Enhancement and how it catalyses progress. Hence, the opportunity that I see is huge. In order to align with this flourishing need, I plan to design some more innovative programs in addition to the existing portfolio and intend to do some online and offline collaborations. I work with many sectors like Automobile, Education, Business Institutes, IT, Manufacturing, Consulting, Marketing, Finance and Management Institutes, and would love to explore more!.
Mukta Bahrani, Founder & Director
A certified Image Consultant & Soft Skills Trainer trained from ICBI India (accredited by NABET and SQA), under certification from Conselle Institute of Image Management, US; formerly worked in IT with Infosys and Accenture, Mukta possesses a great zeal to work with people towards continued betterment and achievement of success.
Office:
Mumbai