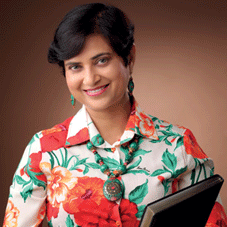 Every individual has several dreams and an immense potential for success. What is missing from the scenario is the 'ability' to use their 'skillset' accurately & effectively and realize their dreams. Empowering them with just that ability is Ravija Srivastava Image Consultants. Established by Ravija Srivastava in 2016, the company provides instant solutions that help talented people to accentuate their strengths and take-on challenges with confidence. Ravija, during her tenure as an educator, was concerned about the inability of educational institutions to provide a graduating student a complete skillset to survive in the modern workplace, which got her involved in studying educational theories & systems.
When she took a break from her career, she spent nine years in grooming her son for a structured career path. Early detection of an analytical mind, capacity for exceptional diligence and rational prudence helped her to nurture his scientific acumen while imbibing right values, beliefs and insights for his holistic development. This experience coupled with her teaching expertise ignited her urge to touch many more lives in similar ways, and thus was Ravija Srivastava Image Consultants born. In an exclusive conversation with CEO Insights, Ravija delineates her company's offerings and aspirations.
Kindly throw some light on your Image Consultation & Training Services.
Each of our individual clients is a unique package of personality traits, physical traits, roles, goals and a set of preferences. We are focused on inducing people's accomplishments through the magical trifecta: Growth Mindset, Self Esteem and Positive Attitude. Our logo (my initials R&S as mirror images of each other) represents our work in its entirety
we examine the inside of an individual's personality and reflect the same on the outside.
We are focused on inducing people's accomplishments through the magical trifecta: Growth Mindset, Self Esteem and Positive Attitude
Our Styling Consult deals predominantly with appearance & body language and is for anyone wishing to look their best on a particular occasion whereas the Comprehensive Personal Branding Consult is for those on some threshold of their life aiming for perfection, be it students endeavoring to emerge into a strong contender during campus placement or a prospective bride/groom who wants to look, feel and be their best version on their D-day. Our Professional Excellence is a highly specialized consultation service that assures long term results. It is recommended for individuals awaiting promotions or geographical/divisional/ profile relocations, who need drastic measures to change one or several aspects of their personal brand.
Our training vertical covers major domains of soft skill training Emotional Intelligence, Business Communication and Power Dressing, via time bound trainings with metrics to find RoI in the end. The Emotional Intelligence package addresses the root cause of several identifiable problems(like time management, stress management, goal setting and team building, among others) altogether, simultaneously taking care of micro & macro level issues. Same goes true for other two products as well. We regularly do Cam2Cor Programme for graduating students that prepares them for job market with the skillset currently in demand.
How do you ensure the quality & authenticity of these services?
After each training, feedback from audience is duly analyzed & shared with trainers for improvement of programmed layout and delivery. Furthermore, books and scholarly journal articles give me deeper insights into human psychology &
behavior, whereas lifestyle & fashion magazines, exhibitions and designer showrooms keep me informed about trends in cultural evolution. My entire team keeps close tab on social media trends and draws current information from NYFW, LFW and celebrity trends for cuts & fits and Pantone website for color schemes. Customizing a particular trend to suit character sets and budget range of different clients is both challenging and interesting.

Brief us about your team involved in delivering image consultancy to your customers.
I owe my success to hard work and creative thought process of several minds. Everyone on my training team is a self-motivated learner first. Each one of us is a Certified IC and SS trainer, in addition to having some professional degree and work experience in diverse areas (HR management, Law, Advertising, Academics and Software Development), which gives us an exceptional competence to solve the most complex problems.

Kindly tell us about the future roadmap set for your firm?
We wish to continue changing the course of peoples' lives with utmost care and passion for perfection. Our future services will be directed towards aligning with manifest lifestyle changes. This year, we intend to explore the role of micro-expressions in digital communication and use it to further chisel our clients. We are also currently researching on new demographic segments like startups, joint families in smaller towns & cities, driving schools and designing customized packages for them. In the future, we may even become an exclusive research agency for Image Consulting Business.

KEY MANAGEMENT:
Ravija Srivastava, Image Consultant & Owner
A masters in Library & Information Science with UGC NET certification bestowed Ravija with the versatility to work in universities & colleges as a professional as well as an educator. When she chose Image Management, it all fell into place her passion to teach, love for perfection and art of meticulous planning. When she advocates for learn unlearn relearn survival strategy, she can vouch for it from personal experience.

Location: Mumbai