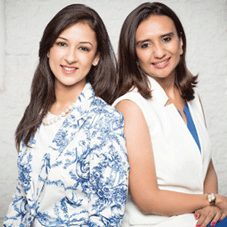 We live in an attention-deficit world where we get a very narrow window to showcase our best qualities and create a positive impression. But being a product of our upbringing, we are wired right from how we dress, communicate, think and display emotions, which create perceptions about us which may not match to who we really are. A master in the art of enabling people to decode their thoughts, personality, appearance, lifestyle and behavioral patterns, NYOU Image Consulting empowers them to identify & build on the empowering traits, while also drawing-out powerful aspects of their personality that they may so far have been hesitant to explore.
NYOU was established by Sonal Gadhvi & BBhuvaneshwarii (Co-Founders & Directors), who possess a long list of certifications including Image Management (Conselle, USA & ICBI), Soft Skill Trainer (NABET & SQA) and NLP Practitioner & Coaching, among others to their credits. Furthermore, Sonal's academic background in psychology and two decades of experience across Business Development, External & Internal Customer Centricity and Human Resources Development has made her an expert at understanding human behavior within the workplace and outside. Likewise, BBhuvaneshwarii brings over a decade of entrepreneurial experience in running a Telecom product sales business and real estate business that pioneered mass housing in India. BBhuvaneshwarii and Sonal in an exclusive interview with CEO Insights, delineate their offerings and the unique factors that set NYOU apart from the rest.
Can you walk us through the methods you deploy to catalyze a holistic transformation?
Only when we begin to be more self aware and understand our & world's perspective can we have more clarity towards our life purpose & goals and chalk out a scientific approach to achieving success, happiness through our behaviour and relationships with people from all walks of life. Our NYOU program works effectively by applying the latest success tools of self development and mindfulness. We set out on our renewed mission to help you improve confidence and performance, while also achieving greater happiness and overall success for executives and professionals.
For Individuals, we have our Life Excellence Program, where we make you aware of the blind spots in both personal & professional lives, help break the hardwired behavioral patterns, and restructure your life by developing those skills in order to achieve your financial, health and
family goals. We also have need- based Personal Excellence Programs. Here, we identify potential perception gaps, skill gaps, or social quotient gaps, then recommend a program based on self presentation, productivity, communication, relationships and emotional intelligence.
We take our clients from Self-Awareness to Self-Development through the transformative journey of our NYOU philosophy based on our unique six-pillar approach
For companies, we call it Organisation Value Architecture, where we believe that for a business to prosper employers must prioritize the over all growth and well being of their employees while aligning them to the organization goals and values. Not only does such an environment result in increased commitment, it also ensures that every employee feels motivated to reflect the values of the organization through their own appearance behaviour and conduct.
Create a Core Group of growing leaders and we will design a two months program for higher efficacy. Our intensive Residential Programs are extremely popular with corporates and even govt organisations. We have Workshop Factory, where we can customize corporate training programs as per the learning development goals of a company. We also have been invited to speak at popular business group interventions such as FICCI FLO, Entrepreneurs Organisation, and so on to conduct workshops/seminars such as BRAND YOU (Personal Branding Workshop), Executive Presence (for the growing professional)and We Cannot NOT Communicate. We also offer Company Image Management solutions.
Tell us about the unique elements that set you apart.
We are the only duo in the industry that conducts every session together. A two woman army with over 3000 hours of training & consulting experience, we deploy body shape, personal colors and personal style evaluations a complete wardrobe detox with budgeted personal shopping along with overall behavior and attitude enhancement.
We take our clients from Self Awareness to Self Development through the transformative journey of our NYOU philosophy based on our unique six pillar approach, which targets each element of personal transformation (Social, Emotional, Intelligence, Image & Spiritual quotients) so you can take charge and begin to lead a truly extraordinary life. Legitimate Adult learning techniques such as role plays videos interactive activities tests, questionnaires, reflection, experience sharing, neuro linguistic programming and visual, auditory & kinesthetic learning techniques and even Mindfulness to create long lasting impacts. We translate our knowledge of sophisticated scientific tools to provide a
simplified solution that can be applied immediately.

Being very selective in hand picking partners, we take pride in the strong affiliations we have established with high end designers and world class brands for clothes & accessories, counsellors nutritionists venue partners, corporate trainers, co-working spaces, advertising agencies, marketing partners, PR agencies, travel and so forth to add values to our 'nyoubeings'.

Through unique Pre & Post Assessments, we provide you a lens that helps you to realize all the changes you ought to make in order to live in harmony with the environment. This enhances the program's efficacy and ascertains that the recommended behavior becomes part of life. Once we are on board for a company or an individual, we handhold them not only through the duration of the program, but help personally right from outfit consultations to relationship advice, even after successful completion of program. We are family! The fulfilment we get by watching our clients blossom into their full potential is what inspires us to keep learning, keep working, and continue along this extraordinary journey.

Kindly brief us on the road ahead for NYOU.
Our client base constitutes of both individuals & groups, and corporates from diverse range of industries. Encompassing all sections of society senior to middle management, corporate executives to new joinees, SMEs startups, entrepreneurs, self employed professionals politicians, NGOs venture capitalists & angel investors customer facing professionals, social clubs, and even trade associations our services open channels for feedback, appreciation & constructive criticism, and increase self confidence thus boosting individual & team productivity and improve communications skills.

Our plan is to build a Life Excellence Academy with the best experts on board, image consultants & trainers who match our philosophy and are out on a mission with drive, passion and compassion like ours. Besides this, we have a keen interest in kick-starting a Mental Health Campaign to build general well being through films and other similar media, and a one-of-a-kind Leadership Program in the mountains is coming soon!

Key Management:
Sonal Gadhvi, Co-Founder & Director
Having spearheaded & consulted multiple startups and worked closely with top management for over two decades, Sonal holds a laundry list of certifications like International Certificate in Wardrobe & Style Consulting (Conselle US), which has armed her with a unique insight into what works.

BBhuvaneshwarii, Co-Founder & Director
A Mathematics graduate, black belt and government certified soft skills trainer, BBhuvaneshwarii boasts of a remarkable career path that includes over a decade in stints as a Telecom Product Sales entrepreneur and spearheading multiple people management functions in real estate business, consulting and training.

Headquarter: Mumbai