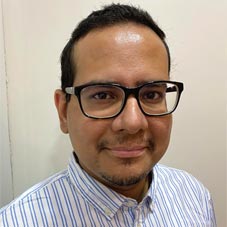 India is not just famous for its tea production but is also known as a place where one can get to taste different flavours of the beverage. There are countless ways to make a masala chai across the length and the breadth of the country. To curate the finest teas and craft them as unique blends using all-natural ingredients need expert diligence and care. Amit Jain has been working in the tea industry (retail and wholesale) for the past 15 years. He took his initial lessons from his father, who owns a tea retail-cum-wholesale shop. It was there he developed his taste for tea. Amit opines that one of the most crucial things about the tea business is to select and purchase the right type of tea that suits the customer profile. Being The Indian Chai's founder, Amit has mastered in selecting only the best tea amongst the lot. In an exclusive conversation with CEO Insights, Amit Jain walks us through The Indian Chai's journey and how well the company holds a position in the tea industry.
What is the story of The Indian Chai? How has it been creating a unique position in the market?
We have had a beautiful journey with The Indian Chai, not limiting ourselves to only selling the traditional Assam/ Darjeeling tea leaves. By carving our own space in the flavoured and herbal space of teas, we have combined the right mix of exciting products, earning us a huge customer base in India. As our by-line says, 'Your Tea Your Flavour,' we have tea for every reason, every individual, and occasion. Curating custom blends regularly, our hands-on
approach and the ability to provide a larger bouquet of tea flavours has made us the preferred company by customers. Our ability to produce new flavours takes much less time from ideation to execution than larger ones.
Give us a brief idea about the methodology and the kind of technical and market expertise go behind the scenes to ensure quality products at The Indian Chai?
Our teas are crafted with passion through plenty of research and trials. It takes almost a month to come up with the perfect blend and taste. Once we observe the need for a particular blend in the market, we source the necessary herbs and spices and set them. After receiving feedback from 10-odd tea lovers, we carry out necessary amendments to bring out the perfect brew. It is also a fact that supply creates its own demand. Our ability to supply newer varieties gives customers more extensive choices, which creates an invariable increase in demands.
The Indian Chai encompasses everything from herbal teas, Ayurvedic teas, to dessert teas in our catalogue
Tell us about the various tea variants and flavours offered by The Indian Chai. What kind of market demands do you observe in the past that has driven The Indian Chai's product portfolio?
The Indian Chai encompasses everything from herbal teas, Ayurvedic teas, to dessert teas in our catalogue. We endeavour to produce all possible flavours so that no customer should be left deprived of enjoying their favourite blend. Over the years, herbal teas have taken a giant leap as they are proven to contain great medicinal value. Moreover, there is an appetite for lactation tea and PCOS tea as well. Teas like immunity booster and dandelion detox are currently our bestsellers. We thrive in analyzing
and predicting the customer requirements and serve them better with our latest products in the market.

How do you perceive the opportunities in the F&B market that could help the company leverage the best of its business opportunities?
F&B itself is a broad term, and the opportunities are endless. Today's youth is health driven, as a result, herbal tea has walked in seamlessly into their lives. To a considerable extent, our products are dedicated to them. Our well-defined business proposition is to serve products that might not be mass-driven but is regarded well by tea connoisseurs.

What kind of innovation is currently happening in your organization? Also, what plans have you set for The Indian Chai?
Our R&D team is working vigorously to identify new demands and source the right material to fulfill customers. We are currently working on 'teas for him' and 'teas for children.' Our innovation through online platforms helps us apply analytical skills. We use hi-tech methods to get insights about the products that are being liked by the customers and analyze their reviews and feedback to improvise on our products.

The Indian retail market has a lot of potential. We aim to be on the shelf of every Indian kitchen. To achieve this, we are trying our best to be virtually visible at all the major e-commerce sites present. We aim to use the physical as well as digital channels to broaden our reach into the market. When the digital channels help us in catering to the retail market, the physical channel on the other side assists in bulk sales. There are business owners who sell further to their customers in various parts of the country.

Specialities:
Loose Leaf teas, Wellness teas, Floral
We aim to be on the shelf of every Indian kitchen. To achieve this, we are trying our best to be virtually visible at all the major e-commerce sites present