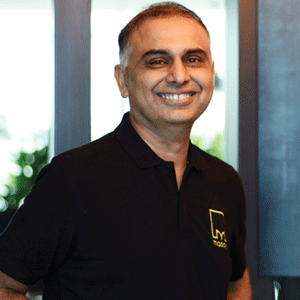 The co-working revolution overhauled restricted workplace milieu with its peaceful yet creatively stimulating vista. With the rising scale of freelancers and startup entrepreneurs hunting for avenues decked with flexibility, creativity and motivation, co-working has evolved as a refreshing avenue for creating perfect work-life balance amongst this millennial workforce. Etching wellness concept with the ethos of flexible working, Gokul Das (Managing Director& CEO) along with three other founding pillars established The Mosaic in 2017 as India's first premium wellness oriented co-working space that offers healthy working alternatives with exceptional hospitality experience to help innovative explorers strike the right chord between work-life balance.
Inspired by international eclectic designs and spread across 8000 sq. ft. of area, Mumbai-based The Mosaic with its state of the art spacious interiors, in house masseuse and well stocked café redefines co-working concept by focusing on service-driven perspective over cost-effective solution. Believing that environment catering to one's wellness can positively impact work productivity, this premium conglomerate integrates 'body, mind & soul' notion with aesthetically designed workspace to help its members reduce stress while at work, hence embracing performance, productivity and positivity.
A warm personality driven by enthusiasm and indulgence,Gokul aims at bestowing creative freedom and holistic work experience with a humane touch. The following excerpt of Gokul's conversation with CEO Insights explains how The Mosaic has carved a niche cognomen in the industry by transforming co-working facet from mere desk & internet shared office to wellness-oriented working ecosystem.
What is the inspiration behind The Mosaic's inception?
While working in BFSI organizations abroad, I was always enthralled by their ergonomically and ecologically
designed offices, compelling work
desks and lively ambiance that fosters motivation. Since all the founders have worked abroad, we knew the difference between happy office and stressed office. Analyzing international work ecosystem that places employee's work-life balance at equilibrium helped us chalk out a unique theme, 'wellness', for The Mosaic. While cross-pollination and replication of international ideas laid the company's foundation, integration of wellness essence with holistic perspective, significantly targeting mind, body and soul, appealed professionals to mark their attendance daily and break work monotony.

"To bridge work with wellness, The Mosaic features a 1000 sq. ft. fitness centre that hosts an array of rejuvenating activities"

As co-working architecture propels innovative thinking, how are you amalgamating high-end servicing with classic working experience?
The Mosaic offers premium co-working experience for both fixed and flexible desk options, private cabins and office cubicles. As you enter the avenue, you witness the novel blend of work and life created by comfortable upholstery, green plants, aroma of freshly brewing coffee and flurry of activities. The state-of-the-art facility reflects The Mosaic designs from ceiling to floor and is equipped with open spaces, ergonomically designed seating, conference room, lounge area and library that provides a nest for millennial trailblazers to explore, experiment, innovate and master their success formulas.

While the formal work zone mirrors classic cuddapah and desert teak stone theme, the informal zone reflects casual milieu that is made in brick with painted surfaces and is supported by 140 sq. ft. green wall. The foldable doors open to huge space for large congregations and can also be closed to community meetings and conferences for small gatherings. To down pour the typical office restrictive nature, minimalism and contrasts are highly leveraged within The Mosaic's ecosystem.

How are you integrating wellness aspect in The Mosaic's modus operandi as a value addition?
To bridge work with wellness, The Mosaic features a 1000 sq. ft. fitness centre that hosts an array of rejuvenating activities inclusive of Isha Yoga and meditation classes (Isha Foundation), in-house masseuse (for both men & women), kick-boxing, Zumba and Tai Chi classes amongst others. Every activity is focused at creating contrast between official stress and casual refreshment. Alternatively, shower rooms allow you to freshen up after a fitness regime while round the clock delivery of organic drinks
and quality coffee helps you make a refreshed start.

Besides fostering collaboration and fruitful knowledge exchange, The Mosaic strategically utilizes sustainable and energy-efficient resources to enliven the facility and takes care of its co-workers'health by placing selectively automated lights, VRV system for air-conditioning while embellishing the avenue with natural lighting. Simultaneously, optimum use of natural materials reduces VOC (Volatile Organic Compound) element indoors while oxygenated plants and peace lilies purifies air, giving the occupant a healthier environment.

What is your present occupancy rate and your strategies to upscale sustainable growth prospects in future endeavors?
Today, India is the third largest startup hub with nearly four startups emerging everyday and approximately 15 million freelancers bridging service delivery gap, hence the occupancy rate of most of the few premium co-working spaces including The Mosaic is 100 percent. To help millennial leaders polish their skills, we have collaborated with Huddle, an agnostic incubator, to proffer dedicated mentorship to startup entrepreneurs along with delivering knowledge-oriented sessions on topics like bitcoins & crypto-currency, mind-mapping, branding, guidance for women entrepreneurs and many more.

Right from captivating concerts to skill development talks, The Mosaic bestows everything with perfection and excellence. Besides startups, corporate houses are looking at flexible office spaces catering to their C-Suite professionals for business expansions; hence the need for premium shared spaces is finding its niche in the industry. Since growth is the contemporary constant, we have expansion plans pipelined for establishing five new co-working consortiums across Tier-I & Tier II cities and become one of the three major players in the market.

Key Management:
Gokul Das, Managing Director & CEO
Having rich business acumen in BFSI sector, Gokul has expertise in devising strategic solutions that catapults the company's visibility. His enthusiasm towards work creates an environment of positivity and motivation at The Mosaic.

Headquarter:Mumbai
Offerings: Fixed & Flexible Desks, Spacious Cubicles, Fitness Studio, Conference Room, Lounge Area, Library & Spa