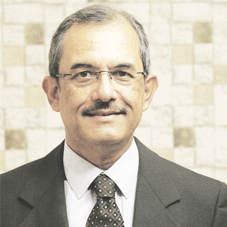 The continual changes in business and corporate world have made it critical for organizations to find new ways to discern and meet these changing demands. As technological edge is getting narrower it is becoming more difficult to provide differentiated solutions to customers, even by the most seasoned professionals in the industry. That's where Tridib Majumdar, Commercial Director, Quaker Houghton India stands out.
A Mechanical Engineer from NIT, Warangal, and Post Graduate Diploma in Business Management from XLRI Jamshedpur (with majors in Marketing & Finance), Tridib is a seasoned professional with multi–business & multi–cultural experience. Having worked in top-notch organizations like Shell India, Larsen & Toubro, ITW Signode India, and TVS Sundaram Clayton, he is now spearheading Quaker Houghton towards success in an exemplary way, bringing in the next wave of change in the industrial process fluids & product solutions industry. CEO Insights is humbled to interview Tridib to know more about his journey over the years.
Brief the distinguishable aspects about Quaker Houghton India?
Quaker Houghton (NYSE: KWR) is the global leader in industrial process fluids. With a robust presence world-wide, including operations in over 25 countries, our customers comprise of thousands of the world's most advanced & specialized steel, aluminum, automotive, aerospace, offshore, can, mining, and industrial companies.
Our flagship offering to our customers is TCO(-Total Cost of Ownership) enabled through Value selling. An analogy of TCO is the initial price of buying a car, running cost, repair & maintenance cost, and net of the residual value at the time of disposal. All of us will agree that the TCO of different cars can be different and does not depend only on the initial cost of the car - lower running, repair and maintenance cost can help in lowering the TCO. We follow a similar approach while developing our solutions & proposition for our customers through the supply of our value-added products and services.
Describe about your professional journey so far? Also, how are you going about with the business marketing plan for Quaker Houghton in India?
I would like to give credit for what I am today to my managers, mentors and advocates in the different organizations I worked for. They are the ones who have coached & trained me in the fundamentals of sustainable business delivery, irrespective of the challenges that may come up. Also, I have attended
various in company trainings and MDPs from IIMs Bengaluru & Lucknow, XLRI, Ken Blanchard which have enabled my professional growth and development.
I have worked in different organizations dealing in diverse product lines and customer segments. However, if I were to look back, some of the common things followed would be PESTLE analysis and its effect on our market, Industry analysis, Competitor analysis, company position vis-a-vis competition, Communication of Vision & Mission for growth, Strategic planning, Focused implementation, Coaching & Training of colleagues so that they are able to maximize delivery.
Marshall Goldsmith once said~ 'You're Only as Good as Your Team!'. I am a firm believer of this, I could not have reached here without the support of my team
Briefly explain about your stint with Quaker Houghton India, your role there, and how you churn-out efficient business strategies leveraging your vast experience?
I am the Commercial Director at Quaker Hough-ton India and accountable for the growth of our business and market share through the delivery of our value-added proposition to our esteemed customers across different segments like Transportation OEMs and their ancillaries, Industry, Tube & Pipe, and Aerospace & Defense. To do this, we have dedicated Account Managers and Application Managers located in key industrial locations.
I work closely with our Global Key Account teams to enable transfer of best practices & learnings from similar customers in other parts of the world. I also collaborate with other functions like operations for ensuring right supply of our products, and with the R&D team for ensuring that our value proposition is not only in line with customers' changing needs, rather ahead of the competition.
India is an important market for Quaker Houghton, with the country poised to become a $3 trillion economy in the near future (with low steel consumption per capita & a burgeoning middle-class population). Our underlying strategy has been 'market penetration' & 'market development', and we have achieved this by increasing depth & width of our distribution from existing customers and growing our customer base. While implementing this we have always followed our core values – 'live safe', 'drive results' and 'exceed customer expectations'. We have been planning & executing our strategy in blocks of three years, and we have found this working for us.
What is it that you consider as the biggest challenge today as a CCO? How do you work with your executive team to get the most out of the marketing function?
Challenges are numerous, however I strongly believe that if the basics
are right these challenges can be overcome. Discovery & understanding of the customer's unmet needs is key but making the customer accept this is more important. Once this is done, I am confident that we have the solution somewhere in the organization for these needs either in India or globally.

However, today as the CCO, the biggest challenge I find is coping up with 'new normal' caused due to the pandemic, since it's quite different from what we have done so well in the past by being 'customer intimate'. We had our team members physically visiting customers, surveying their existing process and recommending solutions. But now due to COVID-19 physical visits are restricted, we have to change our ways of working and still be customer-intimate and develop solutions to their needs. I have been working with my team to devise new ways - through trainings, webinars, troubleshooting & analysis through virtual modes to achieve the same impact of customer connect. Our Marketing team is helping us in adopting best practices in these areas being followed in other regions.

As a CCO what's your biggest professional accomplishment till date?
Marshall Goldsmith once said~ 'You're Only as Good as Your Team!'. I am a firm believer of this, I could not have reached here without the support of my team. Also, when it comes to accomplishments there have been quite a few, however if I were to select the biggest one, it will be the integration of two great organizations (Quaker Chemicals & Houghton International) in specialty chemicals in terms of products, processes, people, customers, and more. The two organizations had their strengths & different cultures, the challenge was to integrate them to achieve synergies, and we had an external challenge of COVID 19 pandemic which we had never thought of.

But, here I am happy to share that we have been able to manage this integration pretty well, in some aspects we have done better than other regions in the world based on feedback from our colleagues and customers. We have been able to live our core values of 'doing great things together' and 'exceed customer expectations' even during the pandemic.

What is the future roadmap set ahead?
We have grown ahead of the market in the last six years however we would like to grow more. As mentioned earlier, we plan our strategy in blocks of three years and we are now in the block 2021–23, we would like to strengthen our business in India and be a material contributor to our global business by leveraging on our products, technology, people and global experience.

Tridib Majumder, Commercial Director
Exposed to multi-business & multi-cultural experience, working in leadership positions driving innovation, value selling, integrity and sustainability, Tridib is an adept commercial leader having over 30 years of experience in Sales.