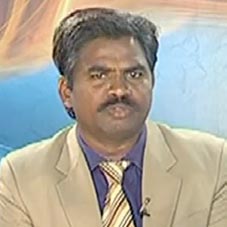 T.V.Ramana has started his passion about stock markets investing with his pocket money after his education and a regular follower in Indian Capital from the year 2000 and converted his passion into professional to SEBI Certified Investment Advisor in Indian Capital Markets. For many clear-eyed, wealthy investors, the pursuit of absolute rather than market-relative returns is the only investment intent that holds significance. Albeit, in recent years, a plethora of online investment wealth planners or advisors have emerged in the finance & investment industry who offer get rich quick schemes, sure shot multi bagger investment tips, and whatnot.
There are many positives when it comes to seeking financial investment advices, but then there are many lurking on it as well, people should beware of getting swindled by any such cynical investment advisory firms, distributors, agents or leaders who promise quick returns by trading in the share market.
T. Venkata Ramana, Founder & CIO at Your Wealth Planner is one such leader who stands discrete in this respect and delineates an exemplary advisory focusing on equity capital market. A virtuoso instrumental in the company's growth, Venkata holds abundant experience of over 20 years into the Indian Financial Markets advicing for Stocks Markets, Mutual Funds Investments, Investments, Retirement Planning, Portfolio Management & Wealth Management Services, and IPO Investing.
Talking to CEO Insights, T. Venkata speaks his heart out to talk about himself, his journey with Your Wealth Planner so far.
Could you highlight on your educational and professional background that helped you steer your journey to where you are today.
I hold multiple professional financial certifications like CIA, NCCMP, NISM, and other financial certifications from NISM (through SEBI) & NSE Institutions. Also, concentrating on education, every year I am making sure to get one institution's membership. Last year I got IoD (Institute of Directors) membership, Further, I am looking ahead to clear IICA exams, for independent directorship as mandated by Govt. under SEBI guidelines.
On the professional front, I have
also done about 250 Live TV shows on equity investments and finance related topics, wherein I also gave some 200 script recommendations out of 1500. Right now, I am a SEBI Certified Investment advisor from last 20+ years and 10 Professional Certifications and the Chief Operating Officer at Your Wealth Planner.

Initially, there were many challenges when I first stepped in this sector. There was no one to teach me about investment related things. I learned myself in the industry all these years from the mistakes that we come across in these years with highly focused on Indian Capital Markets, and now I am learning from reading Books related to economy & autobiographies of industry leaders, learnt, and prepared for examinations all by myself. Hence, what I am and where I am today is undoubtedly the end-result of my vigorous endeavour to learning Continuous as part of my life.

CIOs role has largely diversified over the last decade, from being just a investment management to driving growth & innovation. How would you describe your role at Your Wealth Planner?
Mainly into the Field of Stock Markets, Your Wealth Planner is providing professional, experience, & dedicated certified investment advisory services. I found it because of my investment passion on advisory, wherein my friend helped in website development for knowing the unknown world too.

Being CIO of Your Wealth Planner, I daily check the market stats, economic financial activities, and Govt. reforms for financial sector development. We apply the useful reforms and developments in the fund regularly, and moreover, decide on buying, selling, and recommending or hold & booking of the profits.

My recommendations entail a comprehensive process of research analysis about company, its nature, work, competition, market condition, and development prospects respective of the sector it is placed in. Getting done with all these things, we then devise the conclusive plan of action for our clients. Here, I work with the Professionals like Doctors, Lawyers , MD, CEOs, Directors, and Managers and Non-Resident Indians (NRI), High Profile Persons, High Networth Individuals, Corporates, Firms, Trusts. Provide investment advisory that's suitable for each one of them, individually. It's been a long period of over 20 years now, yet I keep learning new things daily and would suggest the same to any budding graduates too.

What strategies and methods you follow in the financial sector?
Foremost strategy involves staying patient for taking informed decisions and highly focused in Capital Markets in India. We recommend clients on short term, medium term and long term investments according to their respective investment time frames. Most important facet is that setting
market goals, deployment of 80/20 rule (80 percent - observation & 20 percent investment). No hurried decisions are taken, and fundamental procedures are followed to reach bottom issues and weak point analysis for delineating a sound solution.

What is your take on keeping yourself updated with the latest trends in the finance & investment market, so that you can reach your future goals?
I spend one to two hours regularly in news reading, and more to find out what evolutions are happening industry-wise, segment-wise , our government-wise , tax-decision wise, or market wise, Management-wise, Competition-wise and applying my innovations in the Indian Stock Markets. By observing everything, I keep updating myself and reaching new heights. I also am participating in seminars so that I can learn a bit more and add it up to my existing knowledge stream. These things often seem beneficial in the long-run and help my clients serve better. We are the proficient caretakers of our clients.

What are the future road map you have set for Your Wealth Planner Company and how are you updating yourself with the latest consumer trend, in the market what is happening , so that you reach the future goals of the company ?
With regards, to future goals, I am concentrating on procuring around 200 HNIs as my clients. As their CIO, I will be taking care of their financial investment only, not physical or real estate investments. I will be charging them on a yearly basis. Also, as a celebrity on TV for investment talks I want to set the limit for now and focus on it later.

T. Venkata Ramana, Founder & CIO, Your Wealth Planner
He has exclusive expertize in selecting the best stock and his principal objective is providing unbiased and customized financial investments advisory through understanding the economy, developments and markets for short term, medium term and long term investments.

With more than 20 years of experience in investments, employee management, advising, and stock market training, T.V. Ramana can deliver proficient solutions in mutual funds, wealth management, and wealth planning.

T.V. Ramana's knowledge, vision, experience, and plan in the Indian Financial and Stock Markets is incomparable and he recently stepped into the main Corporate Field of 'Institute of Directors' India by becoming as one of the Member of Directors in Indian Corporate Field.

He is working as an SEBI Certified Investment Advisor and hosting Live TV shows on Stock Markets and Mutual Funds Investments, where he is sharing his indepth experience and knowledge from institutes like Systematic & Stocks, Dawany Day AV, India Infoline.
Office: Hyderabad