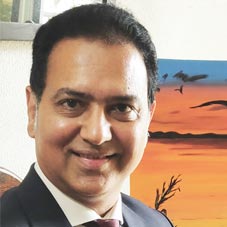 John Maxwell once excerpted ~ "The pessimist complains about the wind. The optimist expects it to change. The leader adjusts the sails". Well said! Precisely, sequined with such sturdy attributes alike a leader, piloting the investment arena is Sridhar Ramachandran, CIO at IndiaNivesh First Bridge Fund Managers. Sridhar is a turnaround specialist and an insightful leader, having over 30 years of significant experience in general & financial turnaround management of companies across Asia and Africa, apart from strong exposure to investment banking, debt resolution, and bankruptcy practices. Holding a B.Com degree from Madras University, Sridhar is a qualified Chartered Accountant from the Institute of Chartered Accountants of India (1988), Cost Accountant from the Institute of Cost and Works Accountants of India (1989), and a Certified Public Accountant from Colorado State, USA (2005). Performing multiple roles across various sectors (including international exposure), leading from the front with a strategic goal, taking risks, making quick informed decisions, taking ownership of the same, mentoring, training, and motivating teams to align to the goals, Sridhar is currently leading IndiaNivesh First Bridge Fund Managers with high energy & positive attitude.
CEO Insights is humbled to interview Sridhar to know more about his journey over the years`
You are an industry aficionado. How has your extensive experience been aiding you in shaping your leadership journey? Also, what role do you play as the CIO at IndiaNivesh?
True! While I may have a financial background, I believe it's equally important to have operational experience of running a business. Supposedly, as an individual, I must first be able to think like an entrepreneur (from understanding the business model to the expected ROI), and then as an investor.
I would not be truthful if I don't mention the challenges I came across in my journey. Direct investment is always a challenge as the buck stops right at your table. Meeting several promoters & their teams who come to ask for investment, we get to view the
countless number of appealing presentations, however rarely some of them speak about the reasons for failures in business execution. There are exceptions, who do accept their shortcomings, after being prodded, and promise to mend their ways. Investors do feel a sense of insecurity in such situations, and this is when I enter the scenario. As the CIO of the company, I am levied with huge responsibility towards our investors, and hence I am obliged to take certain actions as per our investment agreement to mitigate the issues. Luckily, my vast financial & operational experience has served me spoonful in being able to identify their key driving factors and act upon them as a part of the investment thesis.

We have a detailed document approved by the SEBI that outlines important investment criteria & processes involved in the identification of underperforming companies. To be able to do so in a dignified manner, I deeply indulge with target companies for at least a couple of months, and then deploying a multi-pronged approach, formulating a Business Steering Committee (with clearly established objectives) in consultation with the management, I tend to create an advantageous business plan. Also, I never miss out to think of the worst-case scenario, before initiation. We have also created a dashboard, to cover the areas to be monitored. I am a people-oriented person for having managed thousands of people in my career across various countries, I stress on upskilling each one with business nuances comprehensively. My team and I have scanned over 250 companies and invested in a few selected companies, until now. Subsequently, I also oversee their post-investment performance, mentor the management, and support in their strategy implementation.

How does IndiaNivesh operate in the industry? Delineate the portfolio.
IndiaNivesh, a sector-agnostic private equity fund is aimed at providing capital along with strategic support to all MSMEs. Unlocking the value – Strategic/ Financial, Mergers & Acquisition, and IPO, we have chalked out a unique investment theme, based on six incredibly amplified investment criteria (Third eye discovery, Define Roadmap, Governance standards, Systems & processes, Mentoring, and Hands-on monitoring). This is what separates us from our peers.

With utmost emphasis on growth and execution, we partner only with few selected businesses that seem to possess unique selling propositions and are led by highly passionate first-generation entrepreneurs.

What are your professional mile- stones? Could you highlight some of your learnings that bestowed your utmost satisfaction - both as
an individual and a CIO, so far?
I would say taking risks to venture into the unknown territory has always given immense satisfaction. For an instance, my first job post-C.A. was into property development rather than a bean counter. Then, moving to a land-locked country like Rwanda where a million people were killed in 1994. Similarly, there have been many such incidences throughout my career. Speaking of professional context, reputedly, I have been instrumental in turning around a few difficult situations, save people's jobs, and also protect the value of the companies. Conspicuously stating, seeing people grow and prosper under my leadership makes me feel highly contented and worthful.


Financial technology is the constant change and the only way to stay ahead of the competition in recent times. Hence, how do ensure to keep yourself updated in terms of both technology & industry trends?
Absolutely! I am an adept follower of reliable changes. We are a private equity fund with a focus on manufacturing companies. Hence, to stay abreast with the latest industry trends, I attend various industry seminars, keep in touch with the existing & emerging companies from various industry segments (weekly) to share insights & receive ideas, spend a couple of hours a day to read about - global economic situation, new developments in the field of our investee companies, and interact with customers & suppliers. I even give assignments to my teams, proposing an analysis of certain business models, and we debate the outcome.

What future plans do you have for IndiaNivesh Fund Managers?
Our second fund is just one and a half years old, now, and it has been challenging to raise additional funds due to the overall market situation, and COVID adds on to it. Hence, presently, our core emphasis is on conserving our overall resources, and managing it through this period, while, we plan to pitch for fundraises in 2021. I work with a great set of people at our fund, guided by an eminent Board of Directors, hence I believe we will get through and achieve our targets as conceived.

Sridhar Ramachandran Chief Investment Officer, IndiaNivesh Renaissance Fund
Sridhar holds a B.Com degree from Madras University, a qualified Chartered Accountant from Institute of Chartered Accountants of India (1988), Cost Accountant from Institute of Cost and Works Accountants of India (1989), and a Certified Public Accountant from Colorado State, USA (2005). He holds over 30 years of financial & operational experience, in leading roles Across companies in Asia and Africa.
Interests: Painting, Book writing