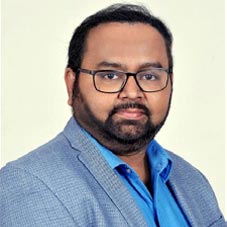 The more successful the company, the greater the sense of fear to take risks. Warren Buffett, an American business magnate once quoted ~ "Risk comes from not knowing what you are doing". Indeed, it's really important to understand exactly what risk means, irrespective of any affair. However, when it comes to business investments, you can't totally eradicate it. Since, antiquity it's a bandied word that naturally clings around in the world of investments. While, it seems very off-putting for some investment executives or companies, Sailesh Bhawarlal Khandelwal (MD & CIO, iQuantsGraph) successfully helps iQuantsGraph step through it by analyzing any potential investment risks beforehand, eliminating, and substituting it with advantageous business outcomes, doing latest market visualization. Sailesh is a reputed visionary and an independent thought leader, setting benchmarks in the space of Investment management, by delivering tangible business denouement, staying in sync with the industrial changes.
In an exclusive conversation with the CEO Insights, Sailesh talks about his approach and his journey at iQuantsGraph so far.
Tell us about iQuantsGraph as an investment organization.
iQuantsGraph is a data driven financial analysis company that provides financial transparency to customers by holistically driving value and outcome through digital data driven solution, wealth management and consulting advisory services. Being into the business since two decades, we specialize in our services - Due Diligence (Business/ Tax & Legal, IPO Compliances, Company Valuation) Portfolio Advisory (Raising fund, Balance Sheet Restructuring, Assisting SME/ MSME sector) & Data Science (AI, ML, Portfolio Algo Framework, Wealth Management, Data Analytics). Mostly assisting start-up and Cash flow based MSME, we help them along legitimate compliance process and lead them towards the IPO segment. Amidst all, Due Diligence is our flagship offering, and we deliver it with utmost industry standard. Alongside, we also provide optional assistance in fund raising based on viable business models, connecting
to right Angel, VC and private equity investors.
Obstensibly, we are not registered Lead managers, yet we help the companies do the job so ethically, from the beginning so that lead managers can drive the companies towards IPO, hassle-free.
Business model is all about the need of the market. In today's era, where businesses struggle to forecast as to what next change can impact their own businesses, be it policy changes, financial forecasting, funding, cashflow impacts, international trade, geopolitical issues, and more, we deploy a unique model to assist them along doing step by step evaluation, and devising architectural solutions, apropos to their business needs. Our Quantitative Analytical team and AI Automation process serves the best of uniqueness in the investment market today. At present, 70 percent of our processes are automated, and rest 30 percent are manual, we aim to scale 90-95 percent automation in future.
We deploy a unique model to assist them along doing step by step evaluation, and devising architectural solutions, apropos to their business needs.
Delineate the responsibilities that you possess as the CIO of iQuantsGraph? Also, throw some light on your professional background and experiences that helps in moulding strategic business modules for your current company.
By qualification, I am an M.B.A in Finance, and certified EMBA (IIMC), CFA, CMT, FRM, & NISM Certified member. In 18+ years of my corporate life, I have headed the top Indian MNCs such as Birla Groups, Kotak, IPRU and ICICI Securities in various senior executive roles, and helped businesses to drive in right direction reaping maximum ROI. This value added professional acumen has helped me to surge ahead with confidence and lead iQuantsGraph as a CIO.
Currently as the CIO & MD at iQuantsGraph, my focus is mainly to lead the processes towards the services wherein, the complex job can be made simple. Likely, the future is all about automation, however Indian accounting standards are so stringent to transform completely automatic. Henceforth, I am ensuring we adapt to the latest technology imbibing it into our Due Diligence and Portfolio Advisory services via Data science integration. Also, with deployment of our AI and ML models, our process remains quite simple and easy to use.
What were the initial challenges that taught you the basic lessons of managing diversified functions of large organizations? Also, how did you manage to achieve the success that you had in the later phase?

What we learn from our corporate experiences is really important, we recollect it, and try to adapt best of its policies into practice. At the initial stage, if policies and processes are not in place, struggle becomes more complex. Hence, we laid our main emphasis on framing best policies and put them into practice at iQuantsGraph. We did fail initially, due to delay in services to our clients, but we collected continuous feedbacks, fed it forward and transformed it into best in class today.

Today, we are servicing 2000+ global & domestic clients, and increasing the client base quarterly. Our quarter average growth has been 1.5 percent, followed by six percent YoY, that too only via references and zero marketing spend.

Financial technology's the constant change and the only way to stay ahead of competition in recent times. What kind of innovation/upgradation is currently happening in your organization?
Indeed, I agree. Currently, we are mostly focusing on Machine learning, AI and data science approach. We are also upgrading our services and expertise gradually, with regards to inputs & solutions we receive from different companies, and with the help of our inhouse R&D team.

With so much in hand, how do you ensure to keep yourself updated with the trends and technologies so that you could always steer your organization towards the zenith?
We are continuously investing into the technology-based companies as Angel & Growth Partners, contemplating they could help us navigate iQuantsGraph efficiently, and keep ahead of others in the market in terms of quality services upgradation from time-to-time. Simultaneously, it could also contribute in improving value growth of our start-up clients. Additionally, networking with customers and industry peers have always been helpful in ameliorating my knowledge about latest trends.

Sailesh Bhawarlal Khandelwal, MD & CIO, IQUANTSGRAPH
An M.B.A (Finance) graduate, and certified EMBA (IIMC), CFA, CMT, FRM, & NISM Certified member, Sailesh holds 18+ years of financial market expertise working in top Indian MNCs performing senior executive roles. It is his strong acumen that is helping him pilot iQuantsGraph and poise firm amidst the investment industry.

Office: Bangalore | Mumbai | Chennai | Coimbatore