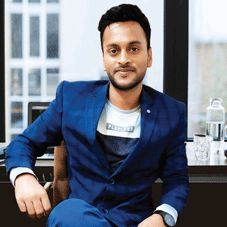 Gone are the days when men used just one basic cream for the face and body, besides one brand of oil for hair. The scenario has tremendously changed today, wherein men hold great preferences for cosmetic products that can make them look groomed, smart and fashionable. Clearly, the negative stereo types about men's fashion & grooming are on the wane, while this entire bracket is making great strides at par with the women's fashion & grooming bracket.
Thanks to brands like UrbanGabru, the burgeoning demands and concerns pertaining to men's lifestyle are being perfectly answered. UrbanGabru outclasses as an ardent team of urban men breathing the sole goal of edifying the Indian men about styling, grooming and fashion. Today, this unique brand is successfully catering to the ever evolving demands of men who crave to stay stylish, attractive and smart, through its wide portfolio of natural hair, beard and skin grooming products.
UrbanGabru is the brainchild of Hemant Raulo (Founder & CEO), who is extensively passionate about creating digital brands and also owning profitable businesses. When conversing with CEO Insights, Hemant has vividly shared about his brand's journey, its excellence and many other aspects.
How has the journey of UrbanGabru evolved from a YouTube channel to a brand to reckon with in the men's cosmetic bracket?
Initially, in 2016, we witnessed that none of the brands were educating men on how to stay stylish and groom themselves, besides the dearth of content online regarding the same. In fact, there were ample videos on YouTube created by foreigners rather than Indians. Hence, we cameup with a YouTube Channel to bridge this gap by providing all content related to men's styling, grooming and fashion,
especially in Hindi for the Indian men. In a span of just one month, we created many videos and acquired almost 30,000 subscribers for UrbanGabru', India's first dedicated YouTube channel on men's lifestyle, fashion, grooming and dating. Yet, we had a bigger vision of creating a brand that is exclusively focused on men's lifestyle and thus launched our first product Beard Oil. It was indeed a moment of great pride when we sold products worth Rs. 30,000 on the very first day of the product launch. This was indubitably due to the enormous trust our customers had vested in us and believed that we were the unparalleled experts in this domain.
We standout in recommending our customers on what suits them best and also give them the trust they deserve
Unlike other brands that just focus on merchandizing their products, we standout in recommending our customers on what suits them best and also give them the trust they deserve. Through our social media presence over YouTube, Instagram and Tik Tok, we are seamlessly interacting with our customers, garnering their diverse problems, and developing products accordingly.
Tell us about your background that helped in establishing UrbanGabru.
Post graduating as a Computer Science engineer, I joined Accenture and worked there for three years. But very soon, I realized that job was not my cup of tea and was greatly inclined towards business. My biggest strength has always been reading a lot of books about self help and business, which indeed helps me in understanding any sort of problem and solving it. I ensure to implement these learnings in my business too.
Coming to the funds aspect, UrbanGabru has so far been completely bootstrapped. I started the company with my initial savings and since then we have been sailing ahead through organic marketing.
What does your brand name UrbanGabru signify?
Gabru is a Punjabi word meaning men. Clearly, our brand name denotes a team of urban or modern Indian men catering to the diverse
lifestyle demands of men aged from 15 to 25.

Walk us through the idiosyncrasies of your product range.
At the initial days, we observed that most brands were using lots of chemicals in their products that are harmful for skin and hair. Hence, we decided to create products that are blended with natural ingredients and also hold a shelf life of at least a year. Post launching Beard Oil, we came-up with Clay Hair Wax, a chemical-free product for hair styling, which became one of the most popular products in India. Besides our forte in hair styling, we have also unveiled many products under hair care, skin care and other brackets. In fact, we execute rigorous R&D and only after testing around six-seven samples for a new formulation, we unveil the product. The entire process of developing a product usually takes around three-four months. Further, our focus here is solely on creating formulations, while we outsource manufacturing to third-party companies and thus save time and money significantly.

Speaking of quality, we have an adept QC team that ensures to regularly monitor and check each product. In case if any of the ingredients is of low quality, then the QC team rejects the whole batch. Moreover, customers can avail our products across online platforms like Amazon, Flipkart, Myntra, Paytm Mall, Nykaa and few others, besides our website. We also have launched two offline centres in Delhi and Hyderabad for testing and will soon spread in other cities.

What is the future blueprint?
In just two years, we have achieved five times the set target. For the future, we aspire to conduct regular R&D and modify existing products or create new ones in accordance with customer feedback. We also expect a gamut of opportunities from this fast-paced bracket of men's styling and grooming in the next two-three years, while the new players can grab a huge market share too.

Key Management:
Hemant Raulo, Founder & CEO
Hemant is a marketer and a visionary with profound insights on the ever-evolving customer needs and transforming those needs into a profitable business.

Quick Facts:
•Inception Year: 2017
•Location: Pune
•Offerings: Grooming products for Hair, Skin and Beard