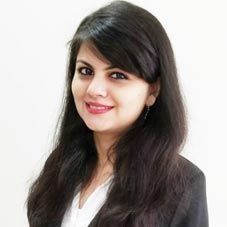 Walt Disney, a pioneer of the American Animation Industry, once said, "All our dreams can come true, if we have the courage to pursue them." It's not as easy as it sounds, because life often throws you curveballs without warning that are harsh enough to extinguish your passion. Besides determination, it requires acute brilliance and perseverance to tackle these challenges. Only a few go-getters possess the ability to hold on tight to their dreams, despite the hardships. Serving as the perfect archetype for a perfect equilibrium of the aforementioned qualities is Vandana Bhatia (Company Secretary and Compliance Officer, Caspian, an NBFC company registered with RBI), who has reached rarefied heights on the corporate ladder through unswerving dedication, brilliance and proactive strategies.
Vandana is a self-made woman who had to kickstart her professional journey at a very young age, right after the completion of her Class 12, due to family crises. However, this didn't stop this highflier with a can-do attitude from studying all the courses in her spare time without undergoing any tuitions. Fast forward to today, it is the same relentless aspiration that saw Vandana being positioned as the Compliance Officer of Caspian, where she dons multiple hats including Company Secretary, Chief Information Officer, Principal Nodal Officer and POSH Committee Member. Vandana, in an exclusive conversation with CEO Insights, looks back on her professional journey and shares the milestones she has crossed so far. Here are the excerpts:
Kindly walk us through your professional journey.
I started my main journey as a CS Intern with Ranjeet Pandey & Associates in 2009 and thereafter was absorbed as Assistant. After qualifying CS, I got my first corporate break with Dr. Reddy's in 2011, where I was fortunate to be hired as Company Secretary for their wholly owned subsidiary company – Aurigene Discovery Technologies. I had the privilege of working as the Company Secretary of NIIT's joint venture company NIIT Uniqua and IQVIA India where I was directly reporting to the CFO and instituted the Corporate Governance Framework. Currently at Caspian, being responsible for multiple roles and winning board's trust has given me utmost satisfaction. My tenure at these eminent organizations gave me great exposure, helped me achieve growth and immense knowledge, though I still consider myself a learner. I am training myself to be a future leader and personally striding towards the goal of becoming an Independent Director.
I'm training myself to be a future leader and striding towards the goal of becoming an Independent Director
Tell us about the challenges that taught you the basic lessons that helped you achieve the success.
I have worked in different sectors like Pharma, Clinical Research, Education and Financial. Every company that I worked with had different culture and approach. Every company uses different technologies for compliance management including smart boardroom, board portal, CMS and Comphie among others, which provide triggers relating to various compliances and generating report that can then be presented to the company board and regulators apart from being central repository for all documentation. After Companies Act, 2013 transition, I faced the biggest challenge of making myself adapt to new regulations, completely wiping out Companies Act, 1956, instituting Compliance
Triggers in the organizations and making people aware about the same. In one of the companies, I successfully implemented the corporate governance framework, surpassing several roadblocks.

Managing compliance issues within an organization brings lot of stress and implies rich skills & time. How do you manage to balance between your personal & professional life?
I follow strict timelines; I prepare myself in advance for all the compliances and for any adhoc requirement. I maintain a calendar for myself and utilize bucketing to categorize the tasks based on the level of urgency (firefighting, high importance, low importance and not urgent). I restrict myself giving levy and do not let people taking me for granted. Though I am strict, I do not let it jeopardize my relationship with peers. Coming to the personal aspect, my parents have been supportive in every step and decision that I have taken in my life; they have motivated me throughout. I strongly feel, I am what I am because of them.

Vandana Bhatia, Chief Compliance Officer
Vandana is a member of Institute of Company Secretaries of India, who possesses nearly a decade-long experience in secretarial and legal affairs packed up with degrees in MBA (Finance) and LL.b, which gives her an edge as a compliance expert. She is also a Guest Lecturer at PVKK Institute of Technology and has written articles for ICSI Hyderabad Newsletter as well as Caspian blog. She has tied up with the College to help students prepare themselves for the real-life corporate world and enrich them with the latest updates of the industries and technicalities.

Favourites:
• Hobbies: Reading and Working Out
• Cuisines: Mom's Hand-Cooked Food
• Travel Destination: Greece

Success Mantra:
• Have passion towards your profession;
• Love and Owe responsibility what you to do;
• Be compassionate to yourself and be grounded