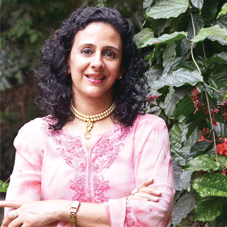 The significant role that an art gallery plays cannot be overstated as it carries the responsibility of discovering and sustaining genuine talent, creating value for the artist and the investor. As art is a highly subjective experience, Galleries are invaluable resources for creating a circuit of awareness from the artist's oeuvre into the art connoisseur's belief system.
Verandah Art, unlike the white cube of a typical gallery, is based out of a private home and loves to provide the wind beneath young artists' wings to help them soar to greater heights. In an exclusive interview with CEO Insights, Myna Kakar, Founder of The Verandah Art Gallery enlightened us about the ideology behind the establishment of this charming art gallery.
Tell us about your academic background; also, how did you come up with the idea of establishing Verandah Art Gallery? Share with us your inspiration.
It happened very organically; I have always appreciated art since my childhood. Recognizing the talent, my mother persuaded me to enroll in art classes, which led to a graduation degree in Fine Arts and a diploma in Graphic Design. I got married into a family in Calcutta, the vibrant city steeped in art, with its wonderful art colleges and innumerable art events.
This proved to be a fascinating initiation as I familiarized myself with the rich tapestry of art history as well as the contemporary art scene. This unique experience led me to investing in art with a special focus on emerging artists and their potential to grow into branded art. Some of these paintings were put up on display at our colonial home that had an essence of old world heritage and a large nice verandah overlooking a beautiful garden, which eventually kick- started the gallery.
My husband and I shared the sentiment that displaying art at home was a concept which was out
of the box, and lent the warmth of a subjective, personalized experience. A sheer passion for art, with the objective to provide an opportunity to various talented emerging artists, propelled us.
We began to showcase the works of local artists in our charming home based art gallery, and because there was no digital platform available 21 years ago, this space became a physical art forum, where our friends and family used to drop by to see our latest selection comprising local con-temporary paintings and sculptures. It was a long journey initially, but with collective support from satisfied customers and word of mouth publicity, we soon found our artists gaining recognition and being sought after by galleries and art lovers alike.
My passion for art motivates me; at Verandah Art Gallery our quest is to create a platform of trust, creativity and recommendations for long term aesthetic and investment value
What is it that keeps you constantly motivated at work? How do you ensure the quality & authenticity of artworks at your online gallery?
Besides the love and trust that our artists and buyers repose in us, my passion for discovering new talent constantly excites me. Our quest is to create awareness about good quality art and to facilitate the deserving artist's most superior works to reach a discerning audience for long term aesthetic and investment value.
We collaborate with emerging artists who would otherwise be lost in obscurity, by offering them a platform on digital forums and the Verandah Art Gallery website as well as the physical gallery. We personally check their work before showcasing to a broader audience on social media sites. I personally compose an appropriate write-up which gives depth and perspective and helps even the novice appreciate the sentiment behind each work.
A lot of young artists contact us on a regular basis, and we are open to showcasing them, provided they are sincere to their skill. Furthermore, we ensure that the artists adhere to stringent guidelines when showing
their work to our audience and that their work is original and not copied. Artists are encouraged to develop their own authentic style of art that speaks of their unique personal narrative. At the end of the day, the complete faith that the customer reposes in us and their ever-growing recommendations keep us motivated.

Throw some light on your team of artists and their professional experiences. How do you use your expertise to enhance the skills of the team?
We have discovered some unique artists over the years and we work together as a family, with complete transparency and respect. We began our artists' repertoire in Calcutta and have since expanded across India. Our endeavor is to locate artists with a unique signature style, inspiring them to develop a distinct oeuvre, without plagiarizing others as that compromises their future potential.

We often assist and inspire young artists by guiding them as mentors, and advising them on consolidating their style even if it takes time and effort to develop. At the end of the day, an artist must have the conviction that they will be recognized for their own unique brand of artworks. Artists like Sanatan Dinda, Chandra Bhattacharya, Dilip Chaudhury, Kanchanmala Ghosh and many others have grown with us and are internationally recognized today.

As a women entrepreneur, what would be your advice to other women who wish to start their journey as an entrepreneur?
Women are very adaptable, flexible, and hard working; they need to recognize their strengths and gain confidence for themselves in the field of entrepreneurship. We tend to underestimate our abilities, but with a little passion and enthusiasm, any woman can excel in any area of her choice. To achieve success, one must take baby steps forward toward their objectives. As they rightly say, several drops go on to make an ocean.

Myna Kakar, Founder
Myna is an experienced Curator with a demonstrated history of working in the arts and crafts industry. Myna holds a degree in Bachelor of Arts (B.A.) with English Hons; focused in Fine Arts from the Govt. College, Amritsar. She also holds a Diploma in Commercial Arts & Graphic Design from the Delhi Polytechnic, as well as a certificate in Art Appreciation from the Birla Academy of Fine Arts, Kolkata.

Location: Kolkata